Schlitterbahn New Braunfels Waterpark & Resort: Classic Family Fun with Modern Thrills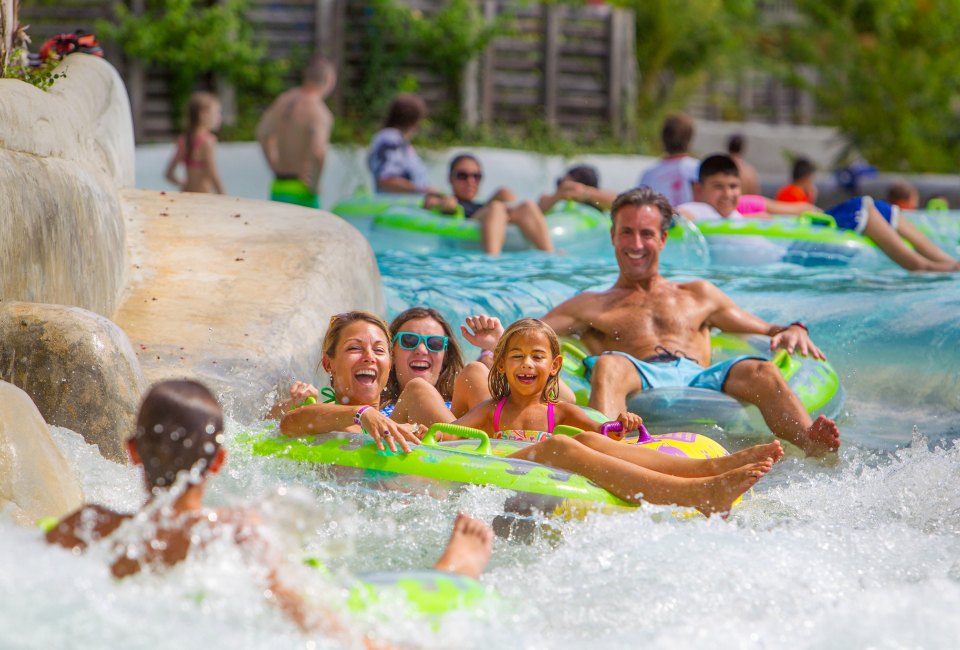 7/7/18
- By
Carrie Taylor
In the heart of Texas, you'll find a waterpark like none other. Schlitterbahn Waterpark and Resort at New Braunfels was designed by a family for families and around the beautiful Comal River. Instead of vistas filled with brightly-colored plastic and umbrellas, this waterpark embraces its natural surroundings, and it's why you need to add this park to your family travel bucket list.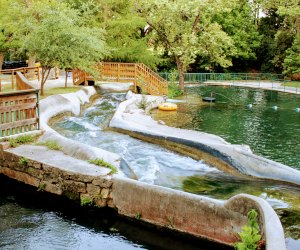 Schlitterbahn's original tube chute remains in the park, and guests can ride it at the end of Raging River in the main park. Staff say it's likely the first water attraction of its kind in Texas.
Park Overview
Schlitterbahn has multiple locations around the country, but its New Braunfels, Texas location is its flagship. It continues to be operated by its founding family, the Henrys, who purchased an existing small family resort on the Comal in 1966 that they would use as the jumping off point to their waterpark dynasty. Names, rides, and overall aesthetic are inspired by German culture and heritage as a nod to the German settlers who settled in Central Texas. The name "Schlitterbahn" directly translates to "slippery road," even though it's not a real German word.
Its charm comes from what does not resemble modern waterpark hallmarks: Quaint kiddie-areas inspired by German villages and folklore, old-fashioned waterslides where the lifeguard has to physically pull a lever to release the bars and water instead of simply hitting a button.
Side note: New Braunfels itself is a lovely small town you should take the time to explore, and for a bit of trivia, park staff say it's home to the first two-story home to be built in Texas. You'll also find a 350-year-old Oak Tree towering on one side of the property.
There are three sections to the waterpark: The original Schlitterbahn spanning the entire West side, and then the East side, housing Blastenhoff (home of a massive tower of water slides, lazy river and the Sky Coaster) and Surfenburg (home to top-notch play areas for the smallest visitors, a lazy river, the Boogie Bahn, and one water coaster).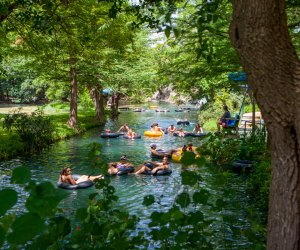 Floating on the Comal River in the Schlitterbahn West section. Photo courtesy of Schlitterbahn Waterparks and Resorts
West
If this was the only park at Schlitterbahn, I would still name it my family's favorite destination in the state. First thing's first, it is home to its signature tube chute rides that only use untreated water from the Comal River, slides, and gravity to give guests a fun and exciting experience. Guests ride on black inner tubes, and smaller guests can ride in bright-yellow tubes with a sewn-in bottom. Several of these rides drop guests directly into the river via water slides. The water is clear, and the property on the opposite shore is a private golf course, so it feels like an isolated slice of nature. The rides are also long; you can spend nearly 20 minutes floating down Raging River, linking arms with family members or trying to paddle past your competitive uncle to see who can reach the next slide or dip first.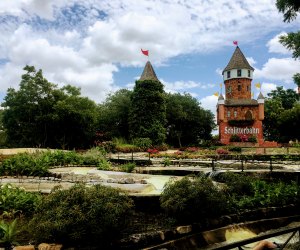 The Hillside tube chute is attached to the iconic Schlitterbahn tower at the main park on the West side.
Hillside tube chute (pictured above) takes riders down a slow-moving, winding slide past beautiful flowers, before rushing waters and slides dump into a lagoon – a large swimming area that includes a volleyball net, connecting hot tub bar, and other water features. Aside from the exciting tube chutes, there are several children's play areas for toddlers and preschoolers that include shallow water, slides, and fun climbable (like giant mushrooms that definitely seem to have shrunk since my childhood trips).

Family coming down one of the drops of the Wolfpack Family Raft Ride. Photo courtesy of Schlitterbahn Waterparks and Resorts
East
At Blastenhoff, you'll find Schlitterbahn's first uphill water coaster, Master Blaster. It's 65 feet tall with three-story drops; it's a blast! Pun intended. Also at Blastenhoff's tower is the family-friendly Wolfpack, where riders sit in a large round tube that can fit up to four, as well as Black Night, a two-person ride in pitch blackness. Our 4-year-old loved this one! Surrounding the tower is a lazy river with a twist: Giant waves push through every few minutes or so.
And finally, Hans Hideout is the perfect spot for preschoolers. You can climb through this towering play structure where water sprays from every direction, and four waterslides can be enjoyed by guests of all ages. If you're feeling extra brave, the SkyCoaster is a must. Strapped into a vest-like constraint, it combines the free-falling sensation of skydiving with hang-gliding allowing guests to soar over the park.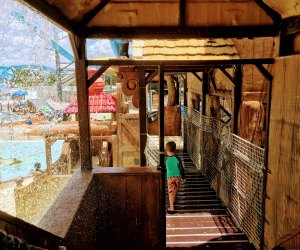 Exploring Han's Hideout at Blastenhoff.
At Surfenburg, this is where we would spend many, many of our hours as children and now with our preschooler. The lazy river has fun alligators to ride, there are play structures with slides, and then the Boogie Bahn, where guests can try their hand at surfing without getting pushed into the lazy river. If you can arrive early, schedule private lessons on the Boogie Bahn! It can seem challenging at first, but once you get the hang of it, it's a piece of cake.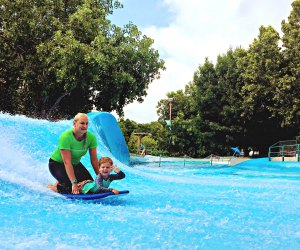 If a 4-year-old can ride the Boogie Bahn (OK, with some professional assistance), so can you!
There is one water coaster here, the Dragon Blaster that involves some special effects, so it might be a bit intense for younger riders. Note that Blastenhoff and Surfenburg are separated by a parking lot, and in between them is Schlitterbahn's newest tube chute, The Falls. The Falls is fantastic because it combines the old-school tube chute technology with new hydro tech that involves a giant conveyor belt that shuttles guests at one point of the ride.
You can walk (or float) between the two parks on the East side without any problem. Don't be afraid to leave your cooler or belongings at one of the parks and come back and forth as many times as you would like.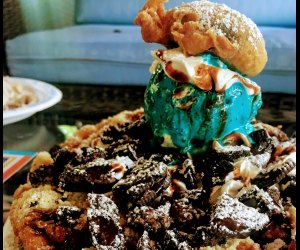 The Cookie Blaster funnel cake ($10.49) has oreo cookies, blue ice cream, whipped cream, and fried oreo on top for good measure.
Food
One of the many great things about this park is you can bring your own food and drinks in (no glass, of course) in how many ever coolers or bags you need. There are shaded picnic tables and chairs at each park, so come early, stake out your spot with your bags, then go play! On-site food choices include traditional waterpark fares like burgers and fries, but also including delicious Texas barbecue, roasted corn, and more. There are also lockers you can rent at every park to place more priceless belongings.
Insider's tip: Buy a waterproof case for your phone. It's worth it! Not only can you take pictures while on the rides, but you can stash your cash or credit card inside as well to purchase food or drinks without having to go back to your bags or locker. Or you can always opt into Splash Cash, where you load funds onto a bracelet that the park vendors can scan. At the end of the day, stop by a gift shop to redeem your unused cash.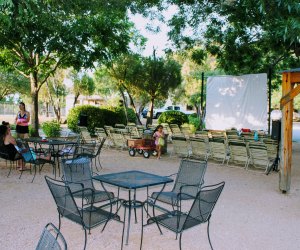 Resort amenities include an outdoor movie screen with firepits and concessions nearby.
Resort Life
Staying on the resort itself is definitely the way to go. However, there are several hotel options as well as vacation rentals around New Braunfels if you so choose. But staying at the resort grants you early and late access into the park, which is a must in order to beat the long lines at some of the more popular rides. There is free transportation between all parks and rooms at the resort as well. Choose from 68 different room types that can accommodate even the largest of families.
Growing up, 18 of us would rent the Liberty House, a residential home across the street from the main park, and it's where some of my favorite childhood memories were formed. Backs tinted grey from hours spent on the black tubes and shoulders beet red from brushing off the need to apply extra sunscreen, we would lather ourselves in Aloe vera gel and sit underneath the living room fan in the Liberty House while the adults made dinner. In the morning, we would put on our flip-flops and run across the street right at 9 a.m. to catch a few rides on our favorite tube chutes Hillside and Raging River before the rest of the world made its way in.

The view from our Riverbend Cabin overlooked the lazy river at Blastenhoff.
For smaller groups, there are newer wooden cabins and treehouses by Blastenhoff and Surfenburg as well as more traditional cabins and rooms with porches facing various rides at the main park. At the main park and near the resort check-in, there are several amenities just for resort guests: Private pools, sand volleyball, and an outdoor screen for movies and shows.
Cabanas
If you're not staying at the resort, (or even if you are and you want a convenient "home base" at which park you are spending the day), guests can rent private cabanas. These are covered areas with cushioned chairs, lounge chairs, a table, TV, and stocked refrigerator. Wait staff can bring you food from any food stand in the park. For us, it was a great spot for our 4-year-old to wind down and eat lunch. When the park gets crowded, picnic table space is a premium, and this guaranteed our belongings would be safe and we would always have somewhere to sit. There are nine different areas of cabanas to choose from with prices ranging $90-$400 per day.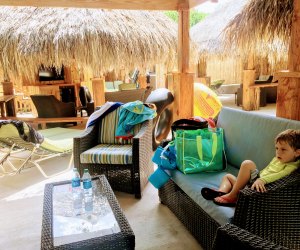 Enjoying cabana life at the main park.
Bottom Line
This waterpark has tons to offer for guests of all ages. My grandparents only stopped coming with us the day they could no longer safely lower themselves into an inner tube. And even after that, they came just to sit on the porch of our resort "haus." Don't forget to check the website for sales and specials.

Our little 9-month-old enjoyed floating in the heated pools/Photo by Carrie Taylor
Tips and Tricks on Surviving Having a Blast with Little Ones
Pack lots of drinks and snacks. Because the lines can get long, bring snacks or drinks in line with you to make the waits more bearable; there are lots of trash cans everywhere (or just grab a handful of grapes!)
If you're bringing a baby, I recommend bringing frozen fruit or just a bag of ice cubes in your cooler to put in a mesh feeder the baby can suck on.
Bring a canvas utility wagon if you have one. This is where I changed the baby, let the baby lie down to (sometimes) nap, and how we hauled half of our stuff. You could also bring a GoPod activity seat. We attached a portable fan to the wagon to keep little guy cool, and it worked like a charm.
Find a great place to "camp" with all of your stuff in each park. In Schlitterbahn West, we picked the tables under giant umbrellas near the Congo River tube chute and the Polywog kid area. In Schlitterbahn East, we would place our stuff at tables near the pirate ship for our toddler, but I would take the baby to the heated pool underneath the slide tower. It is completely shaded, has a swim-up bar, and there are chairs on a sloped beach entry. Win!
Stay on the resort to get early access and to have easy access to a spot for napping. You can also go back to your room for lunch so you don't need to lug a big cooler to a table or spend money on concessions.
For babies, bring a pool float like the one pictured above. I used it in the heated pools and shallow areas, and I brought plastic pool rings from home for him to chew on.
Note that kids are not allowed to sit on your lap on the tube rides.
Only a few rides have height requirements (42 inches). Everything else is up to your kid's comfort level!
General information to know
Tickets are cheaper online, and definitely cheaper if purchased in a resort package. Prices range from LITE Days prices to peak season prices, which run about $20/day more.
From my and my family's experience, June seems to be the best month to go. There is less traffic, and it's not as hot. If you can, go during the week to avoid weekend crowds.
Kids ages 2 and under are FREE.
While you can bring picnics, alcohol or glass containers are not allowed.
There are lockers around each park for $10, and we have always used one to store our valuables we don't feel comfortable leaving at a table.
Guests who arrive after 3pm every day get an awesome discount! (Gate only; not available online.)
Schlitterbahn uses a system called Splash Cash where guests load provided cards with any dollar amount. This way you don't have to worry about lost credit cards or soggy George Washingtons.
Now, what are you waiting for? Go plan your best summer vacation yet! And for more posts like these delivered to your inbox, sign up for our FREE newsletters.
All photos by author unless otherwise noted
Places featured in this article:
---
Schlitterbahn Waterpark and Resort - New Braunfels