Dolphin Sightseeing in Galveston Bay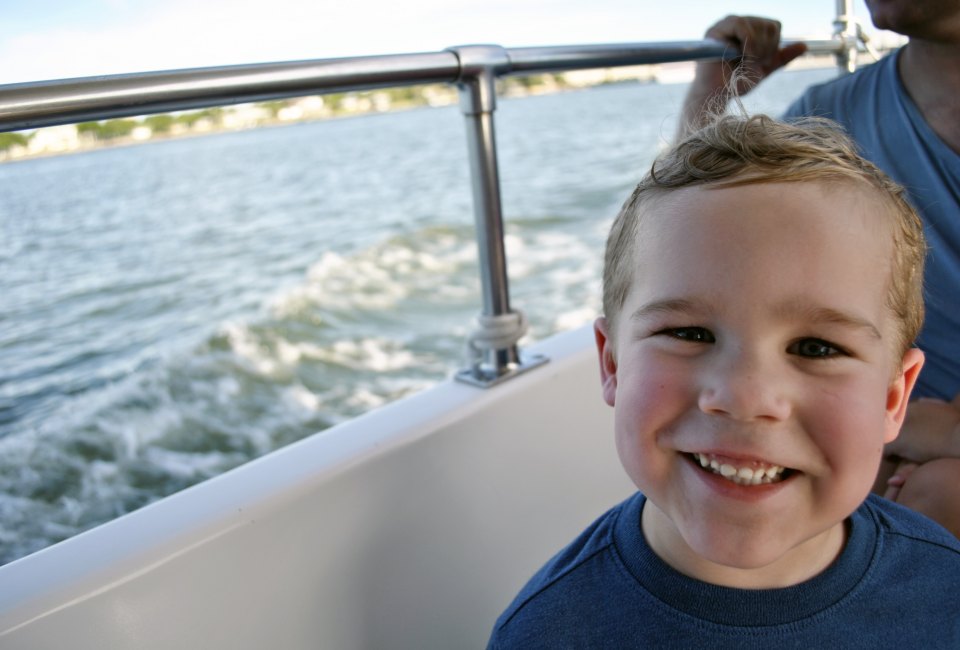 7/25/17
- By
Ashley Jones
What's better than a fun boat ride around historic Galveston Bay? Easy - a fun boat ride around Galveston Bay where you can see dolphins in their natural environment! That's exactly what we got when we decided to end a day of fun in the sun in Galveston with a dolphin tour. The tour is entertaining for both adults and kids.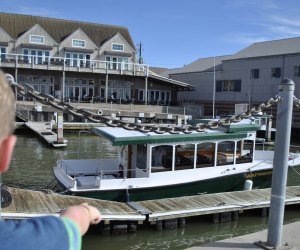 Boarding the boat at beautiful Pier 21 in Galveston.
There are several types of boat tours to choose from in Galveston, but the one that comes most highly recommended for dolphin sightings is BayWatch Dolphin Tours. According to our tour guide, Victor, he has only ever captained one cruise where no dolphins were seen. With tours departing year-round, seven days a week, every hour on the hour from 10 a.m.-5 p.m., the odds of spotting a dolphin on one of the tours is very high. On our trip, we were excited to board the boat and see what we could see!
Upon boarding the boat, we found a plethora of seating options to choose from. The front of the boat offers an un-covered seating area and a great forward view, while an enclosed mid-ship area boasts comfortable benches that are completely covered and open window sides for viewing. We opted to sit in the back of the boat under an overhang where you can see out over the side and the back of the boat. The railing was high enough that I felt very comfortable with my little ones up on their knees peering out the side to see the sights.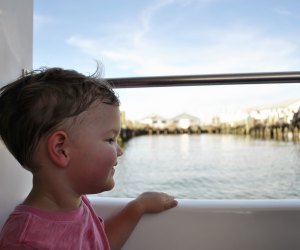 Even the smallest passengers get a great view of the bay on board.
The tour leaves out of Pier 21, right next to the Port of Galveston cruise terminal and the historic tall ship ELISSA. Right off the bat, there were so many things to look at as soon as the boat headed out into the bay! Our tour guide was great about giving us a play-by-play of everything we were passing by as we traveled. He pointed out everything from the loading docks where ships bring in imported fruits to the U.S. Coast Guard ships stationed and ready to leave port at a moment's notice.
Related: Top Things to Do in Galveston With Kids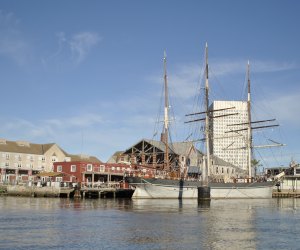 A unique view of the historic tall ship ELISSA from the boat.
Touring around Galveston Bay, we got an up close and personal look at many parts of the island from a totally different point of view. Seeing the University of Texas Medical Branch at Galveston buildings and Seawolf Park from the water was truly unique. We were even treated to a neat ghost story about one of the historic buildings along the channel. We definitely appreciated the entertainment as we kept our eyes peeled for dolphins.
Although we had seen many sights and our boys had excitedly pointed out so many other big boats, toward the end of our 45-minute tour, we still had not seen any dolphins. Our tour guide was so great at keeping us entertained that we hadn't really given a second thought to not having spotted anything yet. However, just as we were returning to their pier, our group got to see two dolphins coming up out of the water to the front right side of our boat.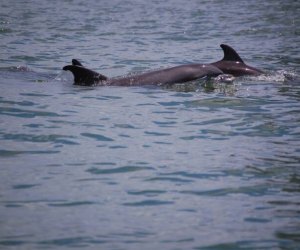 Dolphins jump out of the water./Photo courtesy of the Goff Family/BayWatch Dolphin Tours
The guide encouraged us to yell for the dolphins so that they would make another appearance. According to him, the dolphins get curious when they hear a lot of commotion and will come back up. And that's exactly what happened. It doesn't get much more exciting than yelling out, "Woo! Dolphin!" at the top of your lungs and then spotting a dolphin jumping out of the water!
What to know before you go:
It is best to arrive early. Tours can fill up fast- up to two hours in advance during the summer- and reservations are not accepted.
Infants and pets ride for FREE!
Cold water and soft drinks are available for purchase on board for $1 each.
Paid parking is available at Pier 21.
For more information, please visit the BayWatch Dolphin Tour website.
All photos by Ashley Jones
Places featured in this article:

Sign up for our free
newsletters.
Mommy Poppins is a family activity website that helps people find things to do with kids.
©
2023
MommyPoppins. All Rights Reserved.
mp-prod4-v4.32.99
We use cookies and other data collection technologies to provide the best experience for our customers.
Learn More