Charleston with Kids: 30 Best Things To Do in Charleston, SC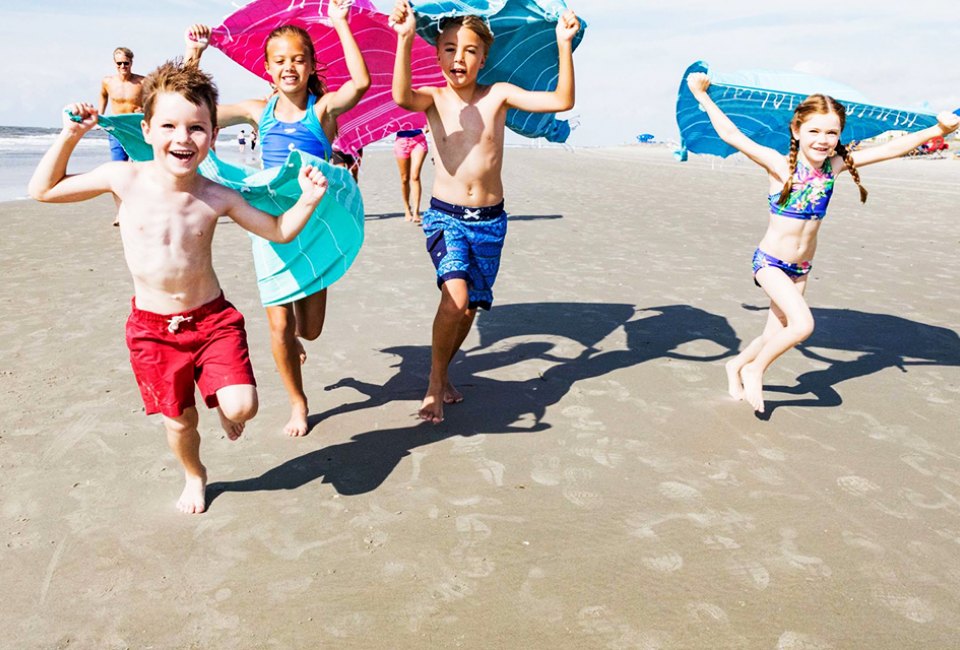 1/7/23
- By
Siobhan Adcock
It's easy to see why Charleston, SC, regularly tops the lists of America's most visit-worthy cities. Beautiful beaches and waterways, leafy streets and parks, gorgeous architecture, and a thriving cultural scene mean there are always things to do in Charleston, SC. And it certainly doesn't hurt that Charleston is one of the best food cities in the country.
Best of all, Charleston is especially fun to visit with kids. It's easy to get around, the weather is almost always nice (even though summer can be sticky and humid), and the overall vibe is incredibly welcoming to families. Plus, there are so many things to do in Charleston, SC with kids that our family has been vacationing there and the neighboring barrier islands for over a decade.
Here are the 30 best things to do in Charleston, SC with kids, including great Charleston hotels and the best restaurants in Charleston, SC for families. For more family adventures in the south, check out our Southern US Family Travel Guide.

Ride the ferry out to Fort Sumter for a look at where the Civil War began. Photo courtesy of Meet Charleston
Best Things To Do in Charleston, SC with Kids
A tour of Fort Sumter, where the first shots of the Civil War were fired, is surprisingly fun and definitely worth doing with kids ages 5 and up. A 30-minute boat ride from the Charleston peninsula brings you to the island fort, where there are giant cannons to check out (and poke your head inside), cool historic structures to explore, and a battlement to walk.
I'm going to try really hard not to make a joke about how even the best moms sometimes wish they could throw their kids into a dungeon… OK, I failed. Kids of all ages are welcome (and kids under 6 are FREE) to roam the storied halls of the Old Exchange building in Charleston's historic downtown, including the dungeon where pirates and Revolutionary War prisoners were held.
The city's museum of art and culture is one of the best things to do in Charleston, SC with kids because of its natural history gallery (featuring a megalodon jawbone), its family programs just for toddlers, and its permanent Kidstory exhibit delving into Charleston history, including hands-on art projects and a kid-sized replica of a historic Charleston home.
RELATED: 99 Things To Do in Charlotte, NC with Kids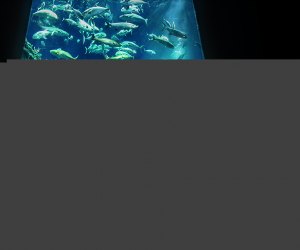 Get ready to be mesmerized by the two-story, 385,000-gallon ocean tank at the South Carolina Aquarium. Photo courtesy of the aquarium
The South Carolina Aquarium, located on the Cooper River waterfront near the landmark Arthur Ravenel Bridge, is well worth diving into. With a touch tank, exhibits celebrating Charleston's local waterways and marine habitats, and kid-friendly displays like BricksALIVE (which recreates some of Charleston's best-loved aquatic residents in LEGO bricks), kids won't want to leave. Budget enough time in your visit to be properly mesmerized by the two-story, 385,000-gallon ocean tank, with sea turtles, sharks, and daily dive shows.
One of the oldest city markets, the bustling Charleston City Market has been a shopping hub since the 1800s. Meander through more than 300 stalls selling everything from toys and clothing to art and leather goods, many of them locally made. When you get hungry, there are plenty of places to eat in the surrounding area. Beware of visiting with young children, though—the market is crowded and full of stuff they'll just want to grab and break (or beg for).
The Saturday farmers market in Marion Square, which runs from April through November, is a manageable treat with young children who can't quite handle the Charleston City Market. It features delicious food stalls, live music, and special kids' events on holidays. There's also a lot of green space where little ones can run around.
RELATED: The Best Children's Museums in the US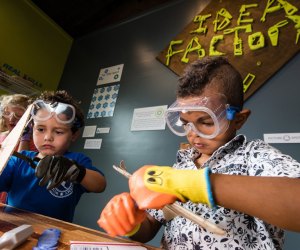 Imaginative play, outdoor options, and art hands-on fun await at the Children's Museum of the Lowcountry. Photo courtesy of the museum
Visiting this adorable children's museum is one of the best things to do in Charleston, SC if your kids love imaginative play. There's a grocery store to "shop" at, a pirate ship to captain, an art studio, a STEM lab, an outdoor kids' garden, and more.
Across Charleston Harbor at the base of the Ravenel Bridge, kids can explore retired historic naval warships including the USS Yorktown, a huge aircraft carrier that played a role in WWII and Vietnam and also recovered the Apollo 8 astronauts. Climb into fighter planes, take a tour to see what life onboard was like in wartime, visit the Medal of Honor Museum, and more. Kids under 6 are FREE.
RELATED: Best Children's Theaters in the US: Why Bringing Young Kids to the Theater Is So Important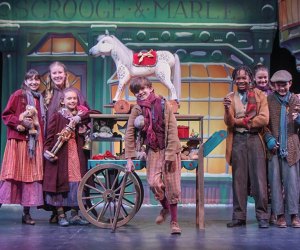 Visit the Dock Street Theatre to see a family-friendly performance by the Charleston Stage company. Photo courtesy of the company
More Fun Things To Do in Charleston, SC with Kids
The oldest running theater in the United States, the historic Dock Street Theatre in Charleston's French Quarter is a beautifully restored piece of Charleston's colonial history. Award-winning theater company Charleston Stage mounts productions throughout the year including lots of kid-friendly shows and matinees, like The Very Hungry Caterpillar Show and Charlotte's Web. If your kids like theater, this should definitely be on your list of things to do in Charleston, SC.
Come cheer for the hometown A-ball team, the Riverdogs. The 'Dogs play several home games each week from April to September in their appealing, compact stadium (affectionately known as The Joe) near the Citadel. The team hosts numerous events and promotions for kids and families throughout the season, including giveaways and fireworks. If the game gets slow, head out back for a beautiful view overlooking the marshland—you might see turtles, fish, and even long-legged cranes.
Got a fire truck-obsessed toddler? Take the short drive to the North Charleston Fire Museum, a hands-on educational museum that houses an impressive collection of vintage firefighting trucks and wagons, as well as an indoor firehouse-themed play space and a number of interactive exhibits.
If you're lucky enough to visit Charleston in late spring, you might get swept up in the excitement that is the annual Spoleto Festival, an international arts festival that brings music, dance, film, and art to Charleston. The family-friendly offshoot of Spoleto, Piccolo Spoleto, is just as action-packed and fun, with a dizzying variety of family concerts and films, arts and crafts shows, and kid-lit readings and events, most of them FREE. Check the calendar of events and reserve spots in advance for performances to make sure you don't miss out.
RELATED: Asheville with Kids: 40 Best Things To Do in Asheville, NC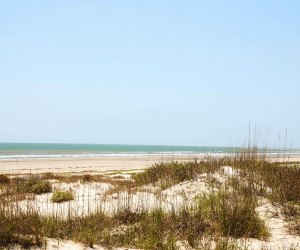 The barrier islands surrounding Charleston are pristine and truly breathtaking. Photo courtesy of Meet Charleston
Outdoor Things To Do in Charleston, SC with Kids
13. Beaches Near Charleston
The barrier islands surrounding Charleston are blessed with some of the loveliest and cleanest beaches you'll ever see, and they're worth visiting any time of year. Isle of Palms and Sullivan's Island are both about a 20-minute drive from downtown. Isle of Palms is an easy day trip, with clean public restrooms and changing facilities and variety of tasty options for lunch and ice cream. Sullivan's Island has a more relaxed vibe, and what it may lack in public facilities it more than makes up for in natural beauty and small-town charm. Kiawah Island, about 30 minutes away, also offers unspoiled beaches and luxury resort options. And then there's legendary Folly Beach just south of Charleston, a popular beach town that attracts surfers, fishermen, and families alike.
Strolling Battery Park & White Point Gardens is one of the most quintessential things to do in Charleston, SC. Enjoy spectacular views of Fort Sumter and Charleston Harbor, see historic mortars and cannons from the Civil War, and take Insta-worthy photos near lush trees. Note that there are no public restrooms, so this experience is best suited for families with older kids.
15. Schooner and Pirate Cruises
The Schooner Pride, a tall three-masted ship docked next door to the South Carolina Aquarium, offers two-hour afternoon and sunset sails around the harbor. The knowledgeable crew can tell kids how the infamous pirate Blackbeard held the harbor hostage in 1718. For a more interactive sail into Charleston's piratical history, take a short drive south from Charleston to picturesque John's Island for a 90-minute Pirates of Charleston cruise up the North Edisto River, complete with face painting, sea chanties, and plenty of "arrrrrrrghs."
RELATED: 25 Fun Things To Do in Greenville, SC with Kids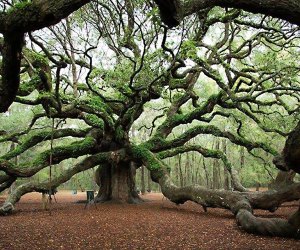 Visit the massive, 1,500-year-old tree in Angel Oak Tree Park. Photo courtesy of Charleston Parks Conservancy
Make a point of visiting the oldest tree in the state—and one of the oldest in the country—on St. John's Island. The graceful, historic Angel Oak Tree is part of a lovely park with a massive garden, a preserve with nature trails, and a big open green space for running around and picnicking. Kids will love the wildlife pond with turtles, ducks, and geese. Local families tend to advise visitors against attempting plantation tours with children, and this park makes an excellent, kid-friendly alternative.
17. Nature and Wildlife Boat Tours
The very best way to explore the Charleston area is on a boat. Miles of waterways, creeks, inlets, and rivers thread through the harbor, home to oyster beds, wading birds, turtles, and wild bottlenose dolphins that live in the waters around Charleston year-round. Numerous private tour companies operate in the area, including a number of highly-rated tours that leave from the Charleston Maritime Center downtown. On a recent visit, our family took a wonderful sunset wildlife cruise that sailed from the marina on Isle of Palms to explore uninhabited Capers Island, with a naturalist on board delivering a fun interactive talk—even scooping up a few crabs from the water to show the kids.
18. Waterfront Park
A walk along the Cooper River with stops at the lovely parks and green spaces (ideally with ice cream) is a must for any Charleston visit with kids. Start at the end of Vendue Range and enjoy the views and breezes from the pier while you relax on giant porch swings, or cool off at the massive splash pad. Continue along the path to the famous Pineapple Fountain, and finish up at the Hazel Parker Playground near Rainbow Row.
This outdoor adventure park offers fun activities and courses for people of all ages and abilities. Beginners and young children can try the Explorer's Gateway course, while older kids and more adventurous folks can tackle the Wild Blue Challenge Course, featuring 72 suspended obstacles elevated up to 35 feet in the air.
RELATED: 35 Warm and Sunny Family Vacation Spots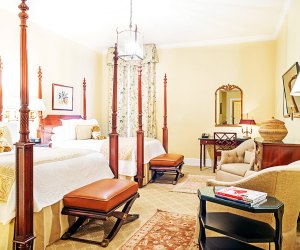 Planters Inn is famous for its family-friendly amenities and spacious guest rooms. Photo courtesy of the inn
Where to Stay in Charleston, SC with Kids
It's hard to beat the location of this luxurious, welcoming hotel, set in a restored building right on Market Street in the center of Charleston's historic downtown. But the Planters Inn is also famous for its family-pleasing amenities, like complimentary afternoon snacks and iced tea in the lush courtyard, plus macarons and a teddy bear delivered with the nightly turndown service.
This hotel in the trendy Upper King neighborhood offers free breakfast, an indoor pool, and rooms that all include a sitting area with a sleeper sofa, making it a great choice for families traveling with younger kids. It's a short walk from the shopping and restaurants on King Street, and just blocks from the Children's Museum and the Charleston Museum.
RELATED: Top 10 North Carolina Beaches for Families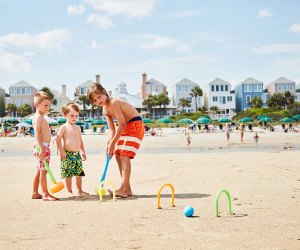 Wild Dunes Resort offers a family-friendly beach setting just outside of Charleston. Photo courtesy of the resort
Our family has stayed at this lovely, kid-friendly resort several times over the years, and it never disappoints. Pools, biking, gobs of kids' club activities, and wide, sparkling beaches are some of the main draws. The resort is a 30-minute drive from downtown Charleston, so it's best suited for families seeking a beach week. Accommodations range from standard hotel rooms at the Boardwalk Inn to roomy, fully-stocked vacation condos overlooking the ocean.
This luxurious downtown hotel, located near attractions like the Charleston City Market and Waterfront Park, offers a variety of rooms and suites to accommodate families of all sizes. Kids will love the large outdoor pool that lights up at night.
The Charleston Place is another fantastic downtown luxury hotel option if you're looking to splurge. There's a pool with a retractable glass roof, a spa and fitness center, various room and suite options, and seasonal activities such as nightly snowfall and carolers in the lobby.

Dive into local eats at Butcher & Bee downtown. Photo by Andrew Cebulka for Butcher and Bee
Best Restaurants in Charleston, SC for Families
A short drive north of Charleston's main drag, Butcher & Bee serves up tasty, sophisticated dishes in an unfussy, bright space. If your preschooler's in the mood for breakfast and you're starving for lunch while your partner only wants something snack-ish, this is the perfect spot. Hearty sandwiches, small plates, fresh baked goods, and a fun "choose-your-own-adventure" option make this one of the most versatile, family-friendly menus in town.
This all-day breakfast spot serves up indulgent, kid-friendly offerings like Fruity Pebble pancakes and Cinnamon Toast Crunch Sticky Buns, along with savory fare such as breakfast burritos and BLTs. There's also a variety of coffee and adult-beverage options for the grown-ups.
Relaxed, delicious, and ridiculously charming, Leon's was one of the highlights of our family's most recent trip to Charleston. The outdoor patio with colored lights and 1950s garden chairs made for fun people-watching, but the interior, converted from a former garage, is so appealing and welcoming we just had to come back. It didn't hurt that we were also looking for an excuse to eat more of the fried chicken and hush puppies.
If the mouth-watering barbecue isn't enough to entice you to visit this downtown Charleston spot, the fenced-in courtyard with a chalkboard for kids to draw on will. There's also a kids' menu with items like chicken fingers, PB&Js, quesadillas, and more.

Republic ice Cream has the perfect swirls to take your tastebuds for a spin. Photo courtesy of the shop
Hometown gourmet ice cream shop Republic is known for its rich, classic, no-frills flavors. There's no bubblegum-passion-fruit-chocolate-chip here, but there is perhaps the best butter pecan you've ever tasted. The King Street location is just a block from the Charleston Museum, too.
Part of me selfishly doesn't want a million tourists to know about this waterfront place on Isle of Palms, another longtime family favorite of ours. But the nicer part of me would like to tell you that if you go, you'll be treated to excellent seafood, simply prepared, with some of the tastiest collard greens and red-beans-and-rice anywhere. It's all brought to your table by the friendliest servers in a town that's known for going out of its way to be charming. Watch for dolphins from the windows of the screened-in porch.
Click Here to Sign Up!
i