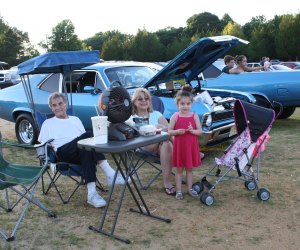 Drive-in Movie Theaters in New Jersey and Outdoor Movies in 2020
Drive-in movie theaters in New Jersey are making a major comeback this summer, offering families a socially distanced option for a night out. Early summer tickets sold out quickly at some drive-ins, but as the state navigates Phase 2 of its reopening, even more pop-up theaters and outdoor movies are sprouting up across New Jersey and at the Shore.
We've rounded up the best of drive-in movie theaters in NJ, from a down on the farm pop-up to the permanent Delsea drive-in theater, as well as those FREE outdoor movie series that have returned to places such as Summit, NJ.
Most of the theaters offer concessions, which help keep these small businesses going. Patrons are required to wear masks when stepping out for snacks or to use the restrooms (and we know where to get some super cute kids' masks), and to follow social distancing guidelines.