14 Awesome Things That Opened in New Jersey in 2021 for Kids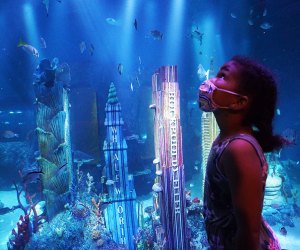 12/26/21
- By
Margaret Hargrove
As we prepare to count down to the end of another extraordinary year, we're looking back at all the wonderful new kid-friendly attractions that opened in New Jersey in 2021, as well as few delayed openings from 2020. We added a few new indoor play spaces, a new water park, and a museum dedicated to an iconic anti-slavery activist.
If you didn't get enough shopping during the holiday season, swing by the new Toys R Us flagship at American Dream. While you're there, don't forget to check out Sea Life Aquarium and Legoland Discovery Center. Speaking of Legoland, the much-anticipated theme park finally opened its doors this year just over the border in New York. We've also added outposts of popular chains, including The Gravity Vault, and what's old is new again, as the State Theatre New Jersey reopened its doors after extensive renovations.
Whether you want to play all day or shop till you drop, you'll find plenty of options on our list. Read on for the 14 coolest, brightest, and best new openings in New Jersey for kids.
Indoor Play Spaces Opened in New Jersey in 2021
This Jersey Shore play space gives kids under 6 plenty of opportunity to enjoy unstructured fun. Open since summer 2020, little ones can play and explore on hard and soft play structures that are just their size while caregivers enjoy a coffee in the cafe. Planning a birthday party this winter? Its private party packages are easy and affordable—all you have to do is bring the cake!
Since its soft launch in summer 2020, Paper Street Play has become a delightful destination for little ones in the Pascack Valley area. This tiny town is modeled after real-world encounters—including a house with a fenced-in yard and soft-play structures for the youngest explorers—plus a diner, a food market, and more.
Cute, clean, and colorful, Village Tree House opened its doors in early spring. The open play space is the perfect place for your little one to strengthen their gross motor skills while having fun. Featuring a rock wall, rope swing, Pikler triangle, and more, your child will enjoy this simple yet stimulating play space.
RELATED: 6 Fun, New Indoor Play Spaces in New Jersey for Kids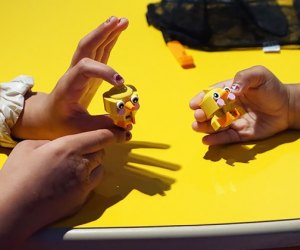 Legoland Discovery Center's American Dream location debuted in the late spring and is jam-packed with Lego experiences. Photo by Jody Mercier
New Openings of Old Favorites
Calling all Lego lovers! Legoland's indoor playground opened its second tristate location at American Dream this year. Jam-packed with fun, the play space features Lego models of NYC and NJ landmarks, a Ninjago indoor playground, interactive displays, workshops to hone your building skills, a 4-D movie theater, and a gift shop. Reservations are highly recommended!
Popular indoor rock climbing facility The Gravity Vault opened its 11th location in Montclair in August. Spread out over 12,000 square feet, this gym is the first facility for the brand dedicated purely to bouldering—a form of rock climbing that is done on shorter walls that can be scaled without ropes or harnesses. The Gravity Vault also hosts special camps for kids during school breaks as well as birthday parties.
This one is for the big kids! Put down that video game controller and head over to the Brunswick Square Mall. This indoor Nerf dart arena is great for birthday parties or for an afternoon of fun. You can bring your own Nerf gun or use one from its collection.
RELATED: 10 Things We're Looking Forward to at the Jersey Shore this Season

Toys R Us opened a new, two-floor, flagship location at American Dream just before the holidays. Photo courtesy of American Dream
Destinations Opened in New Jersey for Families to Shop & Play
CAMP – Paramus
CAMP, the NYC-based family experience store that's part play space, part children's boutique debuted a brand new 6,500-square-foot outpost in the Garden State Plaza in October. This fun interactive shop has plenty in store for visitors, including interactive play areas, arts and crafts, and lots of super-cool, curated toys to take home.
The iconic New Jersey-based toy giant returned with a big splash just in time for Christmas, with a new flagship at American Dream. The 20,000-square-foot store is the brand's only physical location in the United States after a 2017 bankruptcy shuttered stores and broke the hearts of the young and old. The mega-store boasts a two-story slide, an ice cream parlor and cafe, and of course, plenty of toys.
RELATED: Best Kid-Friendly Museums in Northern New Jersey

Get a taste of the Smithsonian right in your own backyard with the new Spark!Lab at the Morris Museum. Photo by Rose Gordon Sala
Museums & Theme Parks Opened in New Jersey in 2021
The Smithsonian-founded Spark!Lab debuted in a back corner of the Morris Museum in September, and it's fabulous. The Spark!Lab is filled with interesting and colorful raw materials with which kids can tinker, build, and experiment. It's one of 10 in the country, modeled after the original that opened in 2008 in the National Museum of American History in Washington, D.C.
After a virtual opening last Juneteenth, the Harriet Tubman Museum in Cape May officially opened its doors this summer. Located in the parsonage of Macedonia Baptist Church, the museum shines a spotlight on Tubman's life and contribution to the Underground Railroad. While most of us learned in school that Tubman, born a slave, freed herself and then risked her life time and again to return to the South to emancipate family and friends, few know the role Cape May played in her efforts. It was in Cape May that Tubman worked in the early 1850s to earn money critical to carrying out her rescues.
The much-anticipated Legoland New York finally opened its door around Memorial Day after a year-long delay due to the ongoing COVID pandemic. Situated on more than 150-acres in the foothills of the Catskills, Legoland New York delivers Orlando-size theme park fun for kids who have been desperate to visit the Florida Legoland for years. Located just over the border from Northern New Jersey, read our review before you go.
The larger-than-life American Dream Mall also added an aquarium to its ever-expanding lineup. Embracing its location, the Sea Life Aquarium takes on a "City Under the Sea" theme, paying homage to its across-the-Hudson neighbors in a big way. Most notably, the main tank, a 186,000-gallon enclosure housing more than 1,000 fish, sharks, and even an octopus, is styled after the New York City skyline, with fun word plays on recognizable attractions.
Diggerland's new water park made a splash with its Memorial Day weekend opening. The aquatic park features a cool construction-themed splash pad, wading pool, obstacle course, lazy river, and specialty slides. We can't wait to take another dip next summer!
Back & Better Than Ever
After a pandemic-enforced closure, State Theatre New Jersey reopened in October, following a year-long, $12 million renovation. What's new? An elevator, brand-new seats, and a dazzling blade marquee. What hasn't changed is State Theatre's commitment to providing world-class live entertainment, especially for kids and families. Its upcoming slate of shows includes Dinosaur World Live and Scooby-Doo! And the Lost City of Gold.