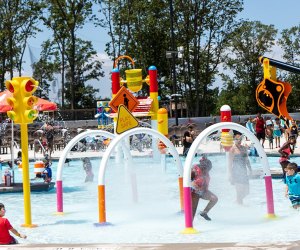 10 Things We're Looking Forward to At the Jersey Shore this Season
After a year spent indoors, we're all excited to slowly re-enter the world and take advantage (safely) of all the fun the Jersey Shore and neighboring locales have to offer. From adorable baby animals to a new water park and fireworks galore, it's time to get out there and explore.
Here are 10 must-see places, events, and to-dos to add to your family's bucket list to enjoy this spring and all summer long, down the shore or nearby. Find more must-do activities in the region on our list of 70 things to do with kids at the Jersey Shore.
1. See new baby animals.
The Six Flags Wild Safari Drive-Thru Adventure has welcomed several newborn babies, including four giraffe calves, two Siberian tiger cubs, an Asian water buffalo calf, and a rare African bongo calf. The return of this classic experience was a lifesaver for thousands of families during the pandemic, including my own, who cruised through the 350-acre park to visit 1,200 animals from six continents, all from the comfort of our cars. The promise of seeing adorable baby animals makes the safari drive-thru worth another trip.
2. Ride a new roller coaster.
Six Flags just finished laying the track for its new Jersey Devil roller coaster. Once it opens this summer, the Jersey Devil will be a triple threat—the world's tallest, fastest, and longest single-rail coaster. The soaring coaster rises 130 feet into the sky—that's as tall as a 13-story building—and reaches speeds of up to 58mph as riders fly along 3,000 feet of track. And, did we mention there's an extreme, 87-degree vertical drop and a 180-degree, zero-gravity roll? Gulp! Are you ready to ride?
RELATED: Here's When Amusement Parks Open for the Season in New Jersey and Pennsylvania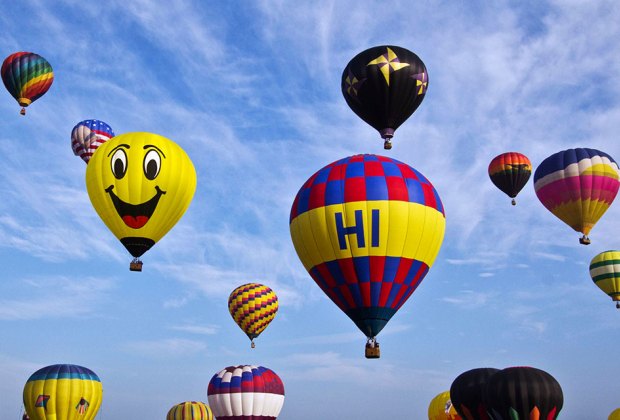 New Jersey Lottery Festival of Ballooning is set to return the weekend of July 23-25 at the Solberg Airport in Readington. Photo courtesy of the Festival
3. Take flight in a hot air balloon.
While a few balloon festivals managed to lift-off in a scaled-back way last summer, the largest balloon fest in NJ was pushed back to 2021. Luckily, that time has come, and the New Jersey Lottery Festival of Ballooning is set to return the weekend of July 23-25 at the Solberg Airport in Readington. In addition to the more than 100 majestic and colorful balloons ascending into the sky, the festival hosts some big music acts, including rock band Styx and Barenaked Ladies. Plus, there are fireworks, crafts, local vendors, plenty of fair foods, and more festival fun.
4. Make a splash at a new water park.
Diggerland's new water park is ready for its first summer run, and we can't wait to take a dip. There's a splash pad portion with construction-themed features, a wading pool, an Aqua Shot, an obstacle course, a digger river and Vortex, and specialty slides. These cool features are in addition to several other new rides and attractions debuting at the construction-themed amusement park this year. Try out the new apple cannons experience, where you can shoot a huge air-driven cannon in a special area. Get behind the wheel of the ROXOR—a heavy-duty steel, off-road beast with room for five and one ride operator—and enjoy cruising around the dedicated course.
RELATED: Best Jersey Shore Beaches for Families: Sandy Hook to Cape May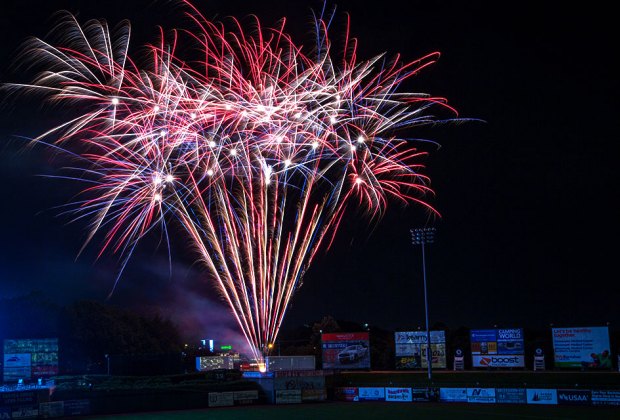 The Jersey Shore BlueClaws will light up the baseball diamond and the skies with 17 nights of fireworks. Photo courtesy of The Jersey Shore BlueClaws
5. Look to the skies.
Welcome back summer with some serious bang at First Energy Park. The Jersey Shore BlueClaws will light up the baseball diamond and the skies with 17 nights of fireworks, starting Tuesday, May 4. After many fireworks events were canceled last year due to the pandemic, the return of this summer tradition gives families an opportunity to create more memories to last a lifetime.
6. Enjoy the return of live music.
I'm sure I wasn't the only ticketholder who had a very disappointed teeny bopper on their hands after the KIDZ BOP tour was canceled last summer. I'm happy to report that the tour is coming back with a rescheduled stop at the PNC Bank Arts Center on Saturday, August 7. And if you missed out on scoring tickets the first time, tickets for the new show are on sale now. Prepare to sing along to "Old Town Road" at the top of your lungs...or bring earplugs like me. And, by the way, that's not the only show on the schedule!
RELATED: Worth the Drive: 12 Destination Playgrounds in NJ

Visit the Harriet Tubman Museum to learn about her life and her contribution to the Underground Railroad.
7. Learn the hidden history of Harriet Tubman.
After a virtual opening last Juneteenth, the Harriet Tubman Museum in Cape May officially opens its doors sometime this summer. Located in the parsonage of Macedonia Baptist Church, the museum shines a spotlight on Tubman's life and contribution to the Underground Railroad. While most of us learned in school that Tubman, born a slave, freed herself and then risked her life time and again to return to the South to emancipate family and friends, few know the role Cape May played in her efforts. It was in Cape May that Tubman worked in the early 1850s to earn money critical to carrying out her rescues. I can't wait to take my daughter to the museum to learn more about Cape May's place in the abolitionist movement and its rich Black history.
8. Root for the new home team.
While Yankees, Mets, or Phillies tickets are a special treat, cheer on the Buffalo Bisons as they make New Jersey their home away from home this season at Arm & Hammer Park, home to the Trenton Thunder. The Bisons are a Triple-A team, the highest level minor league baseball team to play in New Jersey. With easy parking, reasonably priced tickets, and kid-friendly activities such as fireworks, giveaways, and theme nights on deck, minor league baseball games are always fun for the whole family. Gather up your little sluggers and head out to a ball game.
RELATED: Best Jersey Shore Hotels and Resorts for NJ Families

Grab some goodness at Barry's Buns on the Jersey Shore.
9. Roll up to this new bakery.
I love big buns, and I cannot lie. And the buns don't get any bigger—or better—than at Barry's Buns, a beloved Philly bakery that's expanding to the Jersey Shore this summer. The Wildwood Crest location, opening on Friday, May 7, features the bakery's signature sticky buns, cinnamon roll bites, babka loaves, chocolate-chip pound cake, crumb cake, 10 different waffle options, a wide variety of cookies, brownies, and more. The husband-and-wife team behind this bun bakery has ties to the area, and both vacationed in Wildwood Crest as kids. I can already smell that sweet, wonderful aroma wafting up the parkway.
10. Feel the burn.
After a year spent gathering around the fire pits in our own backyards, bonfires on the beach are back this summer. Starting Monday, July 5, and every Monday night through August 16, bring your beach chairs and blankets to Seaside Heights' family-friendly Bonfire-on-the-Beach. Located on North Beach, the exact location of the bonfire depends on surf and wind conditions on a given night, but it's always in the general vicinity. You can't miss it. Just look for the giant flames.