NYC Beaches Are Closed; These Beaches are Open in NY, NJ, and CT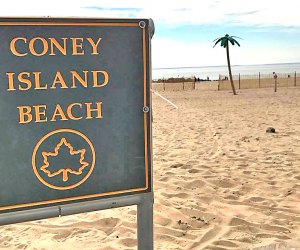 Like summers past, Memorial Day weekend brings with it the opening of beaches across much of the tri-state area. Though NYC beaches remain shuttered for the foreseeable future, city-dwellers won't be left to sweat it out, because, from the Jersey Shore to Long Island beaches, and the sands of Connecticut, there are plenty of family-friendly beaches nearby where the sun and the surf await.
While many local shorelines are reopening, beachgoers can expect the summer beach season of 2020 to look a little different than years past, with limits to crowd size and fewer amenities, but we're doing our best to break it all down for area families, so you can enjoy some traditional summer fun. At popular state-run beaches like Jones Beach and Robert Moses State Park, capacity will be limited by putting caps on available parking spots. Elsewhere, at local Long Island, Connecticut, and Jersey Shore beaches, the sale of beach tags will be restricted and be forewarned: Some spots will be limited to residents only.
This means families must plan beach outings days in advance, and arrive early to beat the crowds and heed closures. Rules and regulations are likely to change throughout the season, so be sure to click through to your favorite shoreline's local home page for details on its current status before you head out.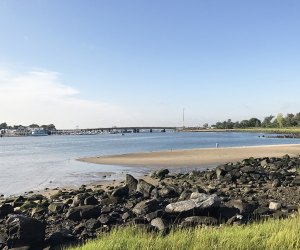 Orchard Beach remains open for solitary recreation. Photo by Vivian Cotte
NYC Beaches Will Not Open For Swimming
New York City's 14+ miles of beaches are, officially, closed. There will be no lifeguards on duty, and no swimming allowed. Mayor Bill de Blasio has been clear their fate for the entire summer is up in the air, and last week said they would stay closed until officials were sure they could be reopened without risk of beachgoers spreading the virus.
However, while you can't go in the water, much of the shoreline is, in fact, open for recreation. Visitors are allowed to walk, run, and enjoy the waterfront areas in much the same way they enjoy other Parks Department lands, via solo recreation, as long as social-distancing precautions are followed.
Beachgoers should be forewarned, too, that precautions are in place to shut the beaches down completely should social-distancing protocols be violated, with fencing being imported in case access points need to be blocked.
"If you want to walk on the beach, fine, enjoy that. There's no swimming, no lifeguard, no parties, no barbecues, no sports; it's just open space you can walk on, take it in, and go back home," de Blasio said, adding that "if we don't see the right thing, we'll have to be stricter...If we need to put up fencing, we will. I'm giving everyone all the chances they can to enjoy the beach without going to stricter measures."
While some concessions may be open, expect options to be limited; and like all other city restaurants, it's takeout service only.
Can You Travel to NYC Beaches?
New York City's shorefront is really meant to be opened only to the immediate communities, and visitors are discouraged from using public transportation to reach the beaches since non-essential travel is still officially off-limits. City leaders have consistently emphasized the risk posed by beachgoers jamming onto public transportation, both to passengers who aren't socially distancing, and to the essential workers using the trains to get to work.
NYC Ferry Service has been running on a modified schedule, so while it may technically give you a ride to the Rockaways, it's cut back on some routes, requires face coverings, and officially is meant only as a form of travel for essential business.
We're big fans of using the Seastreak Ferry to the Sandy Hook National Shoreline in New Jersey, but it's still awaiting clearance from the National Park Service to begin service for the season.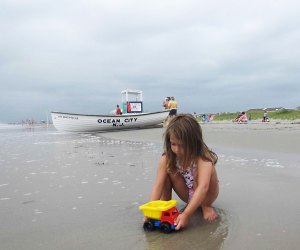 Ocean City's boardwalk is open, and lifeguards will be on duty starting Memorial Day weekend. Photo by Mommy Poppins
Most Jersey Shore Beaches Are Open With Restrictions
New Jersey Governor Phil Murphy announced local beaches, including those along the Jersey Shore and at state lakefronts, would open for the season Memorial Day weekend.
All public and private beaches must limit capacity, either by restricting the availability of seasonal or daily beach tags or finding other ways to limit access. Beachgoers must practice social distancing, and all amusement parks, arcades, and boardwalks must remain closed. Tables, pavilions, playgrounds, and splash parks must also remain closed and off-limits. Restrooms and shower facilities are allowed to open, but strict cleaning policies must be followed.
While the governor declared beaches could open, most access is determined by each municipality. Here are the rules at some of our favorite Jersey Shore beaches:
Sandy Hook National Seashore: Sandy Hook is open from 5am-7pm daily, and parking lot capacity is capped at 50% to limit crowd size.
Long Branch: The beach and adjacent boardwalk and promenade are open.
Asbury Park: Asbury Park's beach is open. Social distancing will be practiced, and masks are required when a 6-foot distance cannot be maintained. The boardwalk will be open for one-way travel in each direction. Beach pass sales, both daily and seasonal, will be limited.
Point Pleasant Beach: The beach is open with capacity limitations in place; capacity will be limited on a first-come, first-served basis daily. Social distancing is required, and groups of 10+ will not be admitted. Masks are required when standing in line at access points, but won't be required on the beach.
Island Beach State Park: This state park is open for a variety of recreation, and passes are required. The restroom in Swimming Area 1 is open, and masks are required to enter. Lifeguards aren't on duty, yet, but should be for the holiday weekend.
Long Beach Island: Long Beach Island is open, and social distancing will be enforced. Beach badges will be required beginning June 1. A ban on rentals is also being lifted on that date.
Atlantic City: Atlantic City's beach and boardwalk are both open for business, and seemingly drew big crowds last weekend.
Ocean City: Ocean City's boardwalk is open, and lifeguards are on duty starting Memorial Day weekend. Beach passes will be required July 6 and beyond. Visitors will be asked to follow social-distancing protocols. Bathrooms are open, and regularly cleaned, and hand-sanitizing stations are being set up along the boardwalk.
Wildwood: Wildwood's beach and boardwalk are open, and social-distancing is in effect. Boardwalk eateries are open for takeout orders only.
Cape May: Cape May's beach and promenade are open for recreation; however, swimming and lounging are both still no-nos here.
NJ.com has a good roundup of other local beaches and their status.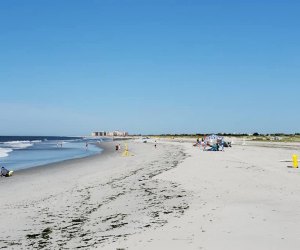 Nickerson Beach will be open starting Memorial Day weekend, but only to Nassau County residents. Photo Sara M.
Long Island Beaches Are Open With Restrictions
New York Governor Andrew Cuomo announced last week that state park beaches—both at lakes and seashores—would open for swimming and other recreation. Beaches must operate at 50% capacity or less, and heightened precautions are in place. Social distancing must be practiced.
The state park beaches nearest the five boroughs include Jones Beach and Robert Moses State Park.
Deeper into Long Island, most beaches will open and adhere to the guidelines put forth by the state, including limiting capacity to 50% and enforcing social-distancing protocols, including wearing masks. Picnic areas, amusement parks, arcades, and playgrounds will all remain closed.
Both Nassau County Executive Laura Curran and Suffolk County Executive Steve Ballone have announced that their respective county beaches will be open beginning with the holiday weekend. These beaches include Nickerson Beach Park, Smith Point County Park, and Cupsogue Beach County Park. This is good news for local residents but, be forewarned, each of these beaches is currently open to county residents only.
Local towns and municipalities, who control much of the Long Island shoreline, have followed suit, and many beaches are limited to local residents in an attempt to prevent an influx of city residents trying to escape the heat. See a list of limitations and beach-by-beach statuses here.
Connecticut Beaches Are Open With Restrictions
In Connecticut, Governor Ned Lamont said all state parks with beaches would open for the holiday weekend. Individual municipalities control much of the state's shoreline, however. These localities are responsible for making decisions on their individual shorelines. Any beach openings must take into account the social-distancing policies adopted by the state. These include no public gatherings of more than five, requiring face coverings when social distancing cannot be maintained, limiting parking capacity, and closing parking lots when capacity is reached. Additionally, beachgoers should place blankets at least 12 feet apart.