New Jersey Reopening Phase 1: What's Open and What's Closed in NJ Now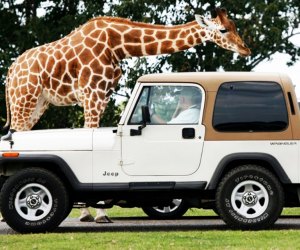 New Jerseyans who are itching to get to the the beach this weekend after months of lockdown have something to look forward to. On Monday, Governor Murphy announced the next reopening stage of the five stage "road back" reopening plan for our state, explaining which restrictions will be lifted and which businesses can reopen, with key safety guidelines. New Jersey has entered Stage 1 (after Stage 0 of maximum restrictions) which allows relaxed restrictions on low-risk activities if appropriately safeguarded.
Beginning Friday, May 22, New Jersey beaches and lakes can reopen. Plus, outdoor activities like batting cages, golf ranges, and horseback riding facilities are set to remove restrictions. After two months of non-stop Coronavirus news, only seeing each other in car parades and 8pm howls, giving our kids quarantine haircuts and virtual birthday parties, we finally have the beginnings of a plan to get out and enjoy the Garden State's natural beauty.
No specific dates have been given for the next phases of reopening, and all will depend on new coronavirus cases, hospitalizations, etc. Mass gatherings will remain off-limits for quite sometime until a vaccine or treatment is secured. Read on to find out what that means for schools and businesses, as well as parks, beaches, farms, and more that we can now visit—as long as we adhere to social distancing protocol and cover up with face masks.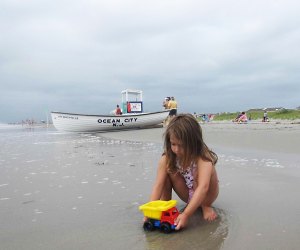 Ocean City's boardwalk is open, and lifeguards will be on duty starting Memorial Day weekend. Photo by Mommy Poppins
What's Open in NJ Phase 1?
Beaches
While New Jersey beaches officially open this weekend, some have already had soft openings over the past week. Rules and regulations vary by beach area but all encourage social distancing and masks on the beach and boardwalk. The number of visitors may be limited, and only families and households can be clustered together on the sand. Boardwalk restaurants may be open for takeout and delivery, but amusement rides, arcade games, tables, playgrounds, contact sports, and festivals remain prohibited. Some boardwalks allow visitors to walk in one direction. Restrooms have opened as well. Some beach area hotels, motels, and short-term rentals are expected to reopen after Memorial Day, while others will remain closed for the season.
State Parks
Get fresh air at New Jersey State Parks, which reopened to the public in early May. Face masks are encouraged, and parking lots are allowed to reach 50% capacity. Playgrounds, restrooms, water fountains, and visitor centers remain closed. Most county parks have followed the same guidelines.
Outdoor Sports Facilities
Phase 1 ​introduces the reopening of outdoor sports facilities like batting cages, golf ranges, shooting and archery ranges, horseback riding facilities, and private tennis clubs.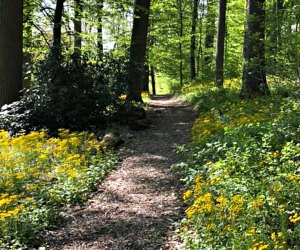 The Cora Hartshorn Arboretum building is closed indefinitely but the trails are still accessible. Photo courtesy of the arboretum
Public Gardens
Community Gardens in most towns are open for use, as well as a few local public gardens—most notably the trails (not the building) of the Cora Hartshorn Arboretum in Short Hills.
Six Flags Great Adventure, Safari Adventure
Although the amusement is closed, Wild Safari Drive-thru Adventure at Six Flags Great Adventure opens to visitors on May 30 for an off-road safari drive-thru adventure featuring 1,200 animals from six continents. Future plans to open the rides with reservations have been discussed but not yet permitted by the state.
Skylands Stadium Petting Zoo
After a few weeks of re-inventing itself as a drive-through experience, Skylands Stadium reopens as a petting zoo on May 24, with social distancing practices in place, and plenty of treats to give the critters. Cuddles all around!
Drive-In Movies and More
Drive-in religious services, movies, and graduation ceremonies are now approved to take place in New Jersey. Participants at these events must remain in their cars, with windows and sunroofs closed, and vehicles must remain 6 feet apart. Delsea Drive-In in Vineland, the state's only permanent drive-in movie facility, plans to open on Friday. Patrons must remain in the car except for restroom visits and take-out food concessions. Demarest Farms debuts a pop-up drive-in movie event in June.
What Businesses are Open for Delivery and Curbside Pickup?
Restaurants, food markets, toys stores, and other businesses deemed essential have been open throughout the lockdown.
Phase 1 openings also include nonessential construction and nonessential retail, such as bike shops, with modifications and curbside pick-up. Farmers markets, such as the one in Scotch Plains, may operate for the season with social distancing.
What Will Open in NJ in Phase 2?
While no timeline has been set for the next phase, Phase 2 would include museums and libraries, indoor restaurants with reduced capacity, retail establishments expanding beyond curbside pick-up, restricted personal care, and summer camp with limited in-person engagement.
​What's the Plan for School Reopening?
New Jersey schools remain closed through the end of the 2019-20 academic year, and the fall plan is still up in the air.
If you're interested in knowing more about the planning process, the New Jersey School Boards Association has produced a report called "Searching for a New Normal in New Jersey's Public Schools," covering the various considerations in forming what may well be a hybrid plan of in-person and remote learning. It is still unclear whether full school openings would be contingent on vaccine availability, which would fall under the "new normal" Stage 4.
Whether the schools come up with a social distance plan, continue with remote learning, or form a hybrid of the two (as many districts across the country are discussing), actual school opening dates will be available on local school districts' individual websites.