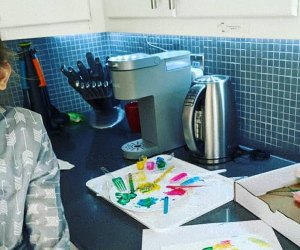 Shop Local to Support Small Businesses in New Jersey
With the economic crisis surrounding the pandemic, local businesses are looking for new ways to reinvent themselves and stay afloat during quarantine. Restaurants, small markets and toy stores have become accustomed to serving customers curbside, as well as offering local delivery. Other businesses, such as pharmacies, craft stores and clothing shops have used their creativity to think outside the box and serve their customers safely. Some food establishments have put together DIY food kits as a spin on take out, while still offering ready-made meals to go. Craft stores are now packaging kits to bring home to restless children. Many of these local businesses give back to the community with donations of goods and services to frontline workers.
Help support businesses in your area by continuing to purchase their products, consider buying gift cards for future use as well, and order directly through local restaurants, rather than a third-party delivery service, to help keep all of the profits with the company.
Read on for a sampling of local businesses throughout New Jersey that would appreciate your patronage. Be sure to check out all all kinds of businesses in your town.
And while you're showing your support for the businesses you love, we hope you'll count Mommy Poppins and our small business partners among them. You can support Mommy Poppins by sharing articles you find useful with friends or on your social media channels, checking out our directory of virtual classes, camps and birthday parties and telling businesses you found them through Mommy Poppins. Also, as part of our effort to keep our local parent writers and this website afloat and support some of our favorite family businesses, we've created Poppins@Home, a platform for small businesses to share free and low-cost online classes and birthday parties with kids all over the country. Please consider trying a few of these fun, affordable, and creative classes—and spreading the word among your friends—as yet another way to support, uplift, and get through these challenging times together! And for hundreds of fun ideas during quarantine, browse our Stay-at-Home Guide.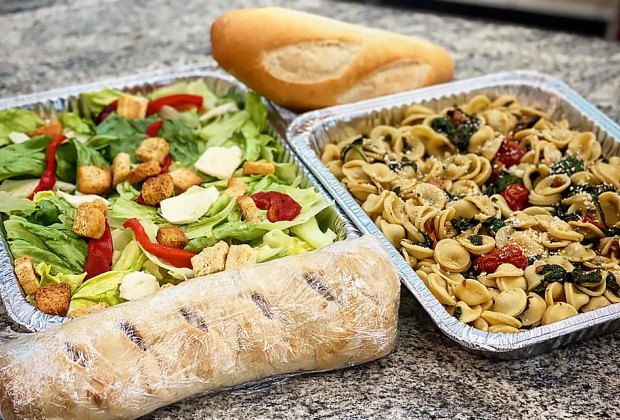 Pick-up and delivery are available from Florence Ravioli. Photo courtesy of the restaurant
Curbside Pickup and Delivery of Do-It-Yourself Eats in New Jersey
1. Florence Ravioli- Scotch Plains
Pick up a hearty Italian meal or make your own with a pizza kit from Florence. Follow their website for daily specials, including family "survival" meals. Pickup and delivery are available from this local establishment which has also provided meals for frontline workers.
2. The New Park Tavern- East Rutherford
Create your own pizza with a DIY kit from New Park Tavern, which includes dough, sauce, cheese, toppings, a pan, slicer and recipe. Plus, takeout and local delivery of their burgers, pizzas, appetizers and more are available with daily specials.
3. Splurge Bakery- Millburn
Splurge is the perfect place to grab birthday cakes, cake pops and unique sweets for all occasions. DIY baking kits for items such as cookies and truffles, as well as other bakery items, are available for curbside pickup and delivery. Splurge has also donated sweets to a local hospital.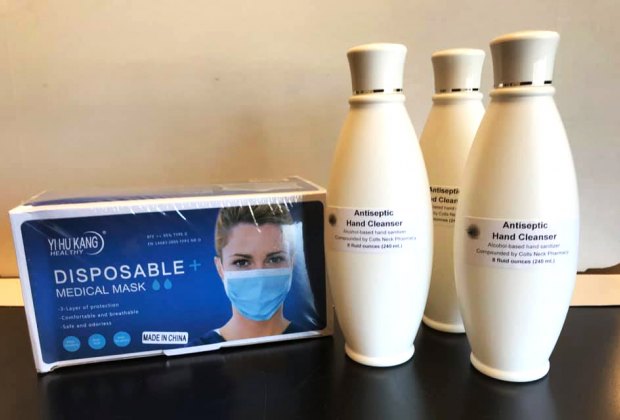 Colts Neck Pharmacy is open to serve the community and has masks and their own hand sanitizer. Photo courtesy of the pharmacy
New Jersey Pharmacies Offering Curbside Pickup and Delivery
4. Fanwood Pharmacy- Fanwood
The small town establishment has become a favorite with local residents due to its personal treatment of customers needs. Curbside pickup and local delivery is available for medications and items such as sanitizer and paper goods (when in stock). The pharmacy has also been donating ear loop masks to its customers.
5. Colts Neck Pharmacy- Colts Neck
Aside from medication, his family owned and operated shop offers curbside pickup of masks, handmade sanitizer and gift items.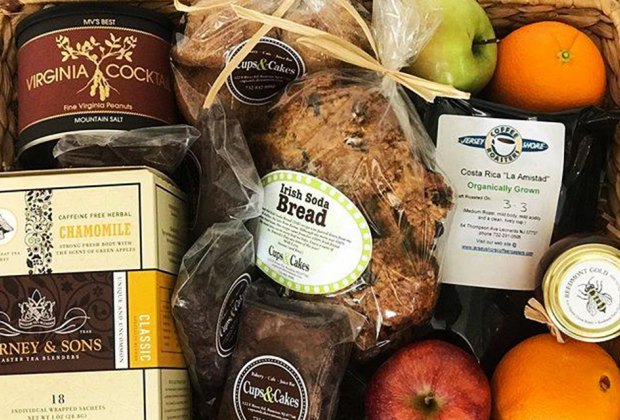 Customizable baskets of goodies are available at Cups and Cakes. Photo courtesy of the shop
New Jersey Coffee and Sweet Shops with Curbside Pickup and Delivery
6. Boxwood Coffee Roasters- Westfield and Summit
Boxwood not only gives it customers a caffeine fix- the establishment also delivers coffee to frontline healthcare workers when purchased by customers. Boxwood provides curbside pickup as well local delivery of coffee and food and even offers a daily delivery subscription.
7. How You Brewin'- Long Beach Island
Thirsty shore residents can get their coffee, as well as paninis and sandwiches, via pickup or local delivery from both locations. Coffee boxes and coffee subscriptions are available as well.
8. Cups & Cakes- Rumson
Not only does this delectable bakery present its customers with contactless deliveries of its goodies- it also has provided breakfast for local frontline workers. Choose from coffees, juices, smoothies, sandwiches and baked goods for pickup or local delivery.
9. Blue Sheep Bake Shop & Ice Cream- Somerville
Sweet lovers won't feel deprived with the selection available for curbside pickup from Blue Sheep. Load up on cupcakes, cookies, gluten free treats and even a cake shaped like toilet paper. Items will be brought to your vehicle.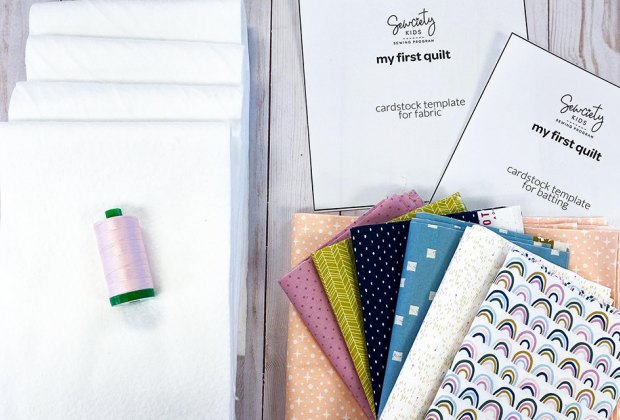 Urban Sewciety is offering contactless pick-up of quilt kits, scrap bags and more. Photo courtesy of the shop
New Jersey Shops Offering Craft Lessons or Craft Kit Pickup and Delivery
10. Messy Artist- East Hanover
Score themed craft kits for projects such as slime, unicorn canvases and model magic, and have them delivered to your door. Also offered are birthday parties in a box with balloons, confetti and art projects. The Messy Artist has recently donated craft supplies to emergency childcare centers for essential workers.
11. Ready to Paint- Chatham
Keep the kids busy with acrylic and pottery kits from Ready to Paint, which include paint, aprons and brushes. Pottery projects can be dropped off at the studio to fire up in the kiln. Kits arrive through contactless delivery or shipping.
12. Urban Sewciety- Westfield
Even thought the studio is closed, kids can still whip up amazing projects such as quilts and pouches through virtual classes and fabric scraps to go. Urban Sewciety has contributed to local production of masks with online instructions, mask sales and donations of masks to families in need.
13. My Little Party Place- Berkeley Heights
Give your child a memorable birthday celebration during this challenging time with a virtual party package from My Little Party Place. Packages include a craft, snack, stickers and other activities. You can even host a virtual slime making party for your child and friends. Materials are available for pickup or delivery.
New Jersey Children's Clothing Stores Offering Curbside Pickup and Delivery
14. Baby Crossing- Morristown
If your kids need a wardrobe update, visit this local boutique's online shop, then arrange for shipping or curbside pickup.
15. Juvenile Planet- Lakewood
Shop safely for children's clothing and baby gear with Juvenile Planet's curbside pickup and same day local delivery. If you're looking for a baby gift, request special gift wrapping of items.