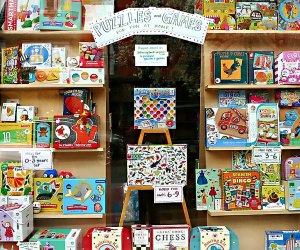 Toy and Book Stores Offering Curbside Pickup and Delivery in New Jersey
If your kids are getting tired of the same old books and toys from their home collection, it's time to replenish their stash with brand new items from local toy and book stores around New Jersey. While most kid-centric shops are closed to customers during the quarantine, these 10 local New Jersey shops are offering curbside pickup and delivery of their goodies. It's the perfect time to stock up on new books, jigsaw puzzles, quarantine birthday gifts, and outdoor toys for the upcoming warmer days.
For more things to do during the pandemic, check out our Stay-at-Home Guide, which lists hundreds of activities to keep families entertained. We've also got a great big list of 100 awesome craft projects, plus 64 easy science experiments, and tons more boredom busters. If you're looking for other tangible ways to support a local business, you might consider placing a Mother's Day brunch order from one of these local New Jersey restaurants offering take out and delivery.