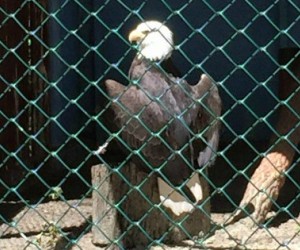 Swoop Into the Raptor Trust: A Hidden Treasure for Bird-Loving NJ Kids
During the summer, New Jersey parents are constantly on the lookout for day trips that are both entertaining and educational. The Garden State's great zoos and aquariums are always lots of fun, but if you're looking for a unique experience for your wildlife-loving kids, consider a trip to the Raptor Trust. Located in Millington, the Raptor Trust is primarily a medical facility for injured birds; however, it's also a permanent home for birds that cannot be safely returned to the wild. Visitors are given the opportunity observe these gorgeous creatures up close. I recently took my two children, ages 11 and 7, on a tour. Read on to see what this special destination has to offer.
Although families are welcome to explore the Raptor Trust on their own during visiting hours, I opted to take my children on a guided tour so that we could learn more about the birds that call this sanctuary home. It was definitely worth the added cost.
Our group was led by Shari, a knowledgeable bird handler, who began by explaining a bit about the medical facility. We learned that the hospital takes in over 4,000 injured birds each year, of which about 50% are rehabilitated and released back into the wild. She shared information about the state's bird population, and told us that most of the birds on display at the Trust are raptors. These birds of prey have unique characteristics, including keen eyesight and talons. She even brought out a resident barred owl named Vilma, to point out these features.
We then walked along the large cages while Shari shared information about each bird on display and how they came to reside at the facility. We met Georgette, a peregrine falcon who had been found on the George Washington Bridge after falling from her nest. She was rescued by a bridge worker but sustained several injuries that have kept her from flying. We also met Uno and Colonel, two majestic bald eagles. The Raptor Trust is one of the few places in the country where bald eagles can be viewed up close. There were also highly entertaining ravens, beautiful hawks, slightly creepy vultures and a variety of owls, including a one-eyed eastern screech owl named Winky. The birds on display provide a valuable educational opportunity to the public, and have even served as foster parents to some of the hospitals patients. Shari seemed truly enamored of the birds and was happy to answer all of our questions.
Both of my children enjoyed our visit to the Raptor Trust. The tour is chock full of information, which was great for my 11 year old daughter. My 7 year old son would have preferred to walk around the sanctuary at his own pace, without the added structure of a tour, but he hung in there. Both kids enjoyed a stop in the adorable gift shop where they snagged some reasonably priced plush raptors to take home. Whether you decide to just wander through the facility or register for one of the scheduled tours or programs, you won't be disappointed. It's wonderful to have one of the premiere wild bird rehab centers in the US located in central New Jersey. Easily accessible to all, this is one stop that should be on your families summer day-trip list.
The Raptor Trust is open 7 days a week. Visitor hours change with the seasons and can be found at theraptortrust.org. Visitors are asked to make a small donation. The facility receives no government assistance and relies on private contributions for its day-to-day survival. Tours and Scheduled programs are an additional cost and are posted on the website. Injured birds can be brought to the facility 24 hours a day. For information on handling and transporting birds call 908-647-2353.
Nearby
The Raptor Trust is surrounded by the Great Swamp and Wildlife Refuge. With over 1 1/2 miles of boardwalk trails, the Great Swamp is a great place to observe small animals, birds, snakes and turtles in their natural habitat. Additional nearby attractions include the Scherman Hoffman Wildlife Sanctuary in Bernardsville and the Somerset County Environmental Education Center in Basking Ridge