Dave & Buster's Opens Its Second NJ Location in Wayne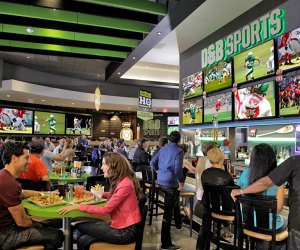 Parents looking for a way to beat the mid-winter blues have a new alternative: Dave & Buster's, the family-friendly arcade and sports bar-style restaurant, is celebrating the opening of its second New Jersey location today, February 14! (Family Valentine's Day outing, anyone?)
Providing a fun-filled experience for all ages, this gamer's paradise is located in Wayne's Willowbrook Mall, which recently underwent a multi-million dollar facelift.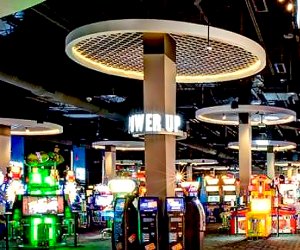 This massive complex has all the games you could ever want in one place.
Situated in the spot formerly occupied by Sears, the new Dave & Buster's features 46,000 square feet of entertainment, including hundreds of arcade games. Whether you want to roll old school with Skee-Ball or Pac-Man or check out the latest in state-of-the-art simulators and games of skill, the amusement emporium offers all that and more. There's also an ample sports bar where fans can catch college and professional sports games on the dozens of enormous flat-screen HDTVs while feasting on favorites like wings, quesadillas, and a decadent brownie sundae tower large enough for a family to split.
RELATED: New Hot Spots for New Jersey Kids and Families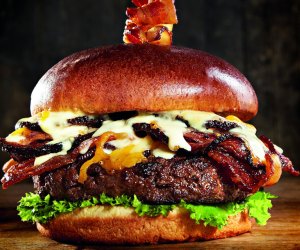 The triple bacon burger is one of the many mouthwatering offerings on the menu.
Sounds like the ideal spot to celebrate March Madness, right? Speaking of festive occasions, party packages are available for birthday boys and girls and include kid-friendly fare such as pizza, burgers, and chicken tenders to keep little revelers well-fueled while partying. For moms and dads who've booked a designated driver, innovative cocktails like the Green Ghost Glow Kone and the Original Coronarita are the mixologists' specialty. Grown-up parties and corporate events can also be held at this Passaic County funplex, which is the 109th location opened by the Texas-based company.
Dave & Buster's made its foray into the Garden State in November, setting up an outpost in Woodbridge. These openings were made possible only after former Gov. Chris Christie signed legislation that lifted a longtime ban on the blending of amusement games offering tickets in exchange for prizes with the sale of alcoholic beverages. Dave & Buster's lobbied lawmakers to change the law and allow the business to branch into New Jersey—and since that time it's been "game on!"
According to Dave and Buster's policy, those under 18 years old must be accompanied by a guardian who is at least age 25, with a maximum of six people per guardian. For those looking for a new gig, the company is looking to hire 300 employees for its newest location, with front and back of the house positions available, including servers, line cooks, game techs, and more.
Photos courtesy of Dave and Buster's