Franklin Institute: Things to Know Before You Go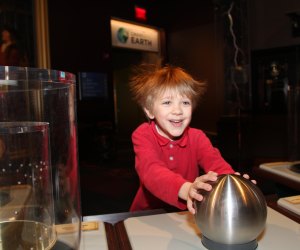 Philadelphia's known for its culture, history and museums, and the Franklin Institute is no exception. Whether you're planning your first-time trip to this popular Philly destination or returning again to see what's new, check out this article to make the most of your day.
With so many learning experiences and fun hands-on activities, plan to spend the day at the Franklin Institute. Your kids will get to launch a rocket, connect circuits to learn about electricity, board a locomotive, explore space and climb through a giant replica of a human heart, to name a few.
Exhibits and Attractions to Check Out with Kids at Franklin Institute
Multiple floors at the Franklin Institute house attractions designed to teach visitors about science. Sit down to an IMAX show in a dome theater, with movies shown throughout the day, exploring such topics as engineering, weather and volcanoes. Then walk through the various museum exhibits, which include the following:
Amazing Machine - Features include a machine design challenge, crane and lever experience, air power station and more.
Franklin Air Show - Some features include balloon races, a jet cockpit, wind stations and aerodynamic exhibits.
Your Brain - Features include an obstacle course illustrating neuron connections, heart rate tracker and vibrating bench, among others.
Train Exhibit - In this exhibit, walk onto a train and blow a whistle, push and pull handles to see how wheels turn, and learn about steam pressure with the push of a button.
The Giant Heart - Attractions here include a video of a heart surgery, an exhibit that displays your body's blood level, an exercise bike station and more.
Space Exhibit - In this exhibit, see different moon phases, build a rover and learn about gravity with marbles.
Changing Earth - Learn how streams and earthquakes work with hands-on activities.
Electricity Exhibit - Prepare to be shocked, learn about static electricity, see a cell phone wall and more.
Before you leave, be sure to take a picture in front of the iconic Benjamin Franklin statue at the center of it all.

Kids get hands on at Franklin Institute. Photo courtesy of C. Mooney
Accommodations for Children with Special Needs at Franklin Institute
To foster an engaging environment for children with autism, the Franklin Institute provides various assistive devices and tools to help your family have the best experience possible. Sensory backpacks are available at the information desk in the atrium or second-floor lobby and are available on a first-come basis. Items in the backpack include fidget toys, sunglasses and noise-reduction headphones.
You can also visit the museum website before your visit and download sensory alert maps. This way, you'll have an idea of the stimulation levels of each exhibit beforehand and be able to plan how best to enjoy the museum on your terms. For example, the sensory map for the Amazing Machine indicates that the attraction has low levels of stimulation overall. It also breaks down each exhibit on a low-to-high scale in terms of sound, sight, touch, movement and complexity.
The Franklin Institute also features Sensory Friendly events a few Sundays throughout the year, including March 15, June 14 and October 4, 2020. The event runs from 8:00 a.m. to 12:00 p.m. Families can pre-register online for up to six free tickets.
General Information for Families Visiting Franklin Institute
Museum Hours
General admission hours are 9:30 a.m. to 5:00 p.m, Monday through Sunday. There are also special events after regular museum hours.
Ticket Prices and Memberships
Ticket prices are $23 for adults and $19 for children ages 3-11.
You might consider purchasing a family membership, though, which starts at $149 and covers two adults and four children. If that's your group size, the membership nearly pays for itself in one trip. Not only do members benefit from free admission to the Franklin Institute, but also receive IMAX tickets and complimentary admission to the Fels Planetarium.
If you purchase the highest membership level ($400), you'll receive additional perks, including guest passes, special exhibit tickets and parking passes as well as discount on museum eateries.
Parking
The Franklin Institute has a garage at 271 N. 21st Street. However, parking can fill up quickly, particularly at peak times and days. The museum offers the following alternate convenient parking locations:
1919 Market Street
1901 Callowhill Street
1901 JFK Boulevard
17th and the Parkway
Nearby Restaurants to Eat At While Visiting Franklin Institute
If you leave the museum and want to grab a bite before heading home, check out one of these kid-friendly restaurants near the Franklin Institute. While tacos and pizza are usually a hit with the kids, consider Sabrina's Cafe, a long-standing Philly favorite.
Don't forget to let us know how your day went. Visit us on Facebook, and leave us a comment or post a picture of your favorite Franklin Institute attraction.