13 Education Workbooks to Keep Kids Learning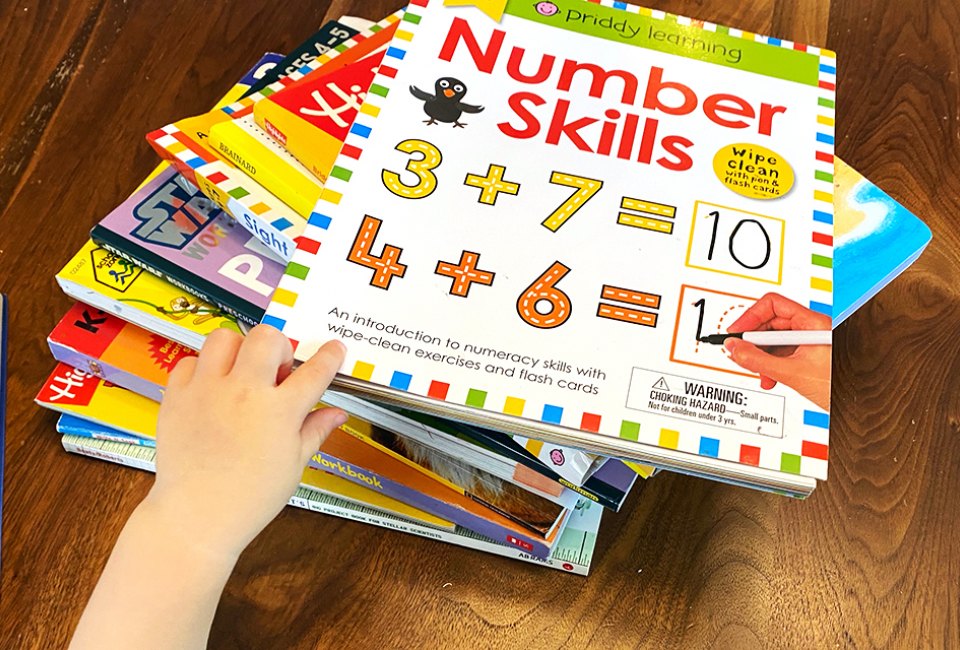 7/25/20
- By
Rosalind Muggeridge
The upcoming school year is just around the corner, and many parents might be seeking ways to prep kids for the new year or for tools to enhance school curriculum, especially if they are facing virtual learning. Educational workbooks and children's activity books can often help to fill that gap, especially in elementary-age kids.
Workbooks for kids come in many formats and offer a host of different types of skills practice. There are preschool workbooks, kindergarten workbooks, and those that delve into more advanced subjects. But with so many options out there, choosing the right workbook for your child can be a bit overwhelming.
With that in mind, we've singled out our 13 top picks for ages ranging from preschool to 5th grade. Find more homeschooling resources in our Remote Learning & Homeschool Guide for parents.

Workbooks for preschoolers help kids learn to recognize and trace letters, numbers, and words.
Preschool Workbooks
In this comprehensive workbook, kids dive straight into learning with activities that cover all the basics of writing letters and numbers. Using a simple step-by-step guide, students will begin by tracing dotted lines to create basic straight and wavy lines, before progressing to writing letters and numbers. There's lots of repetition to help with memory and retention and a bonus section on drawing shapes.
Although some workbooks try to cover everything in one go, it may be better to focus on one subject at a time. This workbook is specifically designed to teach young children how to write the numbers 1-20. Using helpful arrows on each number that show kids where to start with their writing, learners will also practice spelling out the corresponding number word. Spiral-bound and paperback options are available.
RELATED: Subscription Boxes for Kids: Craft Boxes, Science Experiments, and Cooking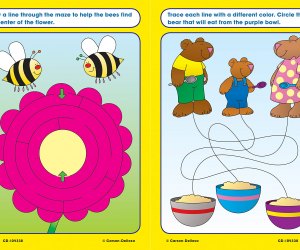 Build fine motor skills, hand-eye coordination, and more with the Carson Dellosa Mazes Activity Workbook.
Mazes are a great way to engage little ones in stress-free learning. Kids build fine motor and hand-eye coordination skills while learning about spatial relationships. Track progress with the included incentive chart and keep motivation high with 140 full-color stickers.
Keep the learning and the fun going with this wipe-clean workbook jam-packed with loads of activities for the preschool set. The preschool workbook is divided into four sections: letters, animals, time, and numbers. The spiral-bound makes it easy to lie flat on a table, which might be important to your early learner. The only downside: the marker that is included isn't great, so be sure to pick up your own dry erase marker. Another thing to keep in mind, if you have a left-handed little one at home they may accidentally smear their previous writing as they move their hand around the pages. Instead, opt for these dry erase crayons that still wipe off well but won't smudge as easily as marker.
These Priddy workbooks come in a variety of options. We also enjoyed the Wipe Clean: Sight Words version and the Wipe Clean: Number Skills workbook, which includes a fun math game, for this age group.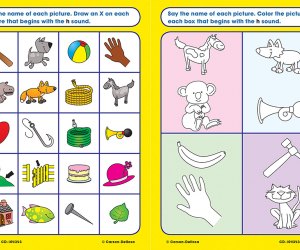 In Phonics for Kindergarten, kids work on beginning consonant sounds, short vowel sounds, sight word recognition, and more.
Kindergarten Workbooks
For little learners who are dragging their heels a bit, try motivating them with a theme they already enjoy, such as their favorite cartoon character or activity. This full-color PAW Patrol-themed workbook features the whole puppy gang and introduces kids to basic math, numbers, and counting activities. There are two sheets of stickers included for added incentive. We also know a soon-to-be kindergartner who has agreed to a little extra school work if done in these Star Wars workbooks.
Proving that sometimes less really is more, this series of short but very comprehensive books packs a punch without overwhelming students. Covering Kindergarten-level phonics thoroughly without confusing kids with lots of subjects all at once makes this book a favorite for teachers and parents. Eye-catching colorful photos and gold stars for a job well done make this a great choice for early learners.
Trusted kid-friendly publisher Highlights doesn't disappoint with its series of workbooks for kids at all stages of learning. Created to align with grade standards, this book engages kindergartners using mazes, hidden pictures, and tracing games. Sections on colors, shapes, patterns, and sight words cover math concepts like skip counting and simple addition and subtraction. Helpful additions include a guide for parents, a certificate of achievement, and accompanying online activities.
RELATED: CDC Urges Schools to Reopen in Fall 2020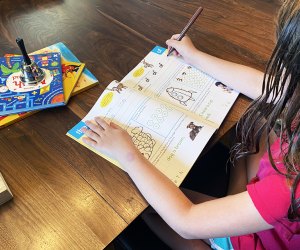 Kids practice sight words, writing sentences, and simple math problems in 1st and 2nd grade workbooks. Photo by Rose Gordon Sala
Workbooks for 1st and 2nd Graders
You're probably already familiar with the Mad Libs library of funny fill-in-the-blank books, but you may not know that the brand has also started producing workbooks. (So far, there are workbooks for 1st and 2nd grades only.) Aligned with the Common Core, the books are full of grade-appropriate educational activities, but still have all the fun you remember from family road trips.
If you're a firm believer that lots of positive enforcement and gentle repetition are the keys to effective learning, this book will fit the bill. Each exercise reinforces 100 words that children should know by the end of 1st Grade. The book begins with simple concepts that kids can easily grasp and then progresses slowly with lots of repetition. This basic beginner book builds confidence and a sense of accomplishment for more tentative learners.
If you're looking to keep it simple with only one workbook in your arsenal, School Zone's Big Workbook Series is the one for you. Each book offers hundreds of activities and covers a number of subject areas. We especially love the parent notes for each section to help focus in on what's key for each lesson. You can pick up School Zone's BIG workbooks for every year from pre-K through 3rd grade.
RELATED: Free Online Classes for Kids Right Now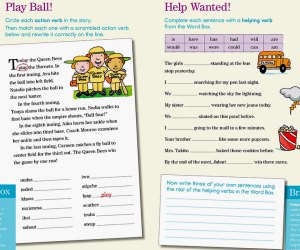 In the Brain Quest Workbook Grade 3, each page is jam-packed with hands-on activities—with friendly illustrations throughout.
Workbooks for 3rd, 4th, and 5th Graders
If you're looking for something that is aligned with the Common Core curriculum, this Brain Quest workbook is a great option. A popular choice among homeschoolers, this robust workbook boasts 309 colorful, engaging pages, plus an illustrated map that kids can use to mark off their progress. This extensive book covers everything from spelling and vocabulary to fractions and decimals, and most subjects in between. The Brain Quest Series goes from pre-K to sixth grade.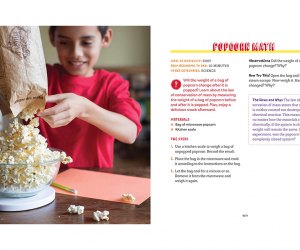 Awesome Science Experiments for Kids teaches budding scientists ages 5-10 the nuts and bolts of the scientific method, using fun, hands-on experiments
Looking for something a bit more hands-on? As any teacher knows, kids learn by doing, so don't be afraid to skip the traditional workbook and engage older students with these cool STEAM experiments. Don't be fooled by how much fun your child has, there's still plenty of learning happening. For more fun hands-on experiments, check out our Guide to Easy Science Experiments for Kids to Do at Home.
The 5th grade math curriculum introduces students to more complex and challenging material. Support your student's efforts with this book that covers core concepts like multiplying and dividing two and three digits, place value, decimals, fractions, geometry, and pre-algebra. This no-frills guide through 5th grade math makes a solid learn-ahead or reinforcement tool.

This article contains some affiliate links, which means we might earn a small commission if you make a purchase. There is no extra cost to the reader. We only recommend products and services that we have personally used or have thoroughly researched.
Photos provided by the publishers except where noted
Click Here to Sign Up!
i