Top Takeaways from CDC School Reopening Guidelines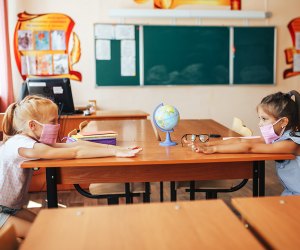 7/24/20
- By
Rose Gordon Sala
Just two weeks after President Donald Trump threatened to defund schools that do not open their doors for in-person learning this fall, the Centers for Disease Control and Prevention (CDC) released new school reopening guidelines urging schools to reopen classrooms.
While the guidelines repeatedly suggest that individual districts must make reopening decisions based on their local situation, including current coronavirus transmission rates and spread, the director of the CDC made it clear he views a reopening of schools for in-person learning as essential to public health.
"It is critically important for our public health to open schools this fall," Dr. Robert Redfield, CDC director, said in a statement. "School closures have disrupted normal ways of life for children and parents, and they have had negative health consequences on our youth. CDC is prepared to work with K-12 schools to safely reopen while protecting the most vulnerable."
Read on for the top takeaways from the CDC's guidelines on how to reopen schools.
The guidelines arrive as some school districts are just weeks away from the new academic year, and when many others have already announced preliminary reopening plans, including the country's largest school districts, such as New York City and Los Angeles. The president had previously criticized the CDC's earlier "interim" school guidelines as "very tough & expensive" and said he planned to meet with them to share his thoughts.
The CDC guidelines released late Thursday, July 23, include sections on reopening for school administrators, as well as a safety checklist for parents and caregivers and a decision-making tool as many families are weighing the pros and cons of remote learning vs. in-person schooling vs. the new so-called hybrid models that include both options.
Education Week is tracking school reopening plans countrywide, many of which appear to be headed to an all-remote fall start or a hybrid model.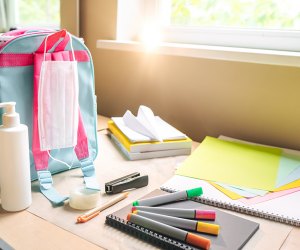 Kids' school supply lists likely include masks and hand sanitizer for the upcoming year.
Top Takeaways from CDC School Reopening Guidelines
Schools should aim to reopen for in-person, face-to-face learning with exceptions for teachers and students with health concerns.

All schools should prepare for an outbreak as coronavirus remains active in the country. Instead, school districts should create a plan for reacting to outbreaks, including lining up a testing plan, isolating cases, and contact tracing.

Masks, handwashing, and social distancing must be in place, as well as additional disinfecting protocols. Previous CDC guidelines covered this in more detail.

Consider "podding up," to keep smaller groups of students together throughout a day or year.

Repurpose school or community spaces to create new classroom space that encourages social distancing. Outdoor spaces are another option.

Schools should make reopening and closure decisions based on discussions with local health officials, as well as local levels of community transmission.*
*The CDC guidelines describe four community transmission levels, including "no to minimal transmission" and "substantial, controlled transmission," but it is only at the "substantial, uncontrolled" fourth level that the guidelines suggest considering school closures. In other cases, it points administrators back to "mitigation strategies," such as pods, handwashing, eliminating field trips, closing cafeterias, and other social distancing measures. Director Redfield emphasized during a press briefing related to the guidelines that "the majority of the nation have positivity rates that are less than 5%," meaning below a level he believed should result in a school closure. He also said that a single positive case in a school should not be grounds for closure.
The U.S. remains a coronavirus hot spot with a current surge of cases and hospitalizations sweeping through the southern and western states and a countrywide caseload topping more than 4 million.
The document spends considerable time describing the reasons the CDC believes reopening schools is critical. It suggests students have fallen behind after March school closures and others will fall further behind, both academically and in terms of general wellbeing, if classrooms remain closed.
"Schools are an important part of the infrastructure of communities, as they provide safe, supportive learning environments for students, employ teachers and other staff, and enable parents, guardians, and caregivers to work. Schools also provide critical services that help to mitigate health disparities, such as school meal programs, and social, physical, behavioral, and mental health services. School closure disrupts the delivery of these critical services to children and families, and places additional economic and psychological stress on families, which can increase the risk for family conflict and violence."
It also describes studies showing that children, especially younger ones, tend to be at lower risk for COVID-19.
"Children appear to be at lower risk for contracting COVID-19 compared to adults. While some children have been sick with COVID-19, adults make up nearly 95% of reported COVID-19 cases...As of July 21, 2020, 6.6% of reported COVID-19 cases and less than 0.1% of COVID-19-related deaths are among children and adolescents less than 18 years of age in the United States….Early reports suggest the number of COVID-19 cases among children may vary by age and other factors...Data on SARS-CoV-2 transmission among children are limited."
Director Redfield reiterated this idea during the press briefing, saying, "This is not a serious sign pathogen in individuals under age 18."
President Trump, on Thursday, July 23, continued his call for schools to reopen, saying he had requested $105 billion for education spending within the new coronavirus relief bill. If schools do not open for in-person learning, "the funding should follow students so parents can send their child to the private, charter, religious, or home school of their choice," a
White House statement
said, reiterating the president's suggestion to defund schools that do not open.