NYC Students Will Be in Classrooms Part-Time with Schools Reopening Plan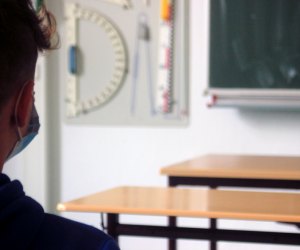 New York City Mayor Bill de Blasio and Schools Chancellor Richard Carranza announced the framework for getting the nation's largest school system back to school in September 2020. The key takeaway for city parents: Though students will be learning five days a week during the 2020-21 school year, it's unlikely they will attend in-person classes more than 2-3 days a week as the city adopts a "blended learning" plan for the upcoming school year.
"Students will return in September to either a blended model or a fully remote model if they so choose," de Blasio announced. "Blended learning means students will be taught on-site in school for part of the week and remotely for other portions of the week. Over the past several months, we've worked with many stakeholders, including our principals, to develop scheduling models that can accommodate limited in-person attendance."
New York City's public schools, which make up the largest school district in the nation, have been shuttered since March 16, and the city's 1.1 million students finished the school year remotely.
Up until now, the district's reopening plans have been heavy on speculation but light on concrete plans. The picture became more clear Wednesday.
"It has to be the greatest school year in New York City history," de Blasio said as he laid the groundwork. "And that's not just words, that's the truth, it has to be a year where really extraordinary things happen, where we help kids who are coming back from so much, where we work with different models and make them work together, where we recognize that we can find some good even the midst of crisis."
The city's plan, which was developed using the input of a city-wide survey which solicited more than 400,000 responses, includes a handful of scheduling options, which have been shared with individual school principals who will be responsible for adapting them to their particular schools, depending on space and population constraints. Social distancing will be enforced, meaning at most 50 percent of a school's population can be expected to be in attendance on any one school day. The chancellor said the optimal class size, taking social distancing into account, is just 9-12 students per classroom.
In addition, the mayor and chancellor made it clear families can opt into an all-remote schedule and will be given quarterly opportunities to opt back into the blended in-person model throughout the school year.
Face coverings will be required for students and staff members, schools will be deep cleaned nightly, and large spaces like cafeterias, gyms, and auditoriums will be utilized for classrooms. Work is underway to update HVAC systems to improve ventilation in school buildings. Additional cleaning supplies, hand soap, and hand sanitizer will be available in all school buildings. Students or staff who do not have access to PPE will be provided with it.
The announcement might generate more questions than answers, a fact Chancellor Carranza addressed in a letter to families, writing, "I'm anxious—just like you. I know that blending in-person and remote learning feels like an improvement over the all-remote experience of the last three months, but still comes with many questions and concerns." In an effort to address those questions, the DOE is launching a return to school website today and planning to host a series of virtual info sessions at both a city-wide level, as well as an individual school level as the new school year approaches.
Principals are required to provide more details on their individual school scheduling plans in August to give parents time to plan in advance of the September school opening.
Another key component of the 2020-21 school year will be a focus on social-emotional learning as students readjust to the "new normal" in schools.
"Our city has been to hell and back," Carranza said, in addressing the coronavirus pandemic and the havoc it wreaked on the 2019-20 school year. "We do not want to return to that, so we are going to make sure our schools are safe for our students, our staff, and our families."

Don't put your remote learning supplies away; New York City kids will spend a significant amount of time engaged in remote learning come fall. Photo via Unsplash
New York State Guidance on School Reopening Forthcoming
As has been a familiar refrain throughout the pandemic, Governor Andrew Cuomo made clear again at his own Wednesday press briefing that all school decisions come from the state level and announced further guidance would be outlined on Monday, July 13. Local school districts will have until Friday, July 31, to finalize their plans and submit them to the state, who promises final decisions on any school reopenings by Friday, August 7.
In addressing the plan laid out by NYC's leaders, Cuomo acknowledged that NYC "did submit a plan, the plan will be reviewed, and we will accept or deny the specific plan or ask for alterations on the plan, and make a global decision as to whether any school district will reopen."
The governor said all school decisions would have to pass his "my child test," saying, "I am not going to ask anyone to put their child in a situation that I would not put my child in, and that's how I make these decisions. If it's not safe for my child, it's not safe for your child. We'll get that data, and we'll make that decision in August."