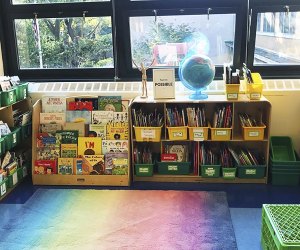 NYC Schools' Fall Reopening Plan Outlined by Chancellor Carranza
New York City is examining a range of ways to reopen public schools in the fall, including staggered schedules and potentially more remote learning, according to a letter Chancellor Richard Carranza sent to school staff earlier this week. The chancellor breaks down the reopening plans into an eight-point "Fall Framework" and points out that there are still many unknowns.
While the letter does not offer a firm NYC school reopening date other than September, the city's mayor hinted that September 10 is a possibility during a Thursday press conference. Mayor Bill de Blasio referenced the date several times in responding to questions about the school reopening plan, saying, it's "impossible to say, 'Here's exactly what's going to happen on September 10, 2020,'" and "there's going to be a certain number of parents that even if school was open to all in person, they're not going to be ready necessarily on September 10 to send their child back."
Read on for the full contents of the chancellor's letter to learn more about what the new normal might look like for NYC's 1.1 million students come fall, including a combination of in-person and online instruction, split schedules, social distancing protocols, enhanced health measures, and more.
Schools have been closed since mid-March with remote distance learning in effect through the end of the school year. Reopening the largest school district in the nation for the 2020-2021 school year will be no easy feat, and the mayor backed up his school's chief at a Thursday press conference, emphasizing that the importance of the letter was to get school administrators planning for a variety of scenarios.
"What we do know is our schools need to be able to move on a continuum," de Blasio said. "The better the health situation, the more parents who are ready to have their kids come back, and the more students we have to be ready to serve in person. ... It could be every student back in school; it could be no students back in school, and we have to be ready for all of that. And, at any point, it could change literally month-to-month because of the realities we face. I know that's not easy for anyone to hear, but it's true."
Governor Andrew Cuomo has maintained any decision on schools reopening statewide is his alone to make, and he has asked all districts to submit school reopening plans this month, with a July timeline for his decision.
Here is a summary of the points of emphasis from Carranza's letter; it is now available in its entirety online. (A Department of Education source confirmed its accuracy.)
RELATED: New York Day Camps Get Green Light To Open for Summer 2020
1. Enhanced Health Measures
Schools will not only be required to have PPE on hand, but also to ensure social distancing protocols are observed, and regular health checks are performed. The DOE plans to work closely with the Department of Health and Mental Hygiene to put student and staff safety at the forefront of any reopening plans.
2. Trauma-Informed Transition Back to School
Following the abrupt end to in-person classes this spring and the rocky transition to online learning, the staff is being asked to pay increased attention to social-emotional well-being come fall. Trauma-informed teaching approaches will be utilized.
3. Blended Learning
Think of this as a hybrid of the in-person instruction of yore and the remote learning the NYC DOE has utilized to close out this school year. Chancellor Carranza has asked schools to consider "leveraging" both types of teaching to maximize student learning when NYC schools reopen.
4. NYC School Start Date
Carranza emphasized that the DOE is working toward a traditional September start date for NYC schools. Though Carranza didn't mention a start date in his letter, Mayor de Blasio cited Thursday, September 10, as being Day 1 during his Thursday press remarks.
5. Rolling/Phased Starts
Back-to-school is generally filled with fanfare and crowded subway trains as all 1.1 million school children head back to school on Day 1. The chancellor alludes to the possibility of mimicking some international reopenings where "other countries are modifying schedules, and/or starting groups of students in person at different times." We could see different schedules by age group or geography and limited access to some buildings. All discussions of a return to buildings will be undertaken with the advice of the NYC Health Department.
6. Social Distancing and Split Schedules
To aid social distancing and reduce building capacity, the chancellor is encouraging colleagues to "think creatively about schedules," which means all students may not be in attendance every day as capacity limits reflect CDC and local guidelines on reopening schools safely.
7. Building Operations
In addition to enhanced cleaning protocols, school administrators need to rethink how buildings are utilized to minimize contact at points of entry and exit, as well as the number of places students congregate during the day. In all likelihood, this means the use of common areas will be limited.
8. School Support Services
The last item on Carranza's list deals with everyday services like school food and school buses. Both will have to be evaluated and "adjusted to accommodate health and safety operations."