10 Scenic Train Rides in Florida for Every Family to Enjoy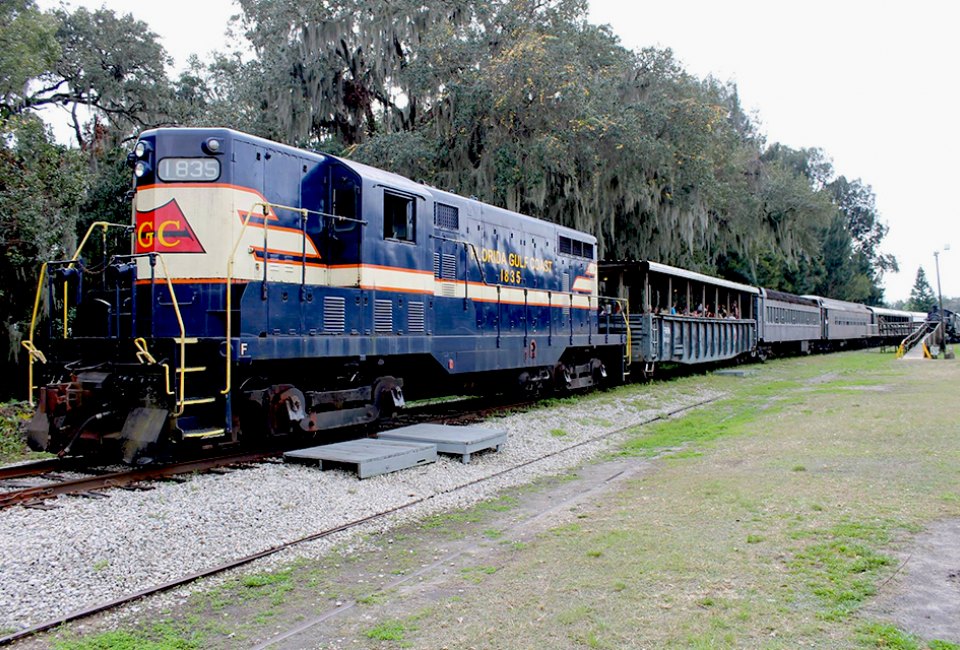 10/17/21
- By
Charlotte B
Looking for a new way to tour the beautiful Sunshine State? Immerse yourself and your family in fun and adventure as you step aboard these Florida train rides. Whether you're looking for a scenic day trip by train, a theme park train ride, or a special holiday train ride like The Polar Express, there are scenic train rides in Florida to please every age and interest. Train enthusiasts—both large and small—will love riding the rails on these Florida train rides.
And if you're looking for an easy, fast, and luxurious way to travel between West Palm Beach and Miami, check out our experience on the new South Florida Brightline train!
For more family fun around Florida, visit our Florida Family Travel Guide.
All Aboard Scenic Florida Train Rides
Visitors can actually ride the exhibits at this train museum that hosts a variety of experiences throughout the year. In the Fall, take a train ride on the Pumpkin Patch Express to the museum's pumpkin patch. During the holidays, take a trip on the North Pole Express to visit Santa. Other experiences include an Old West Train Robbery ride, Von Kessinger's Express (complete with a World War II re-enactment), and a Day Out with Thomas train ride. When special events are not occurring, standard 13-mile round-trip train rides are offered year round, with a stop in Willow, FL, to see more of the museum's exhibits and artifacts.
This railway is just across the Florida state line, about 30 minutes north of Jacksonville, and is popular with north Florida families. Scenic 1.5 hour train rides from St. Marys to Kingsland are offered on Saturdays, crossing the south Georgia marshes. Themed and holiday excursions include a Pizza Express, Wild West Train, Great Gatsby Getaway, Murder Mystery Express, Halloween Train, and The Santa Special train ride. Get more information about the Santa Special holiday train ride here.
This historical railroad museum has more than 40 railcars to explore, a model train display, and train rides. The Standard Gauge train ride is 25-minutes long and operates on the first Saturday of each month; guests take a trip around the property and can even choose to ride in the cab with the engineer. A railroad speeder car also runs the first Saturday of each month and is a 20-minute ride around the property. A smaller children's train runs each weekend (and certain weekdays if weather permits) around the back side of the property, offering a view of the rail yard. Special events include Day Out with Thomas and a North Pole Limited Train. FYI, the museum is located next door to Zoo Miami, so guests can visit two great attractions in one day!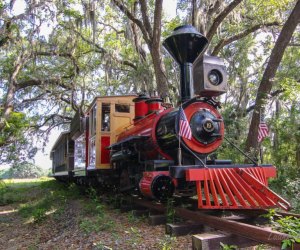 Kirby Family Farm offers trains, rides, and a petting zoo! Photo courtesy of the farm
Kids and families can learn about Florida's railroad history at this non-profit educational family farm. The farm boasts a historic collection of five locomotives and six open-air passenger cars. Popular annual events include Six Gun Territory Wild West Weekend, Rock-N-Roll Easter Train, Scary Train Halloween, and The Christmas Train. In addition to the railroad, the farm features carnival rides and a petting zoo.
Passengers can relive the magic of the popular holiday film on this one-hour trip through downtown Miami, while seated inside festively decorated Brightline railcars. The ride features dancing chefs, delicious treats, sing-alongs, and of course, Santa Claus.

Kids (and many adults) love riding trains, especially the SunRail. Photo by the author
SunRail – Greater Orlando Area
Known as Central Florida's commuter rail, the SunRail is a fantastic train ride for Orlando families. Our family personally enjoys riding the SunRail from the Sanford stop to the Advent Health stop, which is just a short walk away from the Orlando Science Center, the Orlando Repertory Theatre, and the Orlando Fire Museum.
With locations all across peninsular Florida, the Amtrak is perfect for day trips around the state. Popular destinations include the Winter Park station, which is within walking distance of the Winter Park historic district and downtown area; as well as Tampa Union Station, near Ybor City.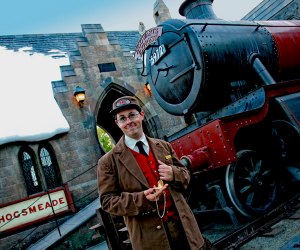 Harry Potter fanatics love this enchanting train ride aboard the Hogwarts Express Train. Photo courtesy of Universal Orlando
Theme Park & Attraction Train Rides
Tour the Alligator Capital of the World on a small steam train to learn about the history of the park and get a unique view of the breeding marsh and animal exhibits. The round-trip ride takes about 20 minutes. Note: The train has a $2 fee in addition to park admission.
Harry Potter fanatics will love this enchanting train ride that transports guests to and from both lands of The Wizarding World of Harry Potter—Diagon Alley (at Universal Studios) to Hogsmeade (at Universal's Islands of Adventure). Passengers will encounter favorite characters from the popular book and film series while on the ride.
Walt Disney loved trains—he actually built his first train in his own backyard! Because of his love for trains, the Walt Disney World Railroad is a great attraction for guests to experience on a Disney trip. It is located at Main Street USA, just inside the entrance of Disney's Magic Kingdom park. Disney runs four historic steam trains on the railroad, all originally built between 1916-1928. Visitors can enjoy a 20-minute, scenic tour around the park, with stops at Frontierland and Fantasyland. Note: The WDW train is temporarily unavailable due to Covid precautions but check the website for updates.
Click Here to Sign Up!