Visiting the Orlando Science Center with Kids: The Fun of Exploration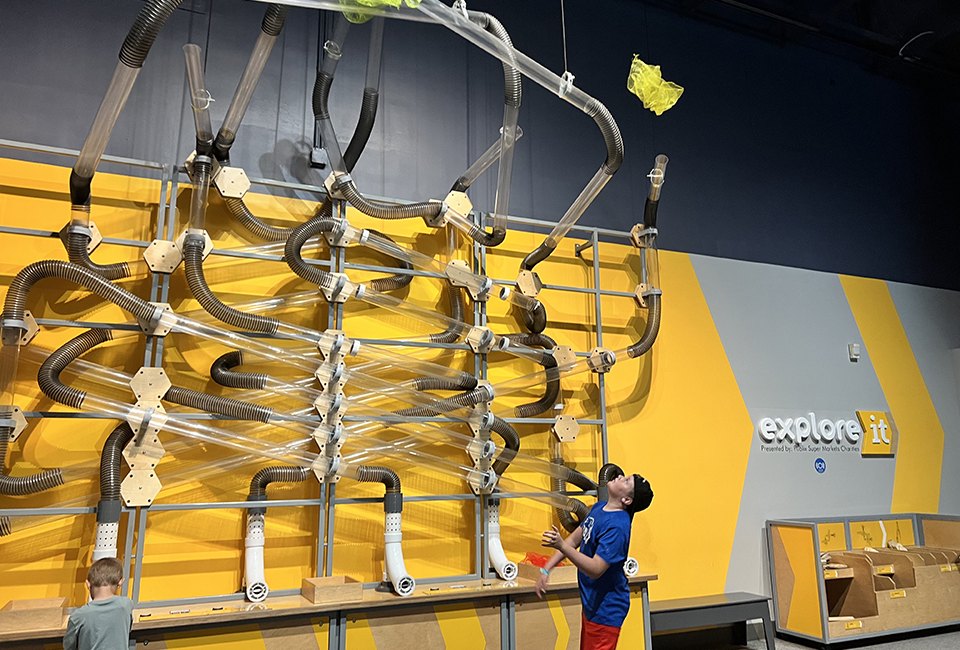 6/26/22
- By
Charlotte B
For over 65 years, the Orlando Science Center has been a key family attraction for both locals and tourists alike. The Orlando Science Center (OSC) offers four levels of hands-on exhibits, theaters, workshops, and experiences designed to make learning fun. OSC is one of my children's favorite things to do in Orlando (we're long-time passholders). Read on for our breakdown of all the fun exhibits, activities, and top tips for visiting this award-winning Orlando attraction.
The Orlando Science Center is conveniently located near downtown Orlando, just off of I-4 on Princeton Street. OSC has its own covered parking garage, with a walkover bridge to the main level and ticketing lobby, perfect for staying out of the heat or rain! While all ages can enjoy the science center, we suggest the ideal ages are 12 and under.
Orlando Science Center: KidsTown Exhibit
Upon arrival, kids immediately take notice of the KidsTown exhibit, which features seven interactive zones geared toward children ages 0-7.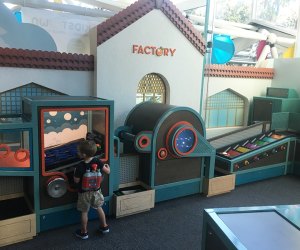 Kids learn how their morning o.j. comes to be by exploring the Orange Grove exhibit.
The first zone is the Orange Grove, where little ones learn how oranges travel from tree, to market, to table —all through hands-on play. The Orange Grove has an enclosed toddler area, perfect for tiny tikes to play while their siblings explore the "grove."
Next, proceed through a hallway of rainbow lights to Isaacs Family ClimbTime, a multi-story play structure for gross-motor play (my kids' favorite)! ClimbTime is designed for ages 4-7.
From there, KidsTown branches out into several play areas, including Drip Drop Splash —a water play zone where budding scientists can explore water with toy boats, pipes, fountains, and more. Waterproof aprons are available to keep clothing dry, and there are baby seats directly in the water table, so even the smallest tots can splash and play! Directly across from Drip Drop Splash is ToddlerTown, an area designated specifically for ages 0-2, with soft play elements for tots to explore and navigate.
Another of my childrens' favorite zones is Explore It, where kids can explore cause and effect through a variety of open-ended activities and materials. KidsTown also houses a play theater and studio that promote creative activities.
Drip, drop, FUN at OSC's KidsTown!
RELATED: Top Indoor Play Spaces for Kids in Orlando
Orlando Science Center: DinoDigs, Kinetic Zone, and More
Venture past KidsTown on the main level and discover a temporary, themed exhibit. As of the time of this article, the current exhibit is Bionic Me, which explores ever-evolving technology focused on improving lives. (Be sure to check out the temporary exhibit on display during your visit!) Also on the main level is Kinetic Zone, where guests can use a pulley system to lift themselves up, launch air rockets, use pipes to build coasters, and more.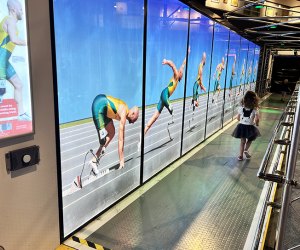 Bionic Me is one of the temporary exhibits currently on display.
Travel up to the next level and guests, ages 8 and up, can experiment, design, and build in The Hive: A Makerspace. This space offers real tools and materials, along with mentors, to help guide children in the creation of projects like sewing buttons, soldering circuit boards, using 3D modeling software, and more. Kids ages 8-12 must be accompanied by an adult.
The top level houses two popular exhibits: DinoDigs and Our Planet. In DinoDigs, little paleontologists will love using shovels and brushes to dig for fossils, with two separate dig pits. Explore giant fossil replicas of a variety of dinosaur species, as well as authentic fossils of ancient reptiles and mammals. Outside in the hallway, don't miss the "Poozeum," a collection of fossilized poo. (We know, gross right?! But my kids get a kick out of it every time we visit!)
Unleash your inner paleontologist in DinoDigs.
Our Planet allows guests to explore earth sciences through fun experiences. Deliver a Central Florida weather forecast via a green screen and teleprompter on a replica TV set, brave both an earthquake and hurricane simulator, and learn about Earth's atmosphere via a suspended projection globe.
If you have been to OSC in the past, you may have checked out the NatureWorks live animal exhibit as well. This exhibit is currently on hold as a brand new Life exhibit is currently under construction. This new Life exhibit will highlight nature and conservation with live animal interactions and hands-on displays, and is scheduled to be completed in late 2023.
Kinetic Zone gives children a chance to see how cool physics can be.
Orlando Science Center: Learning Through Show
In addition to the great permanent and temporary exhibits, the Orlando Science Center houses a giant screen CineDome as well as a digital theater —both offer educational films with showtimes throughout the day. These shows are included with general admission and content changes seasonally, so be sure to check the schedule. Live programming also takes place daily, such as Science Live shows, Flight Lab, story time, and more.
Keep on eye out for fun events and activities at OSC throughout the year such as Otronicon, Mess Fest, Dinos in Lights during the holiday season, Kids Night at the Museum, and more.
RELATED: 19 Indoor Entertainment Centers in Orlando
Orlando Science Center: Know Before You Go
Advanced time entry tickets are required. Purchase your tickets in advance directly on Orlando Science Center's website.
There is a cafeteria onsite with a 4Roots Café featuring healthy menu items such as build-your-own bowls, salads, sandwiches, and more. Guests are also welcome to bring their own food to eat in the cafeteria. A coffee spot is also available on the main level.
There are two elevators, as well as stairs to travel between levels. The elevators can get crowded during busy times. Because of this, we recommend foregoing a stroller (if possible) and using the stairs.
Parking is located in the garage across the street from OSC. There is a $5 flat-rate fee for the parking garage (free for members).
If you are interested in an annual membership, it is absolutely worth it if you plan on visiting multiple times! The best price available is through a bulk membership, so get a group of moms together (10 or more) for the best bang for your buck. Also, keep an eye out on OSC's social media pages for membership deals.
Restrooms are available on every level of the science center. Baby changing rooms are located on levels 1 and 3, and a private nursing lounge is located on level 3.
The Orlando Science Center is within walking distance from the SunRail's AdventHealth stop. Plan a train ride and science center trip all in the same day!
All photos by the author.
Places featured in this article:
Sign up for the Mommy Poppins Newsletter today!