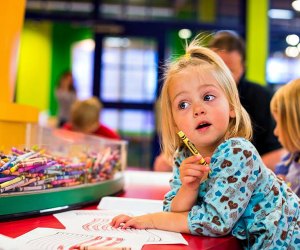 15 Fun Things to Do in Orlando With Toddlers
While there are many ways to entertain your toddler at home, sometimes you just need to get out of the house for your (and their) sanity.
Luckily, there are many fun, kid-friendly places in Central Florida ideal for entertaining your toddler. We've highlighted some below, including animal encounters, storytime programs, indoor playgrounds, and even restaurants with play areas that are sure to make your toddler or preschooler smile.
You can filter our events calendar by age and date to find upcoming age-appropriate events for toddlers and preschoolers. And don't forget to sign up for our FREE Orlando newsletter to get posts like this sent directly to your inbox.
Toddler Play Areas in Orlando and Beyond
1. Visit an Orlando Area Playground
Make a day of it by starting early, packing a picnic lunch, and seeing how many parks and playgrounds you can visit before naptime. We've highlighted some of the best playgrounds in the area here.
2. Have Fun at an Orlando Mall Play Area
Many local malls have FREE play areas that let kids release some energy indoors. This is especially helpful during the dreadfully hot summer months. The Play Park at the Florida Mall is a great mall play area, featuring a 3,000-square-foot, nature-inspired play space. As a bonus, it's right next to Crayola Experience. The West Oaks Mall includes a kids' play area, carousel, and kiddie rides. The Seminole Towne Center also has a play area with kiddie rides. Other malls with play spaces for little ones include The Altamonte Mall and the Oviedo Mall.
3. Cool Off at an Orlando Area Splash Pad
There are so many splash pads around Central Florida that are perfect for toddlers. Free options include the Winter Garden splash pad, Bithlo Community Park splash pad, Capehart Park splash pad in East Orlando, Reiter Park splash pad in Longwood, Center Lake Park splash pad in Oviedo, and Barnett Park splash pad in Orlando. Other splash pads that charge a small fee include Trailblazer Park in Lake Mary, Wooton Park in Tavares, Champions Splash Park in Clermont, Kit Land Nelson Park splash pad in Apopka and Downey Park splash pad in Orlando.
Related: 25 Free Things to Do with Kids in Orlando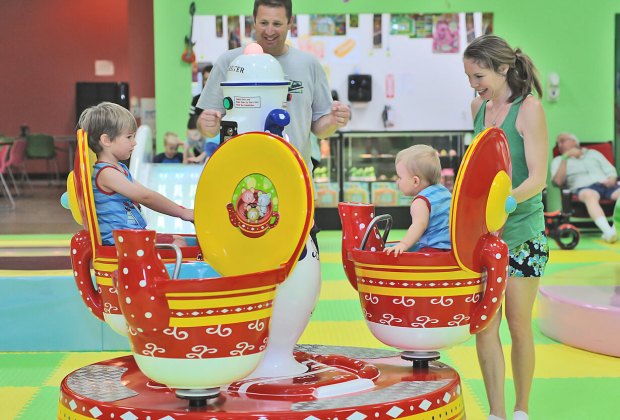 Kids can delight in the indoor playground at Lucky Monkey in Altamonte Springs. Photo courtesy of Lucky Monkey
4. Visit an Indoor Playground in the Orlando Area
Orlando has many indoor playgrounds ideal for toddlers and preschoolers. My Little Town Kids has locations in Sanford and Orlando and caters to kids ages 6 months to 8 years. Amaya Papaya in Casselberry is one of the original indoor playgrounds in the area and is ideal for kids up to 6 years old. Millie Moo's in Southwest Orlando is geared toward kids 7 and younger and includes a café with coffee and bakery items. Other fun indoor playgrounds around Central Florida include District Kids in Oviedo, Lucky Monkey in Altamonte Springs, and Princesses & Princes in Ocoee. Note: All of the indoor playgrounds listed require socks for adults and children.
5. Enjoy a Meal at a Restaurant with a Play Area
Going out to eat with toddlers can be challenging, so why not bring them to a place where they can play while waiting for their meal? Here are some of the best restaurants with play spaces for kids in Orlando.
6. Toddler Time at Orlando Trampoline Parks
Several indoor trampoline parks offer toddler time programs, including Rebounderz Apopka, Altitude Trampoline Park in Sanford, and Sky Zone Clermont.
Libraries and Storytime Options in the Orlando Area
7. Taking Advantage of Library Programs
Many local libraries have toddler-focused events throughout the week. Seminole County Public Libraries offer Toddler Time, Mother Goose on the Loose storytime, and even Sensory storytimes. Orange County Libraries offer programs such as Toddler Time, Parachute Play, Sing-Alongs and more. Osceola County Libraries host events such as Mother Goose Storytime, Lil' Engineers and Toddler Tales.
RELATED: The Best Platgrounds in Orlando for Family Fun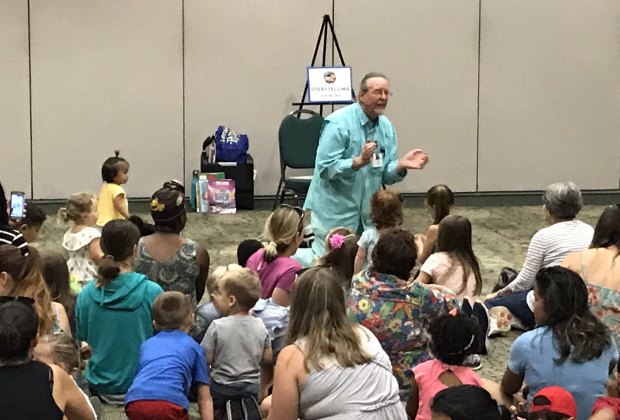 Toddlers can enjoy free storytime programs at Leu Gardens. Photo courtesy of Harry P. Leu Gardens
8. Toddler Events at Harry P. Leu Gardens
Orlando
Leu Gardens offers a free storytime program hosted by the Orange County Library System on the first Monday of certain months. Families can also enjoy FREE admission to the gardens on these days.
Theme Parks, Science Centers, and More in Orlando
9. Visit Disney Springs
Lake Buena Vista
Little ones are sure to enjoy playing in Disney Springs' free splash pad, excavating dinosaur fossils at T-Rex Café, and the hands-on play areas and Disney-inspired sculptures at The LEGO Store. They might even catch a glimpse of the Coca-Cola Polar Bear at the Coca-Cola Store. For a small fee, toddlers can take a ride on the Marketplace Carousel or Express Train as well.
RELATED: Great Things to Do in Orlando With Teens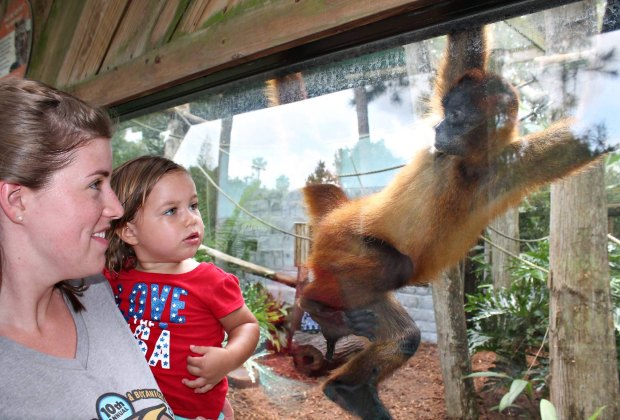 Smaller than other zoos in the area, the Central Florida Zoo in Sanford is ideal for younger children. Photo courtesy of Central Florida Zoo
10. Visit the Central Florida Zoo
Sanford
The Central Florida Zoo is a great option for younger children since it is not as large as some of the other zoos in Florida. It includes a large splash pad with an adjacent interactive children's garden, as well as a children's playground, butterfly garden, and petting zoo area. Children 2 and younger are FREE, and the zoo also offers a free storytime once a month.
11. Visit the Crayola Experience
Orlando
The Crayola Experience is a wonderful trip with little ones, who will enjoy hours of interactive play and activities. Kids can experience more than 20 attractions including a 4-D coloring adventure, silly selfie station, drip art area, and more. There are also two separate playground areas, one for toddlers and another for big kids. Bonus: Kids 2 and younger are FREE.
12. Orlando Science Center
Orlando
Toddlers will have hours of fun at the Orlando Science Center. There is an expansive KidsTown play area, which includes an Orange Grove imaginative play room (fitting for the history of the Orlando area), special Toddler Town just for ages 2 and younger, a drip-drop splash area, play theater, ClimbTime play structure, and more. Little ones also can see giant dinosaur fossil replicas, play in the dig pits in the DinoDigs area, and walk through the NatureWorks exhibit to see real alligators, snakes, turtles, and other animals native to Florida.
13. Enjoy Toddler Time at Sea Life Orlando Aquarium
Orlando
Sea Life Orlando Aquarium offers special discounted admission for its Toddler Tuesday program, which includes storytime, a sing-along, and special animal interactions. Kids will also like walking through the 360-degree tunnel surrounded by fish, turtles, and sharks, changing the colors on the jellyfish wall, touching a starfish in the Coastal Rockpool, and the other interactive exhibits.
RELATED: Best Orlando Hotels for Familes and Kids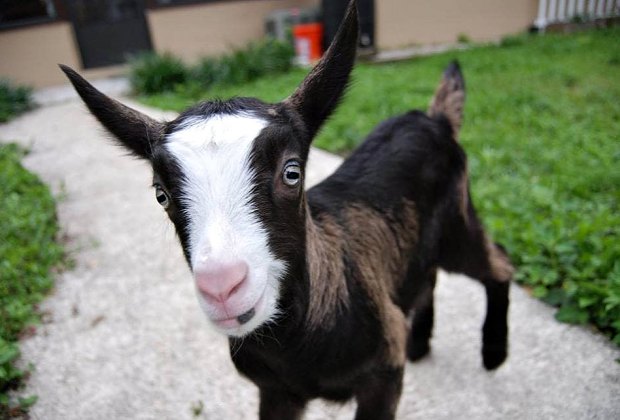 Wildflower Farm features a host of animal-friendly events for toddlers. Photo courtesy of Wildflower Farm
14. Visit with the Animals
See flight demonstrations from resident raptors at the Avian Reconditioning Center. Visit with owls and other birds of prey at the Audubon Center, take a tour at Back to Nature Wildlife Refuge, or attend an open house event at The CARE Foundation. There are also many local farms with events for kids such as Wildflower Farm in Orlando, Green Acres Farm in Oviedo, and Santa's Farm in Eustis.
15. Visit Lukas Nursery Butterfly Encounter
Oviedo
Open daily from 9am to 4pm, kids 3 and younger are FREE at the Lukas Nursery Butterfly Encounter. Admission for ages 4 and older is only $6. Toddlers will marvel at the butterflies and birds fluttering around the conservatory, and kids can even feed the butterflies from their fingertips.