Where To Go Blueberry Picking Near Orlando: 12 Family-Friendly Farms
4/8/22
- By
Charlotte B
During April and May, several Orlando blueberry farms welcome guests to pick buckets of blueberries while enjoying a family day outdoors. Many of these u-pick blueberry farms in Orlando offer additional fun activities such as sunflower picking, playgrounds, tractor rides, and more. And be sure to mark calendars for the annual Mount Dora Blueberry Festival, taking place April 23-24, where many of the blueberry farms listed below will be onsite with freshly picked berries and other blueberry items.
Keep in mind that if you come across this page during the winter months of December-March, blueberries might not be ready yet but there are plenty of local strawberry farms to visit!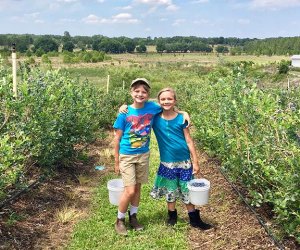 Pick blueberries and enjoy farm fun at Atwood Family Farms. Photo courtesy of Atwood
U-Pick Blueberry Farms Near Orlando
The 2022 u-pick season at Atwood Family Farms has begun! Two varieties of blueberries are available for picking: Sweet Crisp and Prima Donna. Operating hours are Wednesday-Friday from 10am to 4pm, and Saturday-Sunday from 10am to 5pm. Enjoy fresh blueberries, sunflower picking, outdoor games, playgrounds, and more farm activities such as a cow train and hayride on select days. Only credit or debit will be accepted this year (no cash).
This blueberry farm near Orlando is open for the season. Three varieties are available for picking, including Jewels, Emeralds, and Windsors. Shop the farm's delicious orange blossom honey as well. The farm is open seven days a week, 9am-5pm. Cash only.
Blue Bayou Farms is open and offering certified organic blueberries for u-pick, as well as blackberries. Fields are open seven days a week from 8:30am-4pm. A craft distillery and country store are also onsite, selling homemade pies, jellies, and more.
RELATED: The Best Playgrounds in Orlando for Family Fun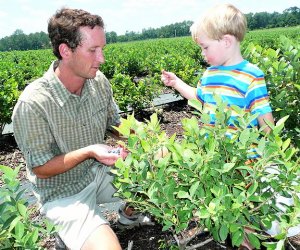 Blueberries are available for picking at Blueberry Hill Farm. Photo courtesy of the farm
Blueberry Hill Farm is open for u-pick. Organic and conventional blueberries are available for picking. There's a fishing pond available to visitors, just bring your own poles. Operating hours are Friday, Saturday, and Sunday from 9am to 4pm.
This St. Cloud blueberry farm is open for picking. Be sure to check the farm's Facebook page before heading out, as updated hours vary depending on weather and crop availability.
Ever After Farms is open for the season. Four varieties of blueberries are available: Jewel, Emerald, Arcadia, and Kestrel. Ever After is open Friday, Saturday, and Sunday from 9am to 2pm. In addition to berries, families can enjoy a petting zoo and Blueberry Express tractor rides.
Blueberry season has kicked off at Far Reach Ranch. U-pick is open seven days a week; Monday-Saturday from 9am-4pm, and Sundays from 10am-4pm. There is a playground for the little ones to enjoy. Honey and jams are available for purchase as well. Check Far Reach Ranch's Facebook page for upcoming events, like night u-picks and family movie night!
Irv's Sweetberry Farm offers fresh blueberries for picking. Farm hours are Wednesday through Sunday, 10am-5pm, weather permitting.
RELATED: Kid-Friendly Hikes In and Around Orlando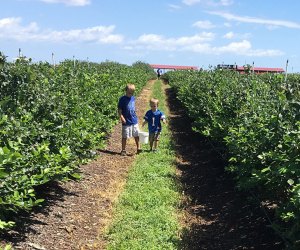 The berries can be reached by even the littlest hands at Southern Hill Farms. Photo by the author
U-pick blueberries are available now at Southern Hill Farms, with three varieties to choose from: Jewel, Arcadia, and Emerald. Additional activities at the farm include u-pick sunflowers, a covered playground barn, yard games, and sweet treats. On the weekends, enjoy the kids zone, Blueberry Express double-decker harvester tour, farm wagon rides, food trucks, and live music.

Kids can pick berries and enjoy the farm playground at Tom West Blueberries. Photo by author
Tom West is open for the season with several varieties of berries available for u-pick. The farm is open seven days a week from 9am to 5pm. Kids can enjoy swings and basketball. Weekend activities include tractor rides, boat rides, and a bounce house. Blueberry treats are available for purchase as well.
Orlando Blueberry Farms for Pre-Picked Orders
At King Grove Organic Farm, blueberries are limited to pick-up or shipping only this year. Pre-ordered blueberries can be picked up at the farm on Saturdays or from the farm's traveling blueberry truck (visit the farm's website to see when the truck is nearby).
Lake Catherine is currently undergoing renovations so the farm will not be open for u-pick during the spring 2022 season. Pre-picked blueberries are available for purchase at Kim's Cabbage Patch in Clermont.
Blueberry Picking Tips
Always call or check each farm's website or Facebook before visiting, as operating days and hours depend on crop availability and weather.
Depending on how far the farm is from home, bring a cooler to preserve berries for the return trip.
Instruct children to only pick berries that are ready so that others have time to ripen.
Bring sunscreen and/or a large hat for sun protection.
Closed-toed shoes are suggested.