Fun Toddler Playgrounds and Tot Lots in Orlando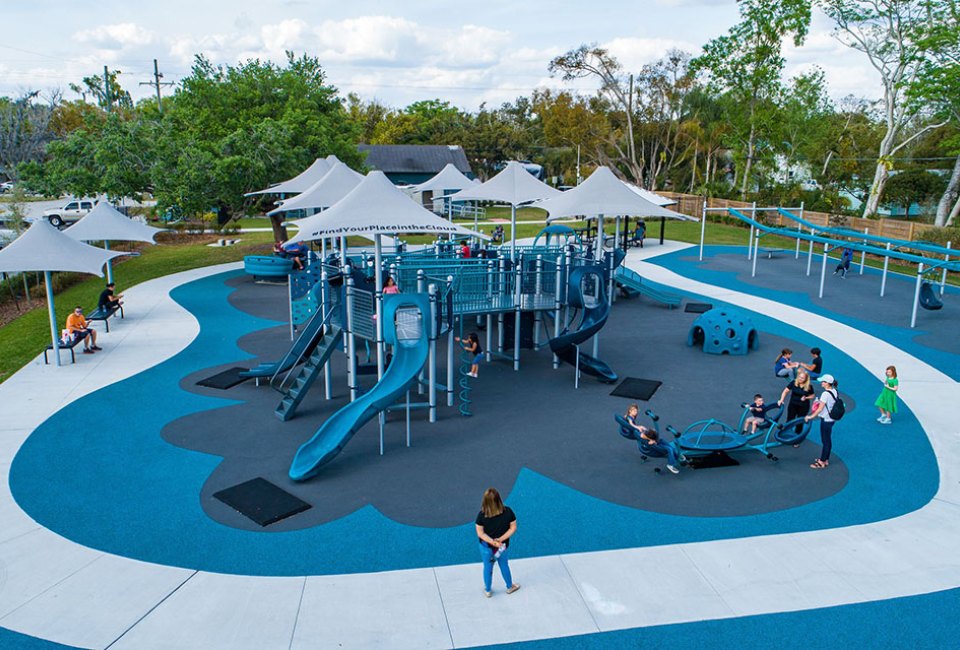 4/17/22
- By
Charlotte B
There are lots of toddler playgrounds and tot lots geared toward youngsters, and we've searched to find the best ones in the Orlando and surrounding Central Florida areas. Most of these toddler playgrounds are shaded, which is a lifesaver during Florida summers! Toddler playgrounds also have amenities such as soft rubber or artificial turf ground covering, baby swings, and fenced-in perimeters so even little escape artists are contained.
For more fun ideas for your youngsters, check out these fun splash pads, free play areas, and more things to do in Orlando with toddlers.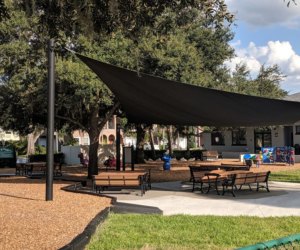 Kids can watch the trains at Azalea Lane Playground in Winter Park.
Awesome Orlando Playgrounds for Toddlers
Tots (and big kids too) love to watch the trains travel by this playground! The playground area is fenced-in and partially shaded. It has climbing equipment, swings, and activity stations. Picnic tables are located within the fenced area, and restrooms are close by.
This popular St. Cloud all-inclusive park is fun for all ages. It has a soft, rubber pad surface, small shade coverings, roller slides, swings, and lots of interactive activity stations. There is a soft landing pad at the end of all slides, and a small zipline with a seat that little ones are sure to love.
Capehart Park is a hidden gem in Orlando. Situated at the end of a residential street, it has a covered tot lot with baby swings, slides, and soft rubber ground covering. There is also a covered playground for older kids, a free, fenced-in splash pad, restrooms adjacent to the playground, and a paved walking path.
This popular park has tons of green space for little ones to explore, as well as two playgrounds with soft ground covering and lots of shade trees. There is a butterfly house onsite, as well as a walking trail down to a dock overlooking the lake.
This neighborhood park is partially fenced with a small play structure, slides, and swings. Parallel street parking is available next to the park, and oak trees provide shade to the playground.
This small playground has artificial grass ground covering, and the playground equipment is covered. There are baby swings and bigger swings next to the playground, as well as covered pavilions, green space, and a nature trail for little ones to explore.
Lake Lily is one of my family's personal favorites! There is a fenced-in shaded toddler playground with slides and swings. The focal point of the park is the beautiful lake with a fountain and lots of ducks and turtles. There is a paved path around the lake and plenty of picnic areas.
Little ones will love exploring the music stations at this small playground in the Horizon West community. It is fenced-in and covered, making it a great option for toddlers. Note: There is not a restroom at this park, so if potty training, be prepared with a portable potty seat.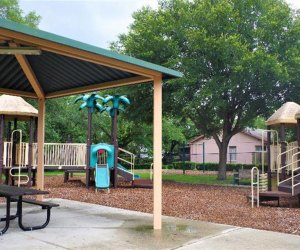 Lighthouse Park offers a ton of fun equipment for toddlers.
Lighthouse Park is fenced-in with play equipment and small slides, great for youngsters. There is also a covered pavilion right next to the playground.
Related: 19 Amazing Playgrounds near Orlando for Family Fun
This urban park provides a scenic refuge in the middle of the city. There are two playground areas, one of which has a partially-fenced toddler playground with small slides and interactive activity stations. Oak trees provide shade over the playground and beautiful nature trails. Picnic pavilions and restroom facilities are onsite.
This community-built wooden park has two separate play areas, one for children 3 and under with small slides and climbing structures. Trees provide shade to the park. The playground shares a parking lot with Sky Zone Clermont, so if the weather turns bad, little ones can burn some energy indoors on trampolines and the indoor playground.
Located near the Orlando Executive Airport, Park of the Americas has a playground designed for ages 2-5 with slides, swings, and climbing activities. There is no shade on the playground so I would suggest visiting on cooler or cloudier days.
Park on Park is appropriately named for its location on Park Avenue near downtown Sanford. The playground is entirely fenced-in and covered by shade trees. There are two play structures, one for ages 2-5. Restrooms are located beside the playground, and there is green space for kids to run around as well.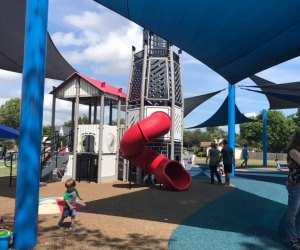 Torcaso Park is popular with toddlers because of the soft rubber ground and age-appropriate playground.
This ocean-themed playground is a big hit with kids of all ages. The playground equipment is covered and has a soft rubber ground covering. There is an adjacent fenced-in splash pad and a sand pit, so bring your sand toys along for added fun.
Another fun Winter Springs park, this one is Rocky Mountain themed. There are two shaded treehouse structures (one geared toward ages 2-5 with a turf surface). There is also a splash pad onsite (there is a small fee to enter the splash pad). After playing, kids love walking down to the lake and peeking at the turtles.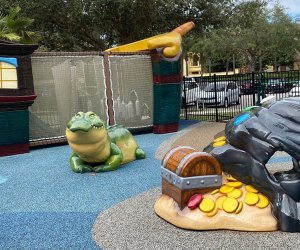 Arrrr, me mateys! Walk the play at Waterford Lakes Children's Play Area.
Waterford Lakes Town Center has a fun pirate-themed outdoor play area that is fenced-in with soft rubber ground surface. Little ones are sure to love exploring a pirate ship or climbing on an alligator. It is open to the public and located behind Affinity MedSpa.
This recently renovated park is popular with all ages. There are two covered and fenced-in play areas, one geared to the youngsters. The paved Seminole-Wekiva Trail runs right next to the park, and if the weather isn't great, Chuck E. Cheese is right down the road.
Photos courtesy of the parks
Sign up for the Mommy Poppins Newsletter today!
i