Grand Residences Riviera Cancun: Family-Friendly, All-Inclusive Luxury in Mexico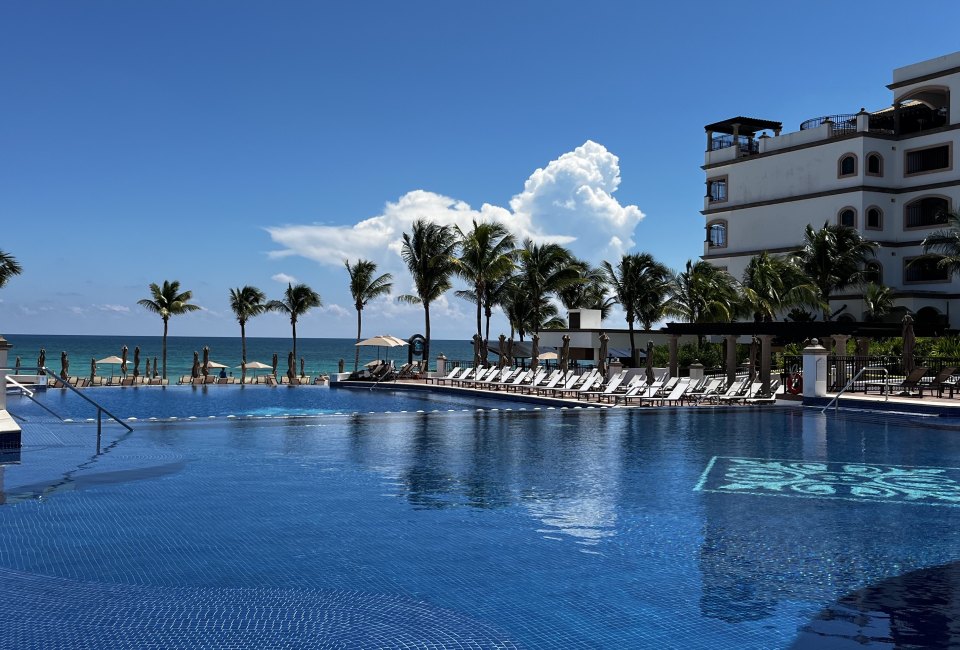 9/20/23
- By
Gabby Warshawer
Grand Residences Riviera Cancun is an all-inclusive Caribbean resort that definitely lives up to its "grand" billing. Every room on the beachfront property is a suite, and the service is charming and detail-oriented, with staff who learn your name.
On a recent three-day visit, we swam in the pool and ocean, took a day trip, attended a cooking class, and had a blissful massage at the on-site spa. We thought the resort was perfect for families who want luxurious touches and value elbow room.
Read on for all the reasons we think Grand Residences Riviera Cancun is a splurge-worthy option for a sunny vacation. Then be sure to check out our Guide to Family Resorts and Hotels for other spectacular places to stay on your next getaway, including our list of the best all-inclusive resorts in the US, Caribbean, and Mexico for kids.
Subscribe to our newsletters to get stories like this delivered directly to your inbox.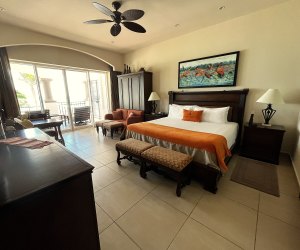 Family-Sized Rooms at Grand Residences Riviera Cancun
All of the rooms at the resort are suites and sleep between three and 13 people.
Grand Residences Riviera Cancun is actually located in Puerto Morelos, a small fishing village that's roughly 25 miles south of Cancun, and the hotel's chill vibe sets it apart from many of the area's mega-resorts. With 144 suites, the property is relatively intimate, and it's also quiet in a way that's likely to appeal if you're traveling with kids. We appreciated that there was no programming at night, for example.
The all-suite setup, meanwhile, is helpful for families. The smallest rooms are junior suites, which have a king-size bed and a Murphy bed and fit up to three people. The room layouts and occupancy possibilities only get bigger from there, with the massive presidential suite sleeping up to 13 people. The 10-year-old property's decor is high-end traditional—think marble, tile, dark wood, and cream-colored upholstery—with Mexican accents like local artwork sprinkled throughout.
On our visit, we stayed in a one-bedroom master suite and found it extremely spacious, with a large kitchen, a laundry area, a patio with a small private pool, two washrooms, and a roomy living room. The layout definitely offered different zones for a family to spread out. We spent several hours vegging out on the patio's lounge chairs and listening to the ocean break.
There are lots of thoughtful touches in the room that make life easier: Snacks are provided on arrival, and the fridge is stocked and replenished every day with sodas, beer, and water. The many other welcome inclusions include toothbrushes and toothpaste, Bulgari hair and skin products, bathrobes, slippers, and Apple TV. If you want, you can even book a private chef to come and cook a meal in your room.
RELATED: 21 Best All-Inclusive Resorts in the US, Caribbean, and Mexico for Kids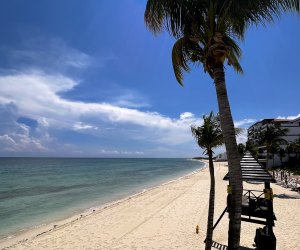 The hotel's beach features sapphire water and a lifeguard on duty.
Amenities and Activities at Grand Residences Riviera Cancun
The hotel's on-site amenities include two large pools, a rooftop tennis court, a spa, a fitness center, a small grocery store, and beachfront loungers and umbrellas. The larger of the two pools has a swim-up bar and hosts daily activities like bingo and water aerobics.
An attendant takes care of guests in the beach area and sets them up with towels, ice water, and even a can of Evian facial spray. The water at the beach fronting the hotel is a mesmerizing sapphire color, and the hotel has a lifeguard on duty. We found the water a bit rocky and thought swim shoes would have come in handy.
Some of the programming at the resort is geared mainly toward adults, including tea time, yoga, a mixology class, and a cooking class. At the cooking class we attended, a chef showed us how to cook a local dish and talked about regional ingredients. Parents can take these classes while kids are occupied in the kids club (more on that next).
RELATED: Visiting Playa del Carmen and Riviera Maya in Mexico with Kids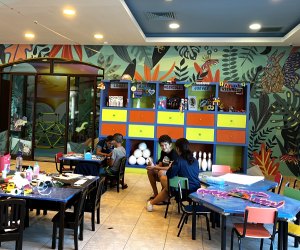 The resort's kids club offers crafts and play areas.
Things for Kids and Teens to Do at Grand Residences Riviera Cancun
The resort's kids club offers daily activities like crafts, water volleyball, video games, LEGO competitions, and scavenger hunts. Attendants are on staff to lead activities and supervise kids, and the large indoor space features a tumbling area, games, and crafting tables.
The kids club runs from 9am-5pm and is available as a free service for kids aged 4-12. Toddlers 4 and under are also welcome, but it costs an extra fee because there is one-on-one monitoring for younger children. You can drop your kids off for a couple of hours or the whole day—when we stopped by, we saw kids happily engrossed in art projects and getting energy out in the tumbling area.
RELATED: 35 Warm and Sunny Family Vacation Spots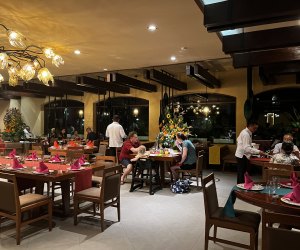 The Grand Residences Riviera Cancun has two sit-down restaurants and a casual beach cafe.
Where to Eat at Grand Residences Riviera Cancun
While there are two sit-down restaurants at the resort with incredible food—the almond-crusted salmon was amazing—with kids, you'll probably want to lean heavily on the third, more casual eatery. That third option, a beachside grill, serves up kid-pleasers like chicken wings and nachos. Room service with all the trimmings is also available 24 hours a day.
RELATED: Mexico Family Travel Guide

Day-trip possibilities from the hotel include visits to nearby cenotes.
Day Trips and Activities Near Grand Residences Riviera Cancun
While the resort is gorgeous and full of fun, there are also plenty of opportunities to leave it and enjoy the surrounding areas. The hotel organizes group bike rides into the closest town, Puerto Morelos (or you can take a seven-minute taxi ride there). The town has a few food and drink options and many vendors selling Mexican handicrafts and souvenirs.
Grand Residences Riviera Cancun can also help you organize more ambitious day trips, and the Cancun region has a lot to offer. We took part in a tour of nearby cenotes—freshwater swimming holes that are often located in caves. The tour we went on included zip lining and an ATV option; the kids on the tour enjoyed dipping into the water and dropping down into the cenotes from zip lines. Note that these tours usually don't have age requirements, but some do have minimum height requirements.
The Cancun area is also well known for snorkeling and scuba diving, and there are many tours in the area centered on the Mesoamerican Barrier Reef, the second-largest barrier reef in the world. There are also famous Mayan archaeological sites nearby that you can visit on a day trip, including Tulum and Coba. Of course, it's also possible to visit the bigger nearby cities, Cancun to the north or Playa del Carmen to the south.
Know Before You Go to Grand Residences Riviera Cancun
Grand Residences Riviera Cancun is about a 25-minute taxi ride from the Cancun airport. It is located roughly seven minutes by car outside the small village of Puerto Morelos and about 45 minutes by car outside of Cancun proper. The hotel arranges a private car to drive guests to and from the airport.
Although Grand Residences Riviera Cancun is an all-inclusive property, you will probably want to tip for various services, such as room service and housekeeping. In addition, day trips outside the resort and some of the activities on offer, such as ceramics, are contracted through outside vendors and will cost extra.
Prices at the hotel vary by season and availability. We went during the offseason, when prices start at around $350 per night for a junior suite.
English is widely spoken at the hotel, and dollars are accepted.
All photos by the author
Disclosure: We may earn a small commission if you click through our link and make a purchase. This revenue helps us maintain this site, so thank you for supporting us.​
Places featured in this article:
---
Grand Residences Riviera Cancun
Click Here to Sign Up!