23 Things To Do in Provincetown With Kids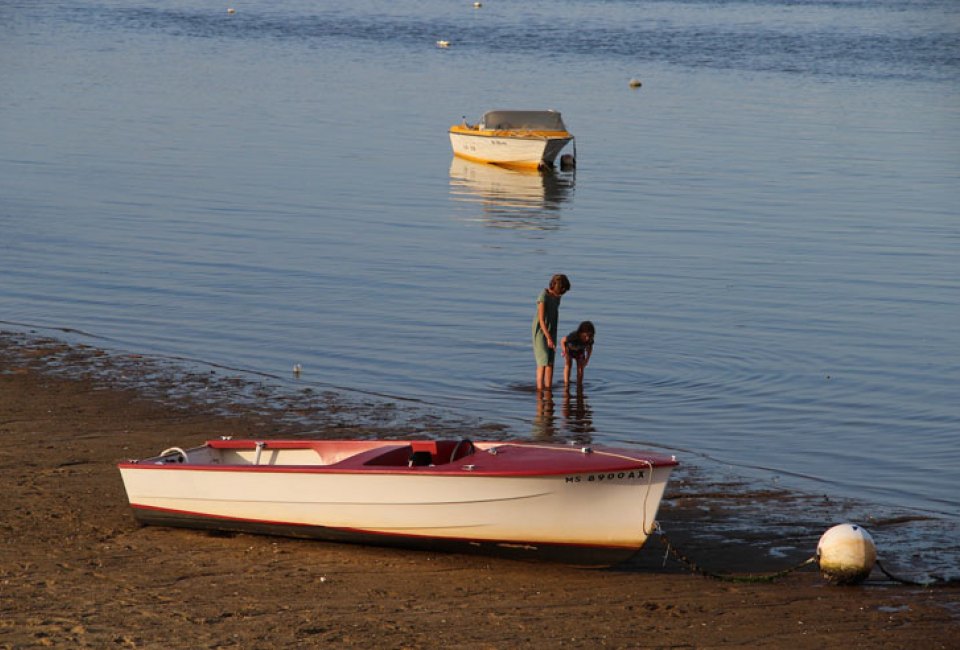 8/26/16
- By
Elyse Andrews
Cape Cod is a classic summer destination for Boston families, but getting there can mean hours spent in the car. Not so if you head to Provincetown at the very end of the Cape—taking the fast ferry from Boston will have you there in no time. And once you're back on dry land, there's so much to do, from beaches and biking to kid-friendly restaurants. Here are our 25 top picks for family activities in P-Town.
The best way to get to Provincetown from the Boston area is by taking the Bay State Cruise Company's Provincetown Fast Ferry from the Seaport District. The journey takes only 90 minutes—hooray for no Cape traffic!—and feels like an adventure.
Race Point Beach sits on the outside edge of Provincetown, so this Cape Cod National Seashore area faces directly out toward the Atlantic Ocean. Don't miss the beautiful Race Point Lighthouse, which is open for occasional tours.
The main drag in P-Town is Commercial Street. It's where you'll find the majority of shops, restaurants, and happenings in the city, so it's worth a stroll to see the sights.
No trip to the Cape would be complete without having lobster or fried clams, and there's no better place to get them than at the Lobster Pot on Commercial Street. It has an extensive menu that will please even the pickiest eaters.
Around the "corner" of the tip of Cape Cod from Race Point Beach you'll find Herring Cove Beach. Also part of the National Seashore, this is the go-to spot for watching the sunset in P-Town.
The 252-foot tall Pilgrim Monument commemorates the Pilgrims' first landing in the new world at Provincetown and the views from the top cannot be missed. While the tower looks imposing, the climb is do-able for most, young and old. After you get down, pop into the Provincetown Museum for an overview of the history of the area.
If you've got budding cyclists in your family, don't miss taking a ride on the paved Cape Cod Provincelands Trail. It can be challenging at times, but it's worth the effort to explore the sandy dunes behind Race Point and Herring Cove Beaches.
While you're on the Provincelands Trail, take a detour to the Beech Forest. You can bike on the paved path or enjoy a short, easy hike through the woods that's perfect for families.
Take a walk down memory lane when you stop into Cabot's Candy and the Penney Patch for classic saltwater taffy or old-fashioned sweets.
If you're seeking a little adventure, look no further than Art's Dune Tours. These one-hour sightseeing trips take you onto protected Cape Cod National Seashore areas in Provincetown for an up close and personal look at this unique landscape.
You can't miss the beautiful Provincetown Public Library building in the center of town and you won't want to. Every Friday in the summer, the library hosts Art on the Lawn, a free arts and crafts event just for kids.
Provincetown curls back on itself in a little peninsula called Long Point that used to be a fishing village. When it disbanded, the villagers took their houses with them by floating them across the harbor! Now you can visit one of the most secluded beaches on the Cape by taking a shuttle boat to Long Point for a peaceful day in the sun.
Like many harbors, Provincetown has a breakwater protecting it from the large waves of the Atlantic Ocean. But unlike many breakwaters, you can actually walk on P-Town's for a fun adventure that takes you from Pilgrims' First Landing Park to Wood End.
Whether you're looking for a tasty lunch or to pick up some groceries, East End Marketplace is the go-to spot in P-Town. It even gets daily bakery deliveries from the beloved PB Boulangerie in nearby Wellfleet.
Provincetown is divided into the East and West Ends and both have excellent playgrounds perfect for little ones. The East End Mildred Greensfelder play area can be found at the corner of Howland and Bradford Streets, while the West End Chelsea Memorial Playground is at the corner of Nickerson and Bradford Streets.
You're practically surrounded by water in Provincetown, and families can get out on it at Venture Athletics Water Sports, which rents kayaks and stand-up paddle boards in the calm waters of the harbor.
A favorite activity for New England families is to go on a dolphin or whale watch, and we can hardly think of a better place to do so than P-Town. Whale Watch and Dolphin Fleet of Provincetown offers trips out to sea that have a large educational component that's great for kids.
This next one will be especially appealing to kids who have designs on being the next Tony Hawk. The Provincetown Skate Park isn't huge, but it's a safe, fun place to ride while on vacation.
No trip to Provincetown would be complete without a visit to the wild and whacky Marine Specialties Store on Commercial Street. This shop is crammed with all kinds of random items, so you never know what goodies you'll find.
Eating an ice cream cone on a hot day is a quintessential summer activity and the best place to do it in Provincetown is Lewis Brothers. Homemade fresh daily, you'll find all the classic flavors at this Commercial Street shop.
The Provincetown Theater mostly caters to adults, but it hosts a special Family Week every year that features performers like jugglers and puppeteers as well as music and dance parties.
Walking around to sightsee can be fun, but it's not always feasible with little ones. So hop on either the Provincetown Trolley or Mayflower Trolley to see the sights in P-Town without spending the whole day on your feet.
P-Town has a big arts scene and part of that is Truro's Payomet Performing Arts Center. The group often puts on shows for kids in Provincetown, like this summer's circus at town hall.
---
Top image courtesy of Ewa Nogiec
Places featured in this article: