Amsterdam with Kids: 30 Best Things To Do in Amsterdam, the Netherlands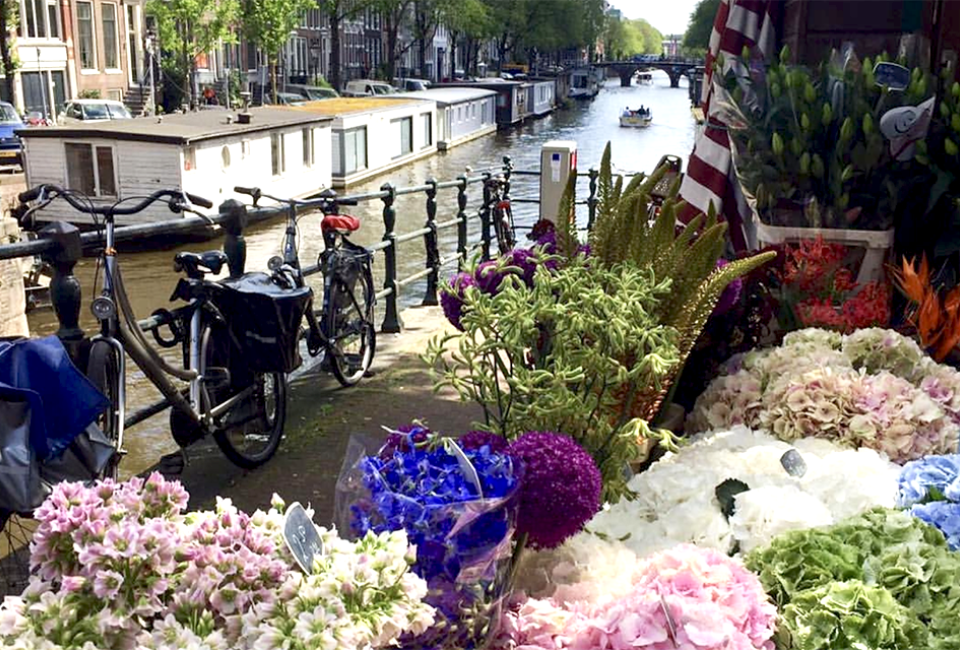 10/22/22
- By
Margaret Kelly
With its placid canals, narrow cobblestone streets, and diminutive canal houses, Amsterdam is one of the most beautiful cities in the world. It also holds a special place in my heart, as I lived there throughout my twenties. But during a recent family trip to Amsterdam with my wife and 8-year-old daughter, I was also pleasantly surprised to discover how easy it is to experience Amsterdam with kids. Playgrounds are plentiful, restaurants are welcoming (national dishes include pancakes and French fries), and museums are geared towards children. Plus, every Dutch person learns English at a young age, so language isn't a barrier.
Here are 30 of the best things to do in Amsterdam with kids, including great Amsterdam hotels for families and the best restaurants in Amsterdam for kids. Discover more family travel destinations in our European Travel Guide for Families, which features other kid-friendly cities in Europe such as London and Paris.

Visit the actual place where Anne Frank and her family hid from the Nazis during World War II. Photo courtesy of the museum
Best Amsterdam Museums for Kids
Tour the hidden warren of rooms behind a hinged bookcase where Anne Frank and her family hid from the Nazis during WWII. Anne's vivid diary of her days in hiding was published after her death in 1947 and has since been translated into over 70 languages and read by millions of children. This is a must-do when visiting Amsterdam with kids and a very popular site, so advance purchase of timed tickets is required.
Vincent van Gogh is perhaps the most famous artist in history, and the Van Gogh Museum Amsterdam makes his impressive collection accessible to younger kids with a fun treasure hunt, audio tours for families, and a checklist for older kids. Visit the website ahead of time for free downloadable coloring puzzles, a board game, and some informative YouTube videos.
RELATED: Stockholm in 48 Hours: Best Things To Do in Stockholm with Kids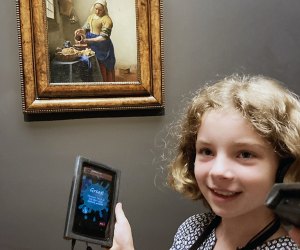 Stop by the Rijksmuseum when visiting Amsterdam with kids. Photo by the author
Holland's national museum is an architectural wonder and the place to see old Dutch masterworks, like Rembrandt's Night Watch and Vermeer's The Milk Maid. Inside tip: book the Family Quest audio tour, an interactive game that guides you through the museum to discover treasures and fascinating secrets. My 8-year-old loved it, and we all learned things about the museum that we would have otherwise missed.
One of the largest maritime collections in the world, this museum is chock-full of cool nautical instruments, yacht models, and a huge antique map and globe exhibit. The museum's biggest draw is the life-size replica of a 1748 Dutch East Indian Company (VOC) big ship, which you can explore via the Dare to Discover virtual-reality tour.
RELATED: Vienna with Kids: 35 Things You Didn't Know You Could Do in Austria's Capital

NEMO Science Center is breathtaking both inside and out. Photo courtesy of i amsterdam
This stunning museum rises out of the harbor like the bow of a ship and was designed by renowned architect Renzo Piano, who was also behind the Centre Pompidou in Paris. Let the kids run wild across five floors of hands-on, high-tech exhibits like Energetica, which explores how energy is captured through wind and water.
Amsterdam's premier modern art museum is easy to visit with kids, with free admission during the summer months, artist-led interactive workshops for the whole family, and audio tours for children.
RELATED: Iceland with Kids: 10 Things You Will Want To Do on a Family Trip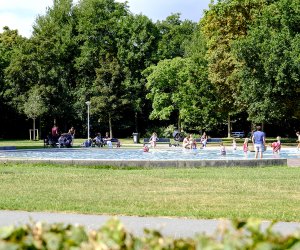 Kids can play in the splash pad at Vondelpark. Photo by Catia Mingote
Best Parks and Playgrounds in Amsterdam
The city's favorite park is a wonderful place to throw down a blanket and observe the Amsterdammers at play—on sunny days it's easily the most populated spot in the city. The northern entrance is close to the Museum District, so it's a convenient place to take a break after viewing great art. The less populated southern side of the park has a wonderful climbing playground and cafe, plus a flock of wild parrots and parakeets that live there year-round.
Located in the sprawling Westerpark, this former gas factory has been transformed into a destination hotspot. There are 13 historic buildings that house restaurants, bars, cafes, art exhibits, and a movie theater. Westerpark itself is one of Amsterdam's largest green spaces, with bike paths, playgrounds, water fountains, and even a petting zoo. Visit on Sunday and catch the outdoor market where you can pick up all the fixings for a picnic.
Located on the southern edge of the city, Amsterdamse Bos is a massive park that's a bit off of the tourist trail, which makes it the city's best-kept secret for families traveling with kids. There's a swimming lake, a paddle pool for toddlers, a goat farm, great walking and biking trails, boat rentals, and a lovely pancake house with indoor and outdoor seating.
RELATED: 25 Things To Do in Barcelona with Kids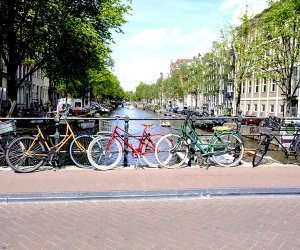 Biking is one of the best ways to get around Amsterdam with kids. Photo by Catia Mingote
More Things to Do in Amsterdam with Kids Outdoors
10. Go Biking
No trip to Amsterdam with kids is complete without loading the family onto bikes and taking a spin around the city. There are over 320 miles of dedicated bike lanes, and Amsterdam is routinely voted one of the world's most bike-friendly cities. That said, the streets are busy and I didn't trust my 8-year-old with city biking, so I had the bike store put a padded seat and foot pegs on the back of my rental bike. We had a blast exploring the city with her riding piggyback.
Ride the glass-ceilinged elevator to the top of A'DAM Tower for a visit to Lookout, a rooftop observation deck with panoramic views of the city below. Fearless family members should check out Over the Edge, Europe's highest swing that will send you careening 330 feet over the edge of the building—thankfully you're fully strapped in.
12. Get on a Boat
Exploring the canals of Amsterdam by boat is an experience that shouldn't be missed and there are tons of tours available, from Hop On-Hop Off day passes to romantic dinner cruises. The tour boats that start near Central Station are easy to book and super informative. If you're comfortable behind the rudder, it's also possible to rent a little motorboat and set your own course. There are even canal-side restaurants and cafes where you can dock and have a snack.
RELATED: London with Kids: 60+ Best Things To Do in London on a UK Family Vacation

Begijnhof includes the oldest house in Amsterdan. Photo by Catia Mingote
Only-in-Amsterdam Canals and Architecture That Delight Kids
A beautiful hidden courtyard in the heart of the city center, the Begijnhof is Amsterdam's most famous hofje (almshouse). It's a lovely cluster of historic houses that was originally built in 14th century for the Beguines, a group of unmarried religious women who all took vows of chastity. House number 34 is the oldest house in Amsterdam and one of the two last remaining wooden houses in the city.
Amsterdam's iconic Flower Market is the last floating market of its kind in the city. Opened in 1862, it's a daily festival of flowers that's hugely popular with both tourist and locals. Come here to smell the roses and pick up a few bulbs for your garden back home—most sellers carry ones with dated phytosanitary certificates for import to the US.
15. Bloemgracht
Amsterdam has so many pretty little waterways and canal houses, but I think the Bloemgracht is the most scenic. Located in the Jordan neighborhood, it was constructed in the 17th century and is lined with historic burgher houses. Rembrandt even had a studio here. Check out the famous "De Drie Hendricken," the three houses at numbers 87–91. The gable stones on the front represent a farmer, a city settler, and a sailor.
16. Brouwersgracht
Named in 1594 for all of the breweries and distilleries in the neighborhood, this is another gorgeous canal in the old Jordan neighborhood that's worth exploring. It's lined with traditional warehouses with large windows and wooden shutters. Ten little bridges cross the canal, with names like the Milkmaid's Bridge and the Paper Mill Lock. In 2007, a local newspaper voted it the most beautiful street in Amsterdam.
17. Magere Brug
Amsterdam's most famous bridge (translated as Skinny Bridge) crosses the Amstel River and provides wonderful views of the surrounding neighborhood. It opens for river traffic several times a day and is illuminated every night with 1,200 light bulbs—it's a spectacular sight that's definitely worth a visit after dark.
RELATED: 50 Fun Things To Do in Paris with Kids

The pancake recipe at The Pancake Bakery is a delicious secret!
Best Restaurants in Amsterdam for Kids
Plate-sized Dutch pancakes (pannenkoeken) are thinner than the American pancake, a bit thicker than a crepe, and absolutely delicious. The 40-year-old Pancake Bakery has a huge menu of toppings and serves some of the best pancakes in the city. Housed in a stunning 17th-century warehouse, it's located on the Prinsengracht, just down the street from the Anne Frank House.
This cute little cafe is on a square in front of the 17th-century Noorderkerk (northern church) in the heart of the historic Jewish quarter, the Jordaan. Open early morning to late evening, it serves a healthy selection of sandwiches, soups, and salads. But it's most famous for its Dutch apple pie and homemade whipped cream. The restaurant is packed on Saturdays with foot traffic from the nearby farmers market, so plan accordingly.
Just across the street from the Westerpark and the Westergasfabriek, this cavernous restaurant is housed in what used to be a 19th-century industrial water-pumping plant. It's popular with local families and there is plenty of room to spread out. The restaurant has a wide-ranging international menu, but it's known for its big seafood platters that are stacked with oysters, clams, and mussels.
Literally a hole in the wall, this Amsterdam institution has been dishing up the best Vlaamse Friet (Flemish fries) since 1957. Freshly cut and perfectly cooked, they're served in a paper cone and topped with a big dollop of one of the sausmeester's (sauce master's) 28 sauces, like curry ketchup, sambal sauce, or lemon mayonnaise. A Dutch favorite is patatje oorlog (war fries) with mayonnaise, satay sauce, and raw onions. There's always a line but it's well worth the wait.
RELATED: 25 Things To Do in Berlin with Kids

A family suite at Pulitzer Amsterdam offers plenty of room for families. Photo courtesy of the hotel
Great Amsterdam Hotels for Families
The Pulitzer Amsterdam, set within 25 restored 17th- and 18th-century houses, offers split-level family rooms, suites, and interconnected rooms. Through the hotel's Very Important Kids program, kids can enjoy free personalized welcome treats and travel diaries, a treasure hunt, and bedtime stories. Younger kids also receive a free Peter Rabbit cuddly toy. The on-site restaurant, Restaurant Jansz, provides a children's menu, coloring activities, crayons, and a treasure box for the youngest diners. And the Pulitzer Garden is home to an outdoor children's play area and a games corner.
This boutique hotel in Amsterdam's city center has 48 rooms and six loft apartments that are perfect for families. The apartments have fully equipped kitchenettes, sitting and dining areas with fireplaces, and private entrances. Note that there are no elevators, so you'll have to climb some stairs.
This flower-filled, family-run hotel is housed in a 17th-century building (now included on UNESCO's world heritage list) in the heart of Amsterdam along the city's oldest canal, the Singel. Families can enjoy a library; free coffee, tea, and hot chocolate; a gym; and bike rentals to help them explore the city. There are 91 rooms of different sizes (including eight interconnecting rooms) and two colorful suites.
This enchanting hotel is located in a quiet, safe, residential section of Amsterdam's famous Canal Belt. With an art gallery and a library housing more than 5,000 signed books by authors who have stayed there, the Ambassade attracts literati and artists. But its several larger rooms (including a grand suite) and free baby cots make it a good choice for families, too.
This modern boutique hotel is situated in a 19th-century townhouse on a residential street in the heart of Amsterdam. It offers spacious family suites with bunk beds, a charming courtyard garden, and bike rentals to help families get around the city. It's a great hotel option when visiting Amsterdam with kids.
RELATED: Montreal with Kids: 25 Best Things To do in Montreal, Canada

Windmills are iconic symbols of Dutch culture, and you'll see plenty of them in Kinderdijk. Photo courtesy of Stichting Werelderfgoed Kinderdijk
Can't-Miss Day Trips from Amsterdam with Kids
The long line of windmills stretching out across the Dutch countryside is stunningly beautiful and a testament to Dutch people's centuries-old struggle against the rising tides. The area is named after the children (kinderen) who died during a flood in 1421. The 19 windmills you see today were built around 1740 to drain the polder. This is the largest cluster of windmills in Holland and a UNESCO World Heritage Site. The train connection from Amsterdam isn't great, so the easiest way to get to Kinderdijk is to rent a car or join a tour. Driving yourself will give you the option of arriving early in the morning or later in the afternoon, after the tour buses have left. It takes a little over an hour to drive to Delft
28. Delft
Perhaps one of the most charming towns in Holland, Delft's quiet, tree-lined canals, cobblestone streets, and medieval houses makes you feel as if you've just stepped out of a Johannes Vermeer painting. In fact, this is where Vermeer was born and spent his artistic career. It's fun to explore the city and try to find the exact place where Vermeer painted his famous "View of Delft." The iconic Delft Blue porcelain is also still produced here. The factory itself is a little cheesy but it's a great place pick up a souvenir and watch artisans at work. It's about an hour by train from Amsterdam to Delft.
The fantastic Kröller-Müller Museum has the second largest collection of works by Vincent Van Gogh, as well as pieces from 19th- and early 20th-century luminaries like Georges Seurat, Pablo Picasso, and Piet Mondrian. The expansive sculpture garden is the largest in Europe and features artists such as Auguste Rodin, Richard Serra, and Barbara Hepworth. The museum and surrounding Hoge Veluwe National Park are the former country estate of wealthy industrialists Anton and Helene Kröller-Müller. She was a gifted art collector and is said to have been the first to recognized the genius of Van Gogh. He collected land and ultimately set up a foundation to maintain it as a national park. On her death in 1939, she donated her entire art collection, and the forested estate, to the Dutch people. Explore the estate's winding pathways using the museum's free white bicycles, which can be found on bike racks around the park.
30. The Hague
The stately Hague (or Den Haag in Dutch) is the seat of government, home to the king, and where the International Court of Justice located. There are also a handful of world-class museums, like the trippy Escher in Het Paleis museum that's completely devoted to Dutch graphic artist M. C. Escher. Visit the Mauritshuis to view Vermeer's famous View of Delft and the Girl with the Pearl Earring.
Click Here to Sign Up!
i