Vienna with Kids: 35 Things You Didn't Know You Could Do in Austria's Capital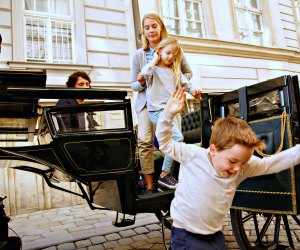 Exploring the great cities of Europe with children in tow may sound more complicated than it's worth—except that it's really worth it. And speaking of great cities of Europe, there is none greater than Vienna. Once the seat of the Austro-Hungarian empire, the Central European capital packs in museums, palaces, and epic landmarks the way Mary Poppins packs surprises in her carpetbag. Vienna is a feast for the eyes, with a feast for the belly waiting at every corner, too. I'll take Vienna over Paris every time.
But kids? What's there for them, amidst all of these old buildings? If you dread dragging little ones on cultural tours, but long for a bit of culture yourself, check out Vienna. In summer, the city has an astonishing number of kids' activities, well organized in the city's Ferienspiel plan listing free and cheap kids' activities all over town. In winter, holiday themed activities turn Vienna into a twinkling, often snowy, wonderland.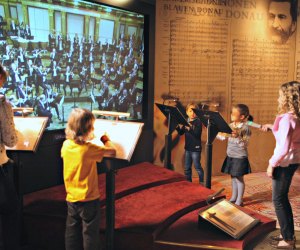 Visitors control the orchestra at the Haus der Musik.
Tour the old city on a fiaker ride.
Conduct an orchestra at the Haus Der Music.
Go back in time on the Time Travel Vienna experience.
Ride a paddle or motor boat on the Old Danube in summer.
Ice skate on the Old Danube in winter (or on the Rathausplatz if the river isn't frozen).
Climb through the treetop ropes course on the Danube Island...
... or try the Waldseilpark treetop rope course in the Vienna Woods.


Kids get a workout climbing through the treetops in the Vienna Woods. Photo by author

Explore the dinosaurs, rocks, and great art at the Natural History Museum.
Touch everything at the Zoom Children's Museum.
See a complete musical performed by Vienna's Marionette Theater.
Visit the world's oldest zoo.
Do a special night tour of the zoo.
Wander the gardens and royal rooms of Schönbrunn Palace.


Everyone can be an emperor or empress at Schönbrunn Palace.

Visit the world's oldest amuseument park—The Prater—and ride the giant Riesenrad.
Splash down the waterslides at Therme Wien thermal baths and day spa.
Enjoy dinner, free movies, and concerts outside the Rathaus in summer.
Have a hot drink and shop for ornaments at the Rathaus Christkindl Market in winter.
Eat the famous cakes and watch the bakers at Demel.
Visit butterflies all year round at the Schmetterlinghaus.
Rub your eyes and look again at the Museum of Illusions.


The horses of the Spanish Riding School are legendary.

See the famous performing horses of the Spanish Riding School.
Check out the unusual Hundertwasser House, and get to know the artist at Kunst Haus Wien.
Cruise down the Danube to famous Durnstein Castle.
See a play at Vienna's English Theatre.
See a movie in English at the Haydn Kino.
Visit the sealife (and monkeys!) at Haus des Meeres.
Swim in a pool on the Danube aboard the Badeschiff.


The Sommer Rodelbahn gets some speed!

Fly down the hillside on the Sommer Rodelbahn toboggan run.
Walk the woods and feed the deer at Lainzer Tiergarten.
Have lunch on your own Danube Sofa Boat.
Ride horses through the famous Vienna Woods.
Indulge in ice cream at the Eis Salon am Schwedenplatz.
Attend a children's opera at the world's most famous opera house.
Choose free activities daily in the city's Ferienspiel summer program for kids.
See the bells at the top of St. Stephan's Cathedral up close.


Vienna is at your fingertips... Photo by author
All photos courtesy of Vienna Tourism unless otherwise noted