25 Things to Do in Berlin with Kids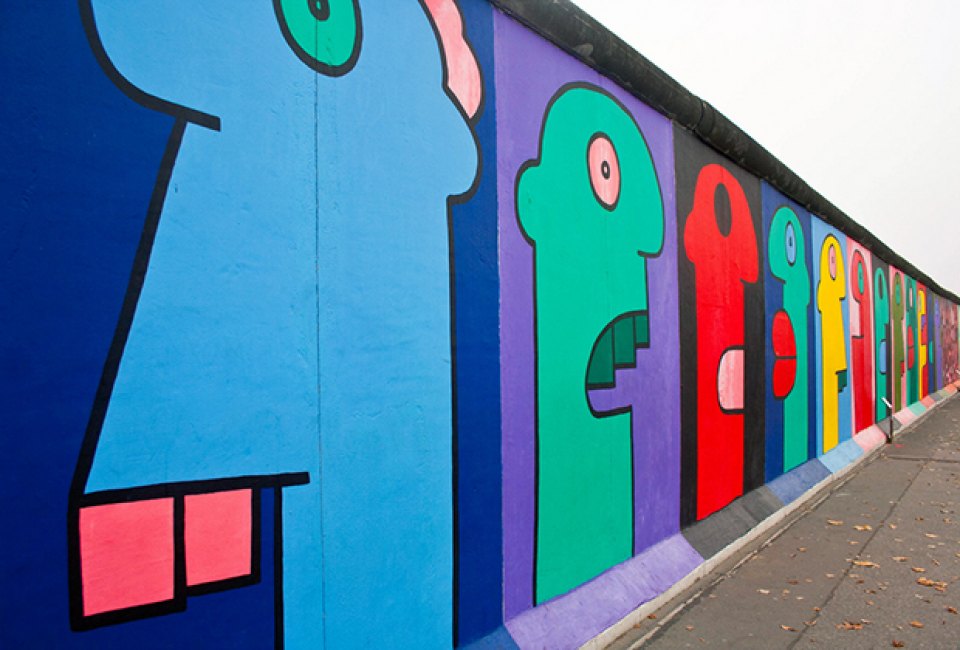 2/19/16
- By
Allison Tibaldi
Yes, it's ultra-hip and loaded with cool nightclubs, but the city of Berlin surprises as a great family vacation destination with impressive museums, wide-open green spaces, affordable hotels—and even a Legoland. Berlin never tries to hide its brutal past; reminders of the Holocaust are everywhere, making a visit part history lesson, so be prepared for frank questions from your kids regarding Germany's complicated legacy. A tolerant spirit pervades, so families of every configuration should feel at home.
Making spring break or summer travel plans? Check our U.S. regional travel guides for more family travel planning or some of our recent family resort reviews.

Peer into Germany's divided past through many interactive exhibits at the DDR museum. Photo courtesy of the museum.
Attractions
Glimpse how the other half lived when Berlin was a divided city. Everyday life in the former East Germany is explored in an interactive manner. Open cupboards, rummage through bureau drawers and watch tots on East German television.
Learn the history of German aviation, film technology and brewing at this hands-on celebration of science and technology where planes and trains are on display.
This is a wonderful place to let preschool kids loose. It's completely hands-on with lots of room to romp. Make sure your socks are clean as no shoes are allowed.
The Pergamon is the most visited museum in Germany. The hall containing the famed Pergamon Altar is closed until 2019, but the many reproductions of famed archeological and classical sculptures will intrigue kids with an interest in the ancient world.
RELATED: 25 Things to Do in Amsterdam with Kids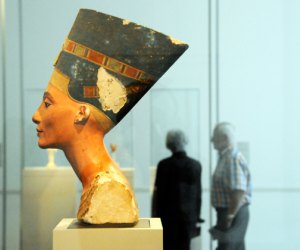 The gorgeous Queen Nefertiti bust on display at the Neues Museum. Photo by Jesus Gorriti via Flickr.
This visually dynamic museum blends cutting-edge architecture with a top-notch Egyptian collection. The showstopper is the bust of Queen Nefertiti, her long neck and sloe eyes as gorgeous as any movie star.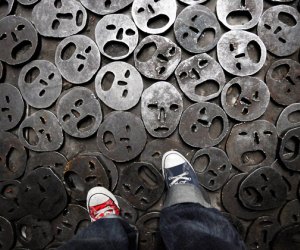 Visitors are encouraged to walk on Israeli sculptor Menashe Kadishman's powerful installation at the Jewish Museum. Photo by Jesús Gorriti via Flickr.
Even before you step inside, the imaginative building designed by Daniel Libeskind will have you thinking about the repercussions of the Holocaust. Jewish life is simultaneously celebrated and mourned. The Holocaust exhibits are deeply thought-provoking, but there are lighter exhibits, too, such as a display of Christmas/Chanukah memorabilia created for mixed-marriage holiday celebrations.
With more than 30 million objects in the vast collection, there's something for everyone. Dinosaur fans will be in heaven with the diverse and rich paleontology exhibits.
RELATED: 25 Warm Weather Family Vacation Destinations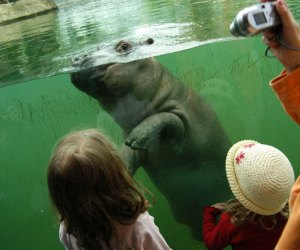 Visit the hippo or the polar bears at the Berlin Zoo. Photo via Shutterstock.
Located within the leafy Tiergarten, the polar bears, marine life and flora-filled grounds are super. Try to time your visit with animal feedings for extra action.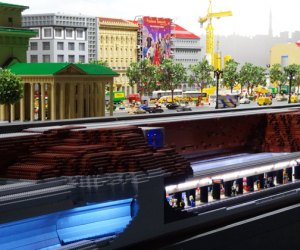 Berlin? No, it's the city's Legoland. Photo by bricktopia.de via Flickr.
Immerse yourself in a world with more than 5 million Lego bricks. Sure, it's shameless publicity for the product, but it's also creative play and a fine respite for tiny travelers.
10. Spa
Spa culture is alive and well in Berlin and families are not left out. Sultan Hamam offers a co-ed family day each Sunday. You'll feel transported to an exotic Turkish bath house as you luxuriate in the eucalyptus-scented steam room.
Outdoor Berlin
This 630-acre park rivals Central Park and is the perfect inner-city locale to let off steam. A zoo, lakes, meadows, trails and two beer gardens are just some of the attractions.
Formerly the site of Berlin's airport, the space was repurposed as a park in 2008. Highlights include a cycling trail, spacious picnic area with barbecues and ample urban gardens. It's the place to come to fly a kite.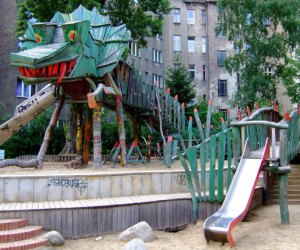 It's likely your kids have never seen a playground like this before! Find the "Dragon Playground" in the Friedrichshain neighborhood.
13. Dragon Playground
Berlin is littered with creative playgrounds for kids. The Berlin-Friedrichshain neighborhood is where you'll find the Dragon Playground. Kids can explore the inside of this funky wooden dragon before sliding down one of the twin slides. Parents may relax on one of the shady benches while the kids romp.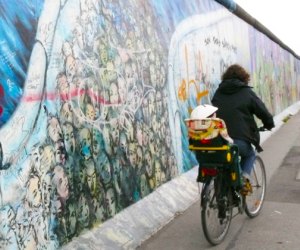 The colorful "East Side Gallery" is a celebratory monument to the fall of the Berlin Wall.
This nearly mile-long outdoor mural is the longest open-air gallery in the world. It's a dense pop-art and graffiti display and a fascinating social and political commentary. Social-media-savvy kids will be in good company as posting a selfie is all but mandatory.
One of the many ways Berlin commemorates victims of the Nazis is with Stolpersteine, or stumbling stones. These brass plates are embedded in the sidewalk concrete and are a personal memorial to a Jewish victim who lived on the street where the stumbling stone is placed. Each slightly raised plate has the name and details of the tragic death of a former resident. They are purposely made to be stumbled on, to contemplate the individual whose life was lost.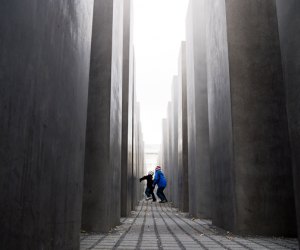 Peter Eisenman's sprawling Holocaust Memorial is a place for reflection and exploration. Photo by Francisco Osario via Flickr.
16. Monuments
Berlin is loaded with symbolic and iconic structures, including the Brandenburg Gate and the Reichstag, but few kids are likely to get excited about viewing them. The Holocaust Memorial is different. This memorial to the murdered Jews of Europe is a labyrinth the size of a football field. Thousands of concrete slabs of varying heights are arranged in a purposely confusing grid pattern. You may access the labyrinth at any point, making the poignant journey highly personal.
Eat
Berlin is a top city for hungry tourists on a budget, thanks to an eclectic fast-food scene.
17. Doner Kebab
A doner kebab is thinly sliced meat carved from a rotating spit, piled into warm pita bread and garnished with veggies. This hearty sandwich rarely costs more than 3 Euros and is found everywhere.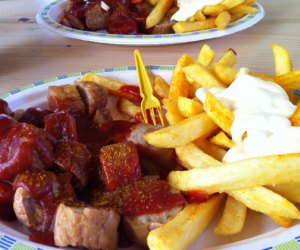 A massive plate of Currywurst with a very dainty fork. Photo by Tim Lucas via Flickr.
18. Currywurst
Currywurst is another food Berliners have embraced in a big way, including a Currywurst Museum. It's sliced bratwurst served in tomato sauce that has been laced with curry for a kick. Burgermeister in Kreuzberg is a prime spot to sample this hometown favorite. It also sells a tasty tofu variety for vegetarians.
19. Chocolate
If you've got a sweet tooth, stop at Fassbender & Rausch, the self-proclaimed biggest chocolate store in the world. The atmosphere is as whimsical as Willy Wonka's chocolate factory, with eye-catching renditions of local architectural icons such as the Brandenburg Gate carved entirely out of chocolate. Head upstairs to watch the chocolatier spin edible magic.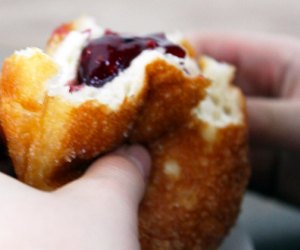 The irresistible Berliner jelly doughnut. Photo by Judith Doyle via Flickr.
20. Doughnuts
When JFK made his famous speech and proclaimed "Ich bin ein Berliner," he apparently made a grammatical mistake and claimed to be a doughnut, not a resident of Berlin. Berliners are jam-injected rounds of ethereal fried dough dusted with granulated sugar. You'll need willpower to eat just one. Sold at every bakery in town.
21. Turkish Treats
Turks form the largest ethnic minority in Germany and their influence in the edible arena runs deep. Step into bare-bones Leylak and you may think you've landed in Istanbul. An assortment of sweet and savory pastries wrapped in handmade dough or flaky filo are sliced from a gigantic sheet pan or served in individual portions.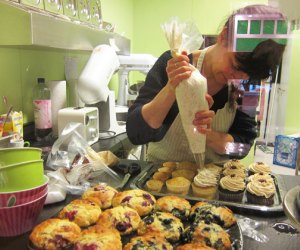 Older kids will devour the walking Berlin Food Tour. Photo by the author.
22. Food Tour
If you've got a blossoming gourmet in the family, the Berlin Food Tour is the best culinary adventure we've experienced. Bilingual owner Bastian is a friendly local and his diverse culinary itineraries are superb. Kids pay about half the adult price. Walking tours last several hours, so this is not for fidgety toddlers.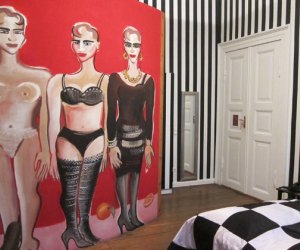 One of the funky rooms at the Arte Luise Kunsthotel, which is part gallery, part hotel. Photo by the author.
Stay
This boutique property is an art gallery within a hotel. Each room is personally conceived and decorated by a different artist. It is located within sight of the Reichstag and just a short walk from the Brandenburg Gate. Ask for a room facing away from the subway if you are light sleepers.
Our inexpensive family room at the Ibis Styles was clean and compact. The colorful common area includes communal computers and a kid's play area stocked with games and toys. The complimentary breakfast buffet includes fresh fruit smoothies.
25. Hostels
European families have been hosteling for years and American families are catching on to this low-cost type of accommodation. Generator is a trendy chain of hostels with locations in central Mitte and popular Prenzlauer Berg. Private rooms with en suite baths are an excellent value.
Getting Around
Purchase a two-, three- or five-day Berlin Welcome Card and you'll get unlimited rides on Berlin's comprehensive public transportation network, including the U-Bahn, S-Bahn and buses. The cards start at about 20 Euros for the two-day option. You'll receive discounts at hundreds of sites, museums and tours. When an adult purchases a card valid for zones A, B and C, they can bring up to three kids between the ages of 6 and 14 on board for free.
For more information, log on to the city's tourism site: www.VisitBerlin.de
Top image: The East Side Gallery, a reminder of the city's divided past, is not to be missed. Photo by Paul VanDerWerf via Flickr.