A Fabulous Family Getaway: Sea Island Resort, Georgia
2/5/22
- By
Jackie Jones
This phrase gets thrown around a lot, but Sea Island Resort in Georgia is a vacation destination that really does have it all. Located between Jacksonville, Florida and Savannah on the stunning southeast Georgia coast, Sea Island is brimming with southern charm and world-class hospitality. Sea Island Resort features five miles of private beach and several pools. The amenities are plentiful, and the dining options are top-notch. During our vacation at Sea Island, we barely left the property. We were too busy biking, bowling, and swimming.
Read on for all of the scoop on Sea Island, Georgia. If a trip to Georgia isn't in your immediate future, be sure to peruse our other favorite family-friendly hotels and get ideas for where to travel next in our Family Travel Guide.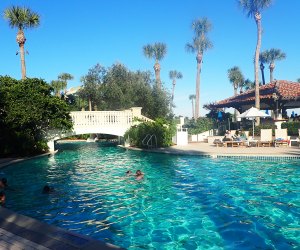 Spend hours splashing and lounging at this gorgeous pool.
Sea Island Resort Activities for Kids and Families
For our family, the top selling point of Sea Island Resort is the diverse list of fun activities available. That includes a family pool with a giant waterslide, a playground on the beach, a nature center where kids can see turtles and horseshoe crabs, a playroom just for babies and toddlers, and an arcade (no need to bring quarters; all games are free).

Challenge your family to a game of bowling at Sea Strike.
For an extra cost, families can sign up for specialty classes too, from fishing and horseback riding to archery and tennis. My daughters were apathetic about the shooting course we signed up for, but they absolutely loved learning how to use an air rifle and then hitting as many colorful steel targets as they could. We also enjoyed getting some friendly competition going at the Sea Strike bowling alley, an intimate spot with six lanes and a gourmet snack bar.
Sea Island Resort's fitness center and spa are especially clean and classy, and a great way to get in some adult time (not to mention the 18-hole championship golf course). If shopping is more your sport, there are several upscale boutiques. And should you desire a little vacation from your family vacation, there's even a day camp for kids.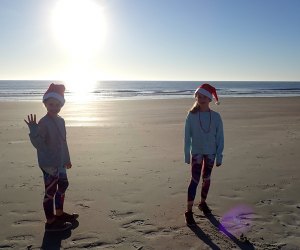 Christmas at the beach? Yes, please!
Sea Island Resort Holiday and Seasonal Offerings
Sea Island Resort goes all out for the holidays—and I mean all out. Christmas was an unforgettable spectacle, with a life-size gingerbread house that doubled as an Advent calendar, tons of gorgeously decorated trees, and daily events (some included with our stay and some available for purchase). A highlight for us was the Christmas Eve one-mile run on the beach, followed by a kids' Christmas party (hosted by Santa, of course).
Sea Island pulls out all the stops at Easter, too, with an Easter bunny breakfast and an epic egg hunt featuring 10,000 hidden eggs. Fourth of July is capped off with a parade, lawn games, and fireworks.
Note to parents: Many of the seasonal festivities sell out quickly—sometimes months in advance. I highly recommend booking these events online as early as possible.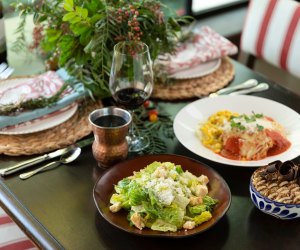 Tavola at Sea island Resort provides a truly memorable meal. Photo courtesy of the resort
Sea Island Restaurants
I can honestly say that everything we ate at Sea Island Resort was delicious. My daughters really liked the burgers and salads at River Bar & Lounge, a semi-casual eatery with a simple, fresh menu. Southern Tide is the resort's Mexican-inspired restaurant, and it offers lovely outside seating with an ocean view. Tavola is an Italian spot with plenty of pizza and pasta options for dinner, as well as a great breakfast buffet. And during the holidays, Sea Island Resort hosts opulent meals in its large ballrooms. Our Christmas Eve dinner was the fanciest meal I've had outside of a wedding.
When it comes to dessert, Wonderland is a candy and ice cream shop guaranteed to make your child's eyes pop out. It also has a gourmet coffee bar.
Should you need to head off campus for groceries, there are a Harris Teeter and a Winn-Dixie about a 10-minute drive from the resort.

Be in the center of the action when you stay in the main building, The Cloister.
Sea Island Resort Room Accommodations
There are several room options for your stay at Sea Island Resort, whether your family wants to be in the center of the action, near the beach, or in a private vacation home. Sea Island's main building, The Cloister, is where many of the restaurants are and where most of the events take place. We opted to stay at the Cloister Beach Club, steps away from the family pools and the ocean. Our room was impeccably designed, and we got a taste of real southern hospitality, including nightly turn-down service with fresh towels and gourmet chocolates.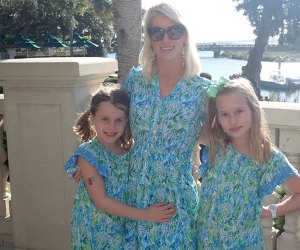 The Cottages have the feel of rental homes, but with access to all of Sea Island's amenities.
Those seeking a quieter stay may want to check out The Lodge, a boutique hotel with only 43 rooms and 24-hour butler service. Traveling with a big group? The Cottages are like private rental homes with up to seven bedrooms, and visitors still get access to all of the resort's amenities.

Sea Island is a beautiful place for a family bike ride.
No matter which accommodations you choose, employees are on call to provide rides between the properties (often in golf carts, much to my daughters' delight). Keep an eye out for special offers that can save you money on your vacation, both on Sea Island Resort's website and other travel sites.
Unless, noted photos by the author
Click Here to Sign Up!
i