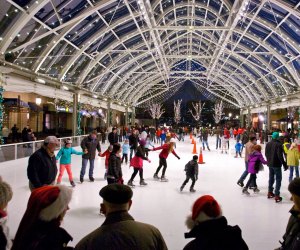 The Best Ice Skating Rinks in Washington DC for Family Fun
On a beautiful winter day, what could be more enjoyable than skating around on a fresh sheet of ice? The Washington, DC area is fortunate to have a number of ice rinks just perfect for skaters of all levels, from kids to adults, and novices to experts. 2020 has brought some changes, including temporary closures at The Wharf and the National Gallery (we hope they'll be back next year!), but there are still excellent options for skating fans
This year, you'll need to make advance reservations and schedule specific ice time and, of course, wear masks and practice social distancing. MedStar, one of the few indoor rinks open this year, offers special "pod times," so you can skate in a group on your own designated slice of ice.
Weather permitting, outdoor rinks remain open through February. Call or check social media for weather-related questions or Covid closings. Otherwise, lace up your skates and enjoy one of our favorite winter activities.
RELATED: 50 Things to Do in Washington, DC With Kids Before They Grow Up
The Best Outdoor Ice Skating Rinks in the Washington DC Area
The Pavilion at Reston Town Center
Reston, VA
Daily, 11:30am-9pm or later
Adults $10; Children $9; Skate Rental $7
Open since November 6, with COVID-19 safety precautions in place, offers online reservation and touch-free payment options, along with public skating daily and extended hours for the Holidays. The skate shop is stocked with over 500 pairs of skates, ranging from size 8 toddler through men's size 15, in both figure and hockey styles. Beginner skaters can try the double bladed, flat edge skates to walk across the ice until they're ready to glide into a single bladed skate, available in size Youth 8-13. The rink is open through mid-March .
Pentagon Row Ice Rink
Arlington, VA
Tuesday-Friday 12pm-10pm; Saturday-Monday 10am-10pm
Adults $10, Children (under 12) $9; Skate Rental $5
This rink, in Pentagon City, underwent a significant renovation in 2013. The rink says it is now the largest outdoor rink in Northern Virginia and the second-largest in the state. This year, reservations are required, so schedule your skate time online, in advance.
Ice & Lights: The Winter Village at Cameron Run
Alexandria, VA
Dates and times vary; Check website
$24
Ice & Lights skating sessions are limited to an hour, and ice time must be reserved in advance, online. Children under 12 may have one adult spectator in the stands (if you're not a skating enthusiast!) Ticket price includes general village admission ($9.35) and skate rental.
Silver Spring Ice Rink
Silver Spring, MD
Monday-Friday 12pm-10pm; Saturday-Sunday 10am-10pm
Adults $10, Children (under 12) $9; Skate Rental $5
Silver Spring rink is located at Veterans' Plaza in Silver Spring and offers public skating, skate rental, and more. Reserve ice time in advance, and arrive at the rink a little early. The rink is open until 10pm weeknights, midnight on weekends. Parking is free in the area after 8pm on weeknights and all day on weekends.
Rockville Outdoor Ice Skating
Rockville, MD
Monday-Friday 12pm-10pm; Saturday-Sunday 10am-10pm
Adults $10; Children $9; Skate Rental $5
Skating tickets for ice time at Rockville Outdoor Ice Skating provide up to one hour on the ice for up to two people per reservation. Masks must be worn at the facility, while on the ice, and within the rink area, and children under 12 must be accompanied by an adult.
Color Burst Ice Rink
Columbia, MD
Monday-Thursday 4pm-9pm; Friday 4pm-10pm; Saturday 12pm-10pm; Sunday 12pm-8pm
Adults $14; Children $14 (price include admission and skate rental)
The new Color Burst Ice Rink at Merriweather District promises a safe and enjoyable outdoor experience for the entire family. For the safety and convenience of all guests, a limited number of visitors will be admitted to the ice rink every 30-minutes. All visits must be reserved in advance by purchasing a timed ticket(s) online. All visitors will receive a confirmation email with a safety waiver and a receipt. Entry is not guaranteed to those who walk up to purchase tickets. If you do want to take a chance on a "walk-up" purchase of tickets in-person, you will be shown a QR-code to purchase tickets on your smartphone; if the present time is fully-booked, the guest will be shown other available times to skate.
The Best Indoor Ice Skating Rinks in the Washington DC Area
Medstar Capitals Iceplex
Arlington, VA
See website for schedule
$75/pod/hour
The practice home of the 2018 Stanley Cup champion Washington Capitals, Medstar offers holiday pod skating for families where each Pod gets 1/6th of the ice assigned to your group. You can bring up to four guests. Everyone must be skating. Advance reservations, online, are required.
Mount Vernon RECenter
Alexandria, VA
Daily, check website for schedule
Adults $7; Children (5-18) $5.50
The RECenter is the only public indoor rink in Fairfax County. Amenities include a warming room, pro shop, locker rooms, and more. Public skating is offered daily with discounted 10-visit passes available. Learn-to-skate classes, advanced skating classes, and hockey clinics are available. Covid regulations are in place, so masks are required. Register for skate time in advance.
RELATED: 35 Great Winter Activities for Kids and Grown-Ups