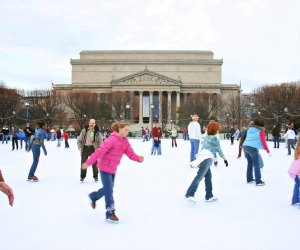 The Best Ice Skating Rinks in Washington DC for Family Fun
On a beautiful winter day, what could be more enjoyable than skating around on a fresh sheet of ice? The Washington, DC area is fortunate to have a number of ice rinks just perfect for skaters of all levels, from kids to adults, and novices to experts.
We here at Mommy Poppins DC have the skinny on the most popular rinks in the capital district. Some are year-round indoor structures, others are pop-up, outdoor facilities. Most offer skate rentals, skate aids, lessons, and all the other amenities you need for a great day at the rink. Some even offer free Wi-Fi for nonskaters.
Weather permitting, outdoor rinks remain open through February. Most indoor and outdoor rinks are open to the public without significant restrictions, but keep in mind admission can be higher for nonresidents at municipal rinks.
Call or check social media for weather-related questions involving outdoor rinks. Otherwise, lace up your skates and enjoy one of our favorite winter activities.
RELATED: 50 Things to Do in Washington, DC With Kids Before They Grow Up

Fort Dupont Ice Arena is a rink with a mission. Photo courtesy of Friends of Fort Dupont Ice Arena
The Best Indoor Ice Skating Rinks in the Washington DC Area
Cabin John Ice Rink
Rockville, MD
Cabin John is one of two municipal indoor skating facilities in Montgomery County. It boasts three rinks, a pro shop, snack bar, three party rooms, and a dance studio. Public skating is available every day, along with weekly family and teen skating sessions, and adult and youth hockey.
Fort Dupont Ice Arena
Washington, DC
Fort Dupont is the only public ice rink located in the city itself. Situated in the Southeast, it provides free or subsidized skating programs to children with a mission to empower young people through development on the ice. Lessons, hockey programs, and skate rental are available. Special programs are available in January as part of National Skating Month.
Medstar Capitals Iceplex
Arlington, VA
The practice home of the 2018 Stanley Cup champion Washington Capitals, Medstar offers learn-to-skate and learn-to-play-hockey programs. Public skating and pickup hockey are available weekly, and the rink is available for parties and parents' nights out. Also enjoy a pro shop and cafe. Capitals practices are free to the public. The rink is located atop the Ballston Common mall parking garage in Arlington.
Mount Vernon RECenter
Alexandria, VA
The RECenter is the only public indoor rink in Fairfax County. Amenities include a warming room, pro shop, locker rooms, and more. Public skating is offered daily with discounted 10-visit passes available. Learn-to-skate classes, advanced skating classes, and hockey clinics are available.
Wheaton Ice Arena
Wheaton, MD
The second Montgomery County ice rink, Wheaton offers a pro shop, workout center, snack bar, and two party rooms available for rent. Public skating is offered throughout the week as well as pick-up hockey and puck shoots. Classes and camps are available for figure skaters or hockey players regardless of ability, and skating exhibitions are available throughout the year.
RELATED: 35 Great Winter Activities for Kids and Grown-Ups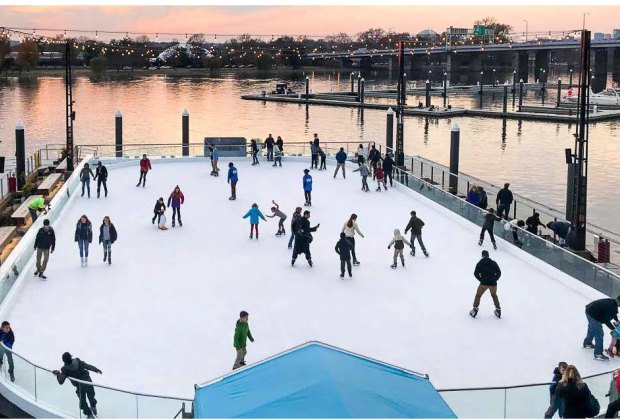 The Wharf Ice Rink offers skating with views of the DC skyline. Photo courtesy of District Wharf
The Best Outdoor Ice Skating Rinks in the Washington DC Area
Canal Park Ice Rink
Washington, DC
Canal Park is an ideal skating destination for those near the Capitol Riverfront area. Open November to February, the rink is designed like a track, giving skaters the experience of gliding along a frozen canal. Skate rentals and lessons, hockey clinics, season passes, and discounted 10-visit passes are offered. Birthday party rink rentals are available.
Enchant Christmas
Washington, DC
Each holiday season, Nationals Park transforms into a winter carnival that includes an ice skating trail adorned with holiday lights. Tickets can be expensive, ranging from $14.99 to $33.99, but admission includes access to the holiday market and its 60-plus vendors.
National Gallery of Art Ice Rink
Washington, DC
Located on Constitution Avenue, the rink at the National Gallery is open for public skating from November to mid-March. Skate rentals and lessons are available, including mommy-and-me and daddy-and-me programs. Figure skating and hockey programs are also available. Visitors can enjoy the Pavilion Café, with views of the Sculpture Garden.
The Pavilion at Reston Town Center
Reston, VA
This seasonal rink is open through mid-March and offers public sessions, learn-to-skate programs, college nights, and music nights. The rink also is available for birthday parties. Discounted 10-visit passes are available.
Pentagon Row Ice Rink
Arlington, VA
This rink, in Pentagon City, underwent a significant renovation in 2013. The rink says it is now the largest outdoor rink in Northern Virginia and the second-largest in the state. Amenities include a dual-sided stone fireplace for lounging during breaks. Group and private lessons are offered and the rink is available for party rental.
Silver Spring Ice Rink
Silver Spring, MD
Silver Spring rink is located at Veterans' Plaza in Silver Spring and offers public skating, skate rental, and more. The rink is open until 10pm weeknights, midnight on weekends. Parking is free in the area after 8pm on weeknights and all day on weekends.
Top of the Gate Rooftop Rink
Washington, DC
Come November, the rooftop bar of The Watergate Hotel transforms into Top of the Skate. The synthetic surface is not for everyone, but families can enjoy a skate-up bar with warming beverages and a snack menu. Cap off your skating experience with a visit to one of the rink's outdoor igloos.
Washington Harbour Ice Rink
Washington, DC
Open from mid-November through March, when it transforms from an outdoor fountain, Washington Harbour is the largest outdoor skating venue in Washington, DC. Public skating and learn-to-skate programs are offered, and the rink is available for private parties. Special events include college nights, music nights, and two-for-Tuesday nights.
The Wharf Ice Rink
Washington, DC
Located in Southwest and near the National Mall, The Wharf offers a skating experience in one of DC's most vibrant communities. Open from November to February, The Wharf offers skating with views of DC's great monuments. Rent skates or bring your own. Take a break and enjoy some restaurant specialties at this converted fish market. Note: The Wharf is a cashless business so make sure to bring some form of electronic payment.