The DoSeum: San Antonio's Hot Spot for Kids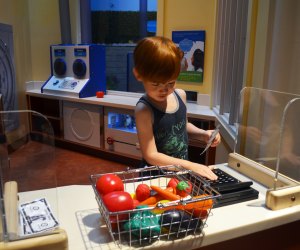 As a native New Yorker, San Antonio has always been a favorite destination. And the one stop we cannot miss? The DoSeum, San Antonio's Museum for Kids.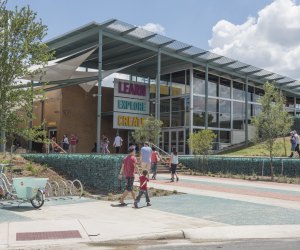 Photo courtesy of The DoSeum
Erase the memories of museums of yesteryear with dusty exhibits and no-touching artifacts. The DoSeum, which opened in June 2015, is an interactive, non-stop play-and-create haven for children. It is located on five and a half acres and boasts more than 65,000 square feet of indoor and outdoor exhibits give a reason for families to visit over and over again. It actually offers one of the largest outdoor play areas of its kind in the nation.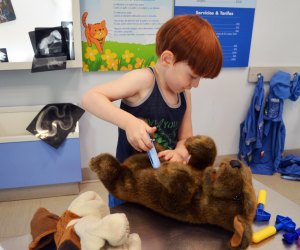 Photo by the author. Kids get a kick playing grown up in Little Town, like caring for animals in the veterinarian's office.
The majority of The DoSeum's exhibits are STEM-inspired, including the spy-themed equipment, a shadow puppet theater, an air tunnel, and bubble and light experiments.
My 4-year-old son's favorite area is Little Town, a pretend town for kids under 5. Inside Little Town, preschoolers play grown-up. There's a veterinary office, a post office, a construction site, a food truck, a gas station, a supermarket, an airplane and little cars to take you to and fro. Additionally, there is a baby/toddler gated area in the center for our youngest ones to safely play. Get your phones out, because nothing is as cute as your kid grocery shopping with kid-sized carts and giving vaccinations to stuffed animals.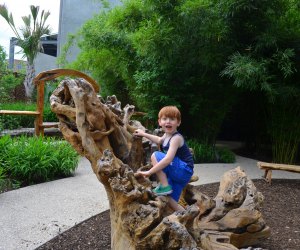 Photo by the author. There is plenty to climb on with more than 39,000-square-feet of fun!
Outside, when the weather is good, there's plenty going on. There's a sand area where kids can build with buckets and tools, a giant tree house, and a shallow manmade stream to get your toes wet. My son happened to be wearing swim trunks which was fortuitous because, boy, did he get wet.
You'll be happy to know the museum has elevators and is wheelchair accessible.
Tips for Planning Your Trip:
The busiest times to visit are on school holidays. Visits during the school week might be the least crowded but don't be surprised if there are class trips in attendance.
Leave your stroller behind if you can, as the best way to get around is on a light foot. If you have to, try to bring an umbrella stroller.
There is a café that offers healthy options for kids and a seating area. Small snacks from home, water, and baby food are welcome but the museum requests that large meals be purchased in the café or eaten prior to admittance.
This is a breastfeeding friendly environment and the staff may also help you find a quiet area if you like. There are changing tables available in both the men and women's restrooms.
Because of the water works and sand outside, I recommend play clothes that dry quickly, extra socks, waterproof shoes, sun block and hats. You never know if your kid wants to take a dip into the stream. My son did!
Note that on-site parking is FREE!
Regular Hours are Mon-Fri 10 a.m.-5 p.m., Saturday 9 a.m.-5 p.m. and Sunday 11 a.m.-5 p.m. Check the calendar for special events, H-E-B free nights and changes.
Top photo by the author