Brand-New LEGOland Discovery Center Opens Near Philadelphia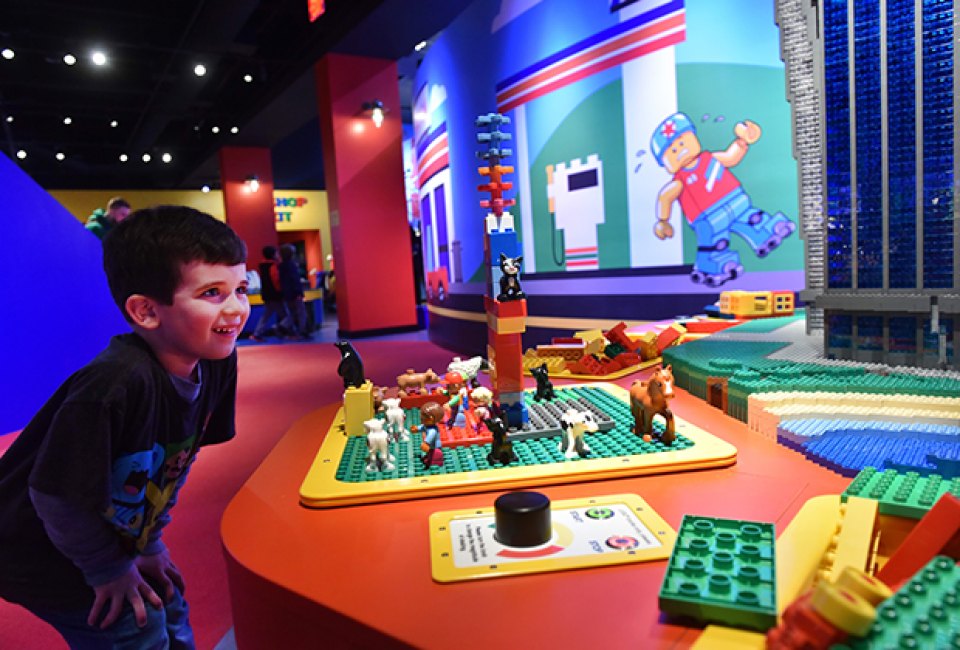 4/6/17
- By
Becki Melchione
LEGOland Discovery Center at Plymouth Meeting has been building up to be the destination for every nearby LEGO-loving kid. From 9-foot tall replicas of city landmarks, to a 4D cinema, Ninjago training camp, and more, brick lovers from all over are excited about this brand-new attraction. My almost 5-year-old daughters have asked to go back multiple times a day, every day since we visited.
With 10 play zones that cater to different ages and interests, a 4D movie theater, and an interactive ride called the Imagination Express, kids ages 3 to 10 will be enthralled. The challenge for some parents, like me, will be prying your kids away from the first play station they see to explore everything else LEGOland has to offer.
The Imagination Express Train Ride is one of the first attractions when you enter the facility. Step into a LEGO car and enjoy the adventure. Some kids, mine included, will be too excited to get playing, and won't want to go on the ride. No worries, there's plenty to do, so there's no need to feel like you've missed anything. Friends who went on it loved it, especially how the kids could interact with the scenes as they traveled from Brick Station all the way to outer space.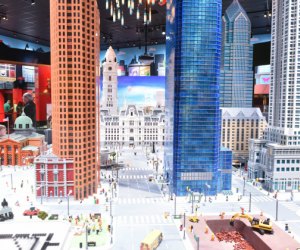 Kids will love the replicas, which even have a few interactive features.
If you have ever sat for five or six hours following the books of directions to build a LEGO set meant for an adolescent and marveled at how it's supposed to look, then you'll appreciate walking into Miniland. The sheer artistry on display in this homage to Philadelphia is stunning. Landmarks including Lincoln Financial Field, Boathouse Row, Philadelphia Museum of Art (complete with a Rocky figure who runs up and down the stairs), Pat's, the subway, and more are connected by parks, waterways, and streets with cars, trucks, and pedestrians who travel from one place to another.
One could spend a whole day looking at all of the details. In fact, in Miniland, a day is significantly shorter; day turns into night often so visitors can observe Philadelphia lit up at night, too. Some parts of Miniland allow visitors to push buttons or turn wheels, which may play different instruments in a concert bandshell or race boats in the river. Keep an eye out for the subway stations and trains that run periodically.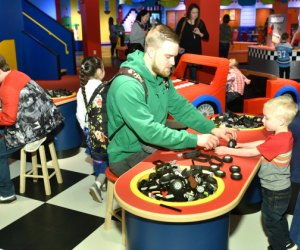 Build a little racer and then watch it go on the racetrack.
Next to Miniland is LEGO Racers where there are areas for constructing wheeled vehicles. Big bowls of tires, axels, and other parts invite kids to build their vehicles. Then they can test them on ramps and compete on a racetrack. This area was a little advanced for my daughters who picked up the wheels, but didn't have enough interest or knowledge about how to put them together. Older kids, around ages 7 to 10, were much more excited, building crazy vehicles.
You'll also find the Earthquake Tables here. Kids can try to construct a skyscraper that won't fall during an "earthquake." And at the Creative Workshop, LEGO instructors lead workshops on constructing different projects. There's also a little window next door where you can watch a LEGO staffer and ask any burning LEGO questions you have.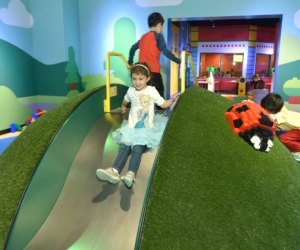 There are a few mini rides for big kids, and even this slide hill playground for little ones.
DUPLO Park is for the smallest visitors with areas to build with DUPLO blocks, a small hill and slide, and large foam blocks that are perfect for building something toddler-sized. My kids loved that part because they could build towers that were taller than they are. Even the containers for those blocks are on the ground making it easy for toddlers to access and handle them.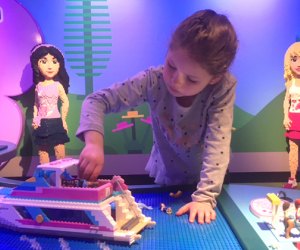 Surrounded by all her favorite LEGO characters, my daughter was content to play and build for hours!
Once my 5 year olds found the LEGO Friends play area with Heartlake City at its center, they didn't want to leave. Surrounded by life-sized representations of their favorite LEGO characters, Mia, Emma, Stephanie, Andrea, and Olivia, they were thrilled to collect dozens of horses and dolphins from bowls of LEGOs and just play. It's a testament to LEGO that kids will sit for hours with their products—and likely the reason so many of us shell out for buckets of them!
One of my favorite parts about this area is that there are lots of blocks of different shapes and sizes, as opposed to the specialized pieces that are found in so many LEGO kits. In all of the kits my kids have, there are few generic blocks with which to build a wall, for example. For those who need a little inspiration about what to build, there are small books at each station with age-appropriate and story-related questions and prompts.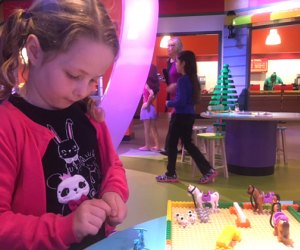 There are building opportunities aplenty.
Next to Heartlake City, the cafe, and bathrooms, is the movie theater. The theater shows one of three movies every 15 minutes from opening to closing, so you can go again and again without seeing the same movie twice. The movies are: LEGO NEXO KNIGHTS, The Legneds of Chima and Spellbreaker. Staffers hand out 3-D glasses before entering the theater and collect them afterward. Be ready for characters flying toward you, get spritzed as you ride through a waterfall, and feel the wind in your face as you fly up into the sky. There are also flashing lights, fog, lasers, and more. If your kids are sensitive to loudness, this might not be the best option for them.
There are two more areas that my kids weren't interested in trying, the Pirate Adventure Island, which is a soft play area for climbing, sliding, crawling, and walking the plank, and the Ninjago Training Camp with Laser Maze. Several 7 and 8-year-old boys told me that the Lazer Maze was the best part of the whole place.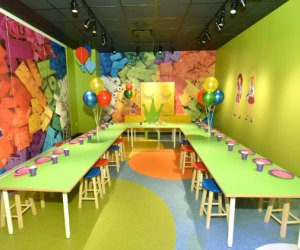 The party room includes a LEGO throne for the birthday kid.
Of course, there are also party rooms, which are super cute and feature a LEGO throne for the birthday kid.
The main issue here is it's popularity. I've gone twice now, once for a preview and once on a rainy Saturday morning after it officially opened to the public. I expected crowds, and honestly, didn't think that they were that bad until after lunch. When we arrived around 11:15 am, the earliest entry time that admissions desk was selling tickets for was 3:45 pm, so obviously BUY YOUR TICKETS IN ADVANCE. Yes, there was a wait for the ride, and the Pirate Ship was full of kids climbing up and down, but it wasn't until about 1:00 pm that all of the play areas seemed to get too crowded to really enjoy.
Getting there: The closest mall entrance and parking area is the Mall Entrance #5, near the AMC movie theater. There's plenty of parking.
Cost: Tickets range from $19-$34 per person, with the $19 admission reflecting an online discount of $5 compared to walk-up pricing, so buy ahead. An annual pass is $54 which would pay for itself in two to three visits and has the added benefit that annual pass holders can visit without a timed entry. That alone might make them worth the investment.
Food: A small cafe serves beverages, sandwiches, salads, and snacks. A kid's meal in a special Lego box is $12. Individual sandwiches average $7. There are also plenty of dining options around the mall.
All photos courtesy of LEGOland Philadelphia except where noted.
Places featured in this article:
---
Legoland Discovery Center