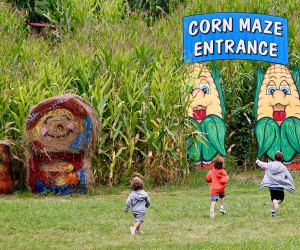 Amazing Corn Mazes at Family-Friendly New Jersey Farms
Ready … set … it's time to get lost in a New Jersey corn maze! The Garden State is home to oodles of spectacular corn mazes, ranging from massive 10-acre labyrinths to simple, child-friendly courses, including hay bale mazes just right for toddlers and preschoolers. Games, clues, and even techie bonuses enhance many of the more elaborate maze experiences. Got a tween or teen? Some offer haunted corn mazes after hours for a spooky, nighttime adventure.
Many of the 13 corn mazes we've rounded up are day trip-worthy on their own, but you'll also likely find apple and pumpkin picking options, hayrides, and even all festivals, plus petting zoos in some instances. So get out your fall to-do list, and navigate your way through one of these great New Jersey corn mazes. Check out our Fall Fun Guide for NJ Kids to find even more ways to enjoy the crisp autumn days.
Most corn mazes in New Jersey open in mid-September. Some are open on weekdays, while others are weekends-only. Be sure to click through to each venue's website for updated safety and reservation guidelines.
2020 update: Corn maze and fall activities debut Saturday, September 12. There are no evening activities this season.
Tons of fall fun awaits at A. Casola Farms. In the daytime, have a blast with the 5-acre corn maze, a petting zoo, pony and hayrides, and pumpkin picking. For the more daring—and perhaps older—audience, come back at night for the Corn Walk of Terror, Travis County Junkyard, House of Horrors, and Haunted Hayride.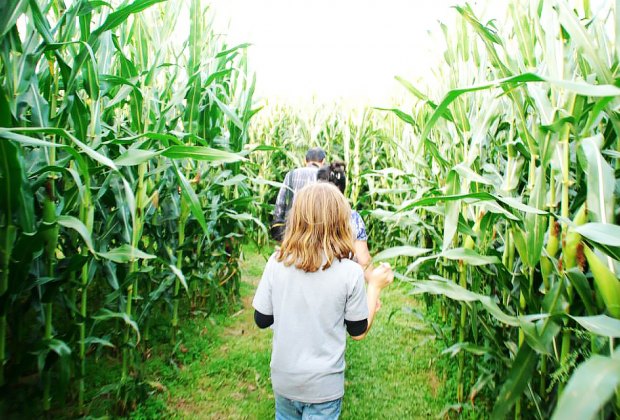 The 10-acre corn maze at Alstede Farms is a serious challenge.
2020 update: Corn maze is open daily through the end of October. This year's theme, as well as the evening activities, will be updated shortly.
Each year, Alstede Farms brings tons of autumn fun, including a 10-acre corn maze. Open daily, Alstede also offers wagon rides to apple and pumpkin picking, a petting zoo, a wagon train, pony rides, and more.
2020 update: Train is running with a reduced capacity. Masks are required. October dates TBA.
Climb aboard the Delaware River Railroad Excursions' steam locomotive to take a ride to an awesome corn maze. Families have a blast navigating this corn maze with 12 checkpoints along the way. Pack a picnic lunch and enjoy a picnic. The train runs weekends through the end of September.
2020 update: Corn maze is coming soon; dates TBD as of publication.
Head to the Pumpkin Land set up behind this farm market to find a hay bale maze for tots and a small corn maze just right for young school-aged children. Organizers tell us the latter takes about 20 minutes to navigate. Enjoy hayrides to a pumpkin patch or apple picking, plus face painting, pony rides, and a bounce house on weekends.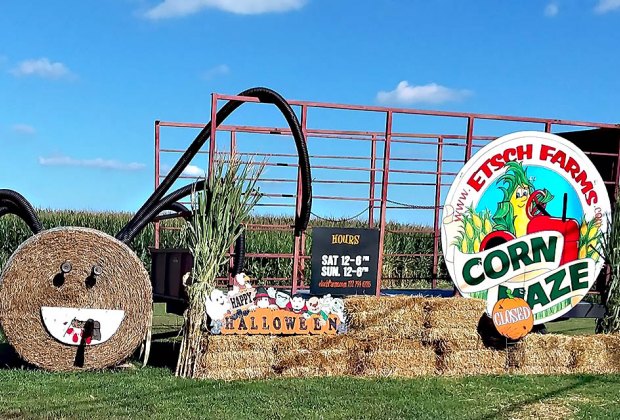 Etsch Farms' corn maze theme is still a secret.
2020 update: Corn maze runs weekends from Saturday, September 19-Sunday, November 1, plus Columbus Day, with safety guidelines.
Etsch Farms hosts 8 acres of family fun. You can also visit the maze at night, with the help of a flashlight. Little ones can embark on the smaller corn maze. Other farm festivities include a corn train, pumpkin picking, hayrides, and delicious food at the Barn Shop.
2020 Update: Corn maze and other fall activities run Saturday, September 12-Sunday, November 8.
We're off to see the corn maze—which combines three games in one! Solve the Kernel Be Cobs Word Game, locate hidden pictures, and complete the secret word search—all while finding you way through the maze. For the younger crowd, the smaller corn maze features the Fabulous Finger Find corn maze game.
2020 update: The maze is scheduled to start Saturday, September 19, and run weekends through Sunday, November 1.
Head back to the early 1900s at New Jersey's longest-running corn maze at this living history farm, covering four acres with numerous paths. Clues help visitors find their way out. More fall farm fun includes a pumpkin patch, hayrides, and food.
2020 update: Corn maze and other activities begin Saturday, September 19, and run through Halloween.
This Essex County spot offers a 5-acre kid-friendly corn maze with shortcuts built-in for the impatient or attention-challenged, plus a tower slide and an indoor hay bale obstacle course for younger children. Kids can pick a pumpkin while parents pick up fall decor from the store. Enjoy hayrides, refreshments, and more fall fun just for families.
2020 update: The Corn maze, with its superhero theme, runs from Saturday, September 12-Sunday, October 25.
In addition to its heroic maze, Happy Day also hosts a bunch of fall activities, like pumpkin picking, a kids' hay maze, sunflower maze, corn box, and hay mountain. Open Fridays through Sundays.
RELATED: Where To Go Apple Picking with Kids at NJ Farms and Orchards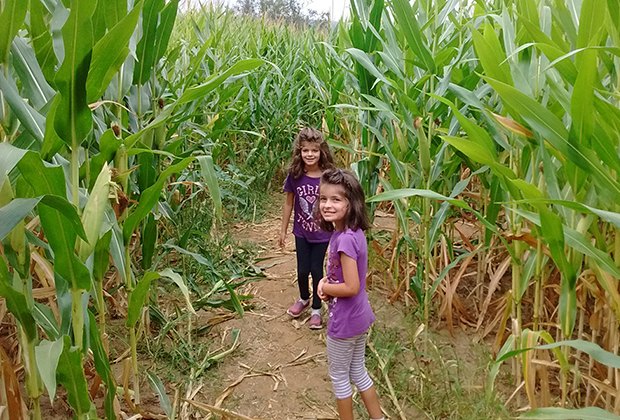 We never found the right way out of Ort Farms' maze, but maybe you'll have better luck! Photo by Laurie Rein
2020 update: Corn maze opens Labor Day weekend. Other activities run daily from Saturday, September 19-Monday, November 2.
This basic but challenging corn maze offers visitors an adventure of twists and turns along the path. A small hay maze, hayride, train ride, farm animals, and pumpkin patch round out the Ort fall experience.
2020 update: Corn maze and other fall activities open Saturday, September 26.
This Atlantic County mega-maze spans about 10 acres and features a creative Who Dunit? maze adventure combined with Maize-o-poly and cornundrum puzzles. Past seasons have included flashlight maze entries at night. Other fall farm events include hayrides, a pumpkin patch, and races for the full country effect.
2020 update: There will not be a corn maze or hayrides this season. Pumpkin picking begins Monday, September 14.
This farm has it all, including a petting zoo, hayrides, pumpkin patch, and yes, a corn maze (plus an easier hay maze for younger kids). Don't forget to grab an apple cider doughnut on your way out!
2020 update: Corn maze, with a weather theme, runs Saturday, September 5-Sunday, November 8, and tickets must be purchased online in advance.
With so many mazes to choose from at Stony Hill, you may never find your way out of there! Explore the 10-acre corn maze, with this year's theme, Amazed by Weather; or try a simpler, one-acre corn maze, a rope maze, and tile maze. Mazes are open daily through mid-November. (Strollers are permitted but not recommended due to the rugged terrain.)
Unless noted, all photos courtesy of the farms
This post was originally published in 2016 and has been updated since