Wigwam Escape Room: Kid-Friendly History and Adventure in Connecticut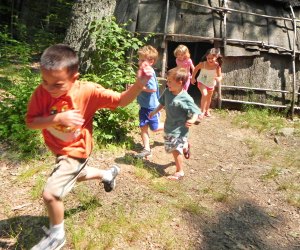 Can you thrive for a day in 1518? That's a question Siri cannot answer at Wigwam Escape, since cell phones (and watches) are not allowed inside this historically-themed escape room recently opened at The Institute for American Indian Studies Museum & Research Center. The popularity of escape rooms has surged in recent years, and they're especially appealing to kids who love the thrill of solving problems and puzzles on a tight deadline. Wigwam Escape is no exception, except that the unique Native American historical setting adds a truly meaningful educational and family-bonding opportunity to the adrenaline rush.

What to Expect
Without giving away clues, here is what you can expect at Wigwam Escape: the setting is a Native American village in the eastern woodlands of Connecticut. You have recently heard that residents of a neighboring village are affected by illness and need help. You must gather supplies for the journey: water, cooked food, and medicine. You have 60 minutes to solve the puzzles.
Inside the room, the creative decor features beautifully detailed artwork and every corner is put to good use. Some of the other neat features include: nature sounds and dimming light that signal the passing of the day (the mission begins just before sunrise and time runs out at sunset); and "thunder" that alerts participants of the opportunity to receive clues (you can ask for them along the way or forgo them altogether). In between, you will hunt, seek, search, and prepare.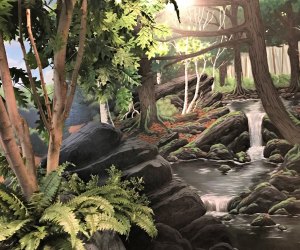 Without phones, clocks, tools, or written language, the experience allows participants to reflect on the ways Native people lived and the skills important to survival some 500 years ago. The room is based on daily activities and responsibilities that a Native person had, and though it is designed for ages 12 and up, younger children and their imaginations are welcome (as long as they are accompanied by adults). Reassurance for parents of younger children: this room does not feature scary creatures or sounds, and nothing jumps out to startle little ones; a hunting scene is part of the plan, and on a personal note, my 6-year-old was not troubled by it, but rather found it interesting and meaningful questions followed.
A fun touch? When you successfully gather all the necessary materials (or time is up), each group gets to discuss their experience and share questions with staff members over popcorn. So kids get a taste of history and a traditional snack to close out the experience.
The Takeaway
The experience is unique and thought-provoking, and my favorite part was that my daughters—who are six years apart—were able to work together and independently, and they had just as much fun. It is a perfect outing to get the family out of the house, away from technology, and to experience the rewards of communication and working together despite age gaps.
If you are a fan of escape rooms, you may not need much persuasion to try this one; however, even if escape rooms are not your thing, this one is worth a visit. You will walk away with renewed appreciation for what people before us were able to accomplish, and also for the skills and personality traits that each member of your team brings forward. Whether you are successful at solving the puzzles or not, the experience is rewarding and exciting.
Know Before You Go
Wigwam Escape is open Friday through Sunday.
Entry is by reservation only, and costs $25 per player. It includes a non-expiring, half off admission ticket to the Institute, good any time.
The experience allows three to seven players in the room and caters only to private groups, which means you truly enjoy bonding time with family and friends.
RELATED: Connecticut Museums Guide
Photos courtesy of The Institute for American Indian Studies