Call of the Wild: Visiting the Wolf Conservation Center with Kids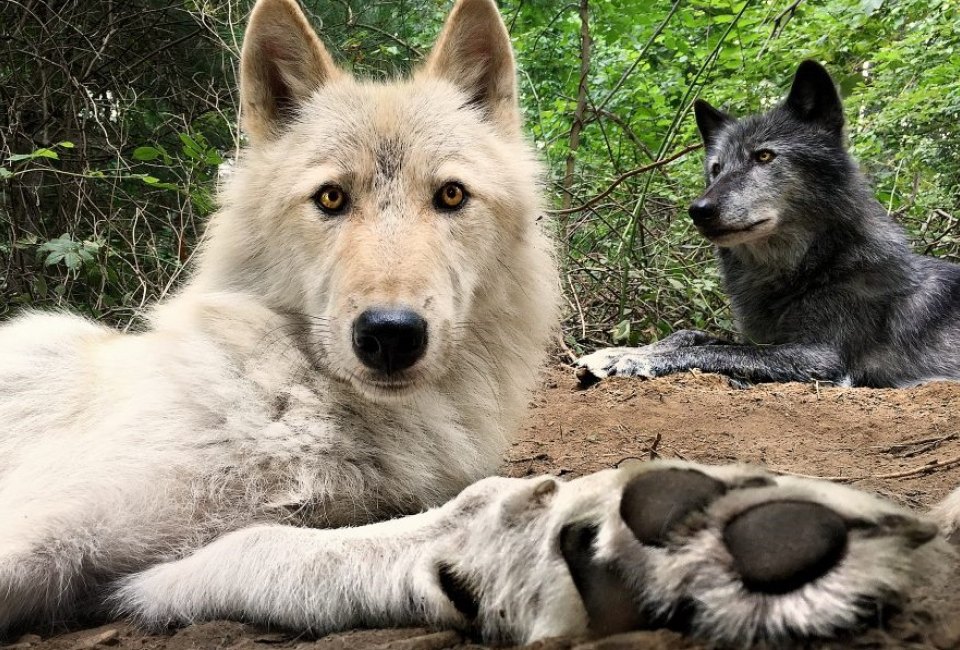 10/14/16
- By
Lisa Johnston
If your kids want to get up close and personal with some wild animals—but you're a bit tired of the zoo—consider bringing them to the Wolf Conservation Center in South Salem. This non-profit environmental education group, which was founded in Westchester in 1999, is helping some 21 endangered wolves on over 20 acres and holds educational programs year-round.
We recently visited the WCC for its Pack Chat with Kids program and have what you need to know about attending with children. Looking for more outdoor activities? Sign up for our newsletters and follow us on Facebook!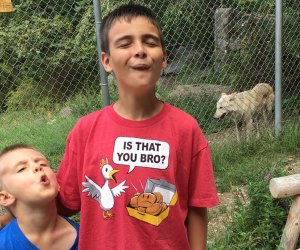 Give it your best howl and you won't be disappointed.
The Pack Chat begins in a rustic outdoor classroom with a roughly 15-minute interactive discussion of the wolf species. Our engaging speaker discussed wolves' history in the United States, how and why they're endangered, and what the Conservation Center is doing to help. Questions are encouraged, and our speaker was very friendly as he ran through a video slideshow on a large TV screen.
After the lesson, families are brought outside to practice their howling—and hear the wolves howl back! Three of the WCC's "ambassador wolves" arrive behind a fence, and the guide tosses them food while providing more details about their background and lifestyles. Unlike most of the wolves at the WCC, these ambassadors will not be returning to the wild and have been socialized to become more accustomed to human presence. (We learned that wild wolves, on the other hand, will stay as far away from humans as possible.)
In addition to watching the trio of wolves leap for bananas and raw chicken, you also have the opportunity to get a little closer with Atka, an ambassador Arctic gray wolf. Try to snag a spot at the front of the line in between the sessions; it will let you secure a seat right in front of the fence for an amazing up-close view.
Another feeding session and Q&A closes out the program. If you're looking to spend an extended period at the WCC, consider registering for its Sleeping with the Wolves program to get your fill of howling. The group also holds summer camps and after-school programs, as well as birthday parties.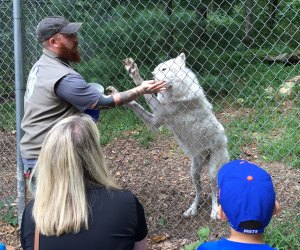 It's amazing how close families can get during the program!
What to Know Before You Go
Wear comfortable shoes and leave the stroller at home. You may have to take a brief hike up a steep hill to reach the classroom if the parking area is full, and there's a brief walk through the woods to see the wolves.
The WCC says the program is geared for ages 4 to 8. We agree with the minimum age, but we think you can extend the upper limit to at least 11 years old for families with older siblings. I brought my 5-year-old and 10-year-old sons, and both enjoyed the program. (If you're dealing with all older kids, there are additional programs for them too.) We probably wouldn't go much younger than 4: Children are expected to have "museum behavior," which means no running or yelling, and no rushing up to the fence to see the wolves.
Clean porta-potties are the only restrooms, with a foot-pump sink to wash hands.
There's a small gift shop in the back of the classroom.
Top image credit: Wolf Conservation Center. All other images taken by the author.
Places featured in this article:
Sign up for the Mommy Poppins Newsletter today!
i