No-Car Skiing Day Trips: NYC-Area Ski Trips Without a Car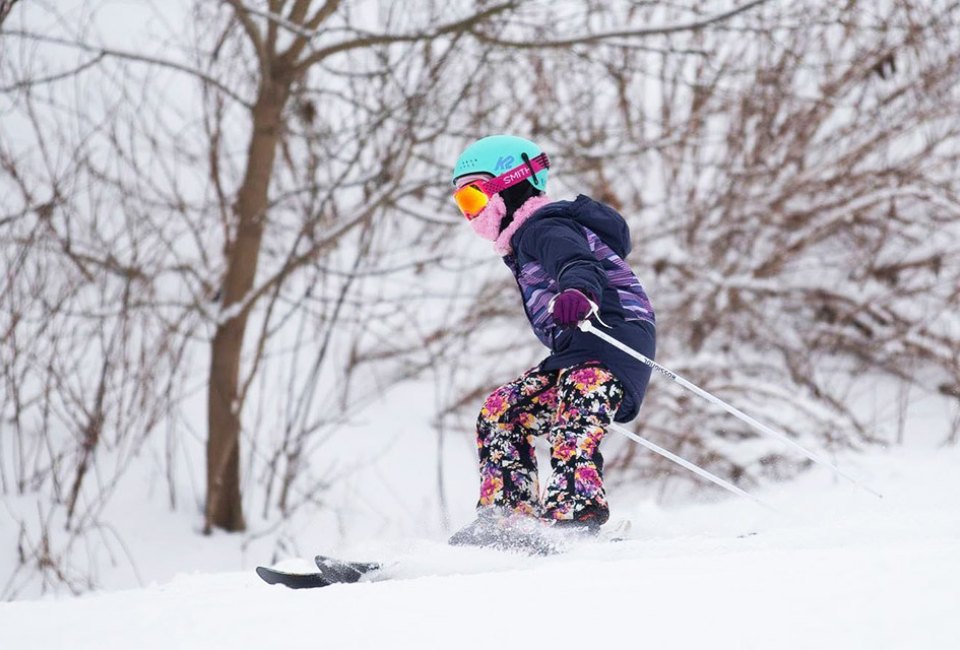 12/22/22
- By
Stephanie Ogozalek
Don't let a lack of a car keep you from skiing near NYC this winter. There are a variety of public transportation options to get you to the slopes, from hopping aboard a ski bus to catching a ski train, many of our favorite ski resorts near NYC are accessible without a car. These car-free ski bus packages from NYC are convenient, and more wallet-friendly than a car rental. They often include perks like discounted lift tickets and equipment rentals.
Even if you own a car, these ski bus deals are worth considering: After a hard day on the slopes, you can kick back and let someone else battle the traffic home. So, book your tickets well in advance, then consult our curated list of road trip essentials to ensure you have enough snacks and entertainment for the road, and get ready for a fun family day on the slopes. We've got more ideas for powder sports in our Family Ski Guide, which covers the top resorts in the tri-state area and beyond.
Subscribe to our newsletters to get stories like this delivered directly to your inbox.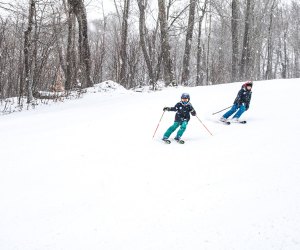 Belleayre Mountain offers more than 50 trails and caters to skiers of all ages and abilities.
NYC Ski Bus Packages
Think of these ski bus packages as an all-inclusive outfitter for your day on the slopes. In addition to saving you the headache of driving, battling traffic, and searching for parking, many of these services include on-mountain rentals. All you have to bring is your family and maybe a dry change of clothes for the ride home!
Where it goes: Mountain Creek (weekends), Belleayre (Sundays and ages 18+ only); Hunter (Tuesdays and weekends)
Urban Sherpa offers several NYC ski bus packages ready to whisk you away any day of the week, depending on your destination. Multiple pick-up points make it convenient to catch a ride from Times Square or Union Square. Urban Sherpa's ski bus packages include round-trip transportation and a lift ticket. Up the convenience factor by adding on rentals, ski lessons, and even outerwear. One-way tickets are available if you want to make your day trip into an overnight. Permission slips are required for kids under age 16, even though you'll have to accompany them, so make sure you take care of the paperwork before you board.
Where it goes: Poconos-area resorts
This local tour company offers ski bus packages to Shawnee Mountain, one of our favorite small ski areas and a top snow tubing destination, as well as the more well-known Camelback, which has all the perks of a big-name resort. Choose from transportation-only or packages with transportation, gear rental, and lift tickets to either mountain.
RELATED: Hunter Mountain with Kids: Best Things To Do and See on a Catskills Getaway

Hunter Mountain offers many amenities that make it a great all-ages resort for skiing near NYC.
Where it goes: Mountain Creek (select weekdays and weekends); Belleayre (Thursdays and Sundays); Hunter (weekends and Tuesdays)
Ovrride is a favorite of young adults and the scene can be more party than preschool-friendly, so take care when booking. This one is a better bet for tweens and older. Its Sunday trips and school break holiday periods are designed to be more family-friendly, so keep that in mind when you book. Packages include round-trip transportation from either Manhattan (Union Square or Midtown West) or Brooklyn (Atlantic Avenue) on a charter coach bus, lift tickets, drinks, and music and movies along the way—though don't expect them to be G-rated.
RELATED: The Best Ski Resorts in the US for Family Vacations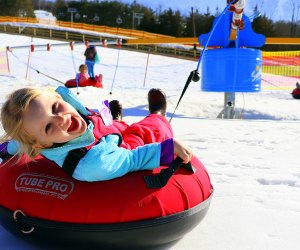 It's not just skiing that kids love to do at Mount Peter. Snow tubing is a great option for a day of snow fun, too.
NYC Ski Trains and Ski Trips by Public Transportation
Most of the packages below require a little more DIY-mettle. With the exception of the ski train to Thunder Ridge, these public transportation options get you close to the mountains but don't drop you off directly at the base. You'll need to summon a cab to ferry you the last few miles. While Uber or Lyft may work, keep a local cab company's number handy before you embark so you're not left stranded at a remote mountain stop. Additionally, you'll be on your own for gear rentals, and we suggest renting at the mountain to avoid toting it all the way there.
Where it goes: Mount Peter (daily)
New Jersey Transit Bus 197 gets you close to this ski area in the charming town of Warwick, New York; from there, plan to call a local taxi cab to shuttle you to the hill. Once you arrive, the state's friendliest hill awaits.
Where it goes: Poconos-area resorts (daily)
The Poconos' area resorts can be reached via the Martz Trailways buses from Port Authority, which offers multiple daily departures. Though the company doesn't go directly to any of the resorts, you can disembark in Mt. Pocono and take a cab to your preferred destination.
Where it goes: Thunder Ridge (daily)
Packages can be purchased online or from any ticket office or vending machine—be sure to ask for the ski train when buying your ticket. The package includes round-trip travel, a shuttle to and from the train station, and a lift ticket. Need a rental when you arrive? Mention the package and you'll receive a discounted rate. The shuttle bus meets the train on weekends and holidays; on weekdays, call upon arrival and it is dispatched to pick you up.
RELATED: Where to Go Snow Tubing near New York City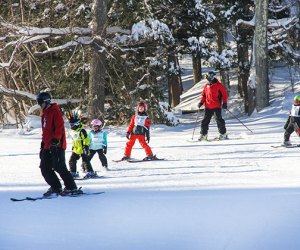 Windham Mountain is well-known for its excellent ski school.
Where it goes: Windham (daily)
Adirondack Trailways runs a daily bus from Port Authority to the Windham bus stop. If you plan to stay overnight at the resort, it will send a free shuttle to greet you. Otherwise, plan on hailing a cab for a quick ride to the base.
Bonus: If you'd like to run a private bus for a large group, contact the NYC Snow Bus, which is accepting reservations for private groups only this season. Gather 50 of your best friends and book 'em. The NYC Snow Bus travels to Mountain Creek, Hunter, and Windham.
Find other great winter day trip ideas from NYC in our Family Travel Guide and additional seasonal fun in our Winter Fun Guide.
A version of this article first published in January 2010, but it is revised annually. Diana Kim contributed additional reporting.
Photos courtesy of the resorts