The Nutcracker: 28 Holiday Performances of the Classic Ballet Fit for Kids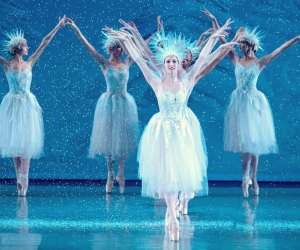 Most of the year, most of us parents don't attempt to take our children to full-length ballet productions, but Christmas just doesn't feel like Christmas without one good Nutcracker. And if one good Nutcracker begins to make it feel a lot like Christmas, then LA, Orange, and Ventura counties are evidently hitting Uber-Christmas in the coming weeks with more than two dozen professional Nutcracker productions.
Incidentally, we've got answers to the two questions posed most often by LA parents in search of a Nutcracker Ballet for their families: Yes, there is a condensed version staged specifically for kids, offered by the Festival Ballet Theatre down in Costa Mesa or Classical Ballet Theatre in Palos Verdes; and yes, there are local productions performed with full orchestra—​at the Long Beach Terrace Theater, the Broad Stage, the Dolby Theatre, Segerstrom Center for the Arts, and the Grove of Anaheim. There is even the odd Nutcracker Tea or two—in case you were wondering.
And when you've had your fill of Sugarplum Fairies, we can direct you to some nifty Christmas train rides.
Originally published November 15, 2011