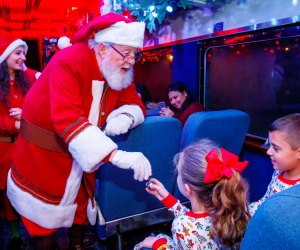 Christmas Trains: All Aboard the Polar Express for Kids in LA, Ventura, & Orange County
Trains in Los Angeles are more or less novelties all year round, which means they hold onto that wonderful Polar-Express mystique far longer for LA kids than for urban kids who take the A train regularly. And for anyone who loves trains, Christmas trains offer the ultimate "old world charm" rail experience. Add an appearance by Santa Claus and a few Christmas trees, and you have a recipe for a memorable holiday experience. Dates are limited, though, so booking ahead is the best way to make sure this train doesn't pass you by. All aboard the Santa Express!
Fillmore and Western Railway
November 14-December 29, 2019
Fillmore and Western Railway hosts two holiday trains this season, including the Polar Express Train Ride, which is coming to Southern California for the first time, courtesy of Rail Events. Reservations are required on all excursions; follow the individual links for specific dates and times. You can take it as a given, of course, that any time you see Santa is a photo op.
The Polar Express (Fillmore)
November 14-December 29, 2019
Adults $50-$85; Kids 2-12 $45-80; Under 2 on adult lap free
Families ride the "Polar Express" train to find Santa Claus. The ride also includes dancing chefs, hot chocolate and cookies, and a visit from Santa on the train. Kids can come in pajamas but should definitely bring warm coats.
Sugar Plum Express Holiday Village & Tree Train (Santa Paula)
November 30-December 22, 2019
Adults $20; Kids 2-12 $10; Under 2 on adult lap free
The vintage train carries passengers to a Holiday Village, where they can choose a pre-cut tree, purchase gifts, enjoy the new Winter Wonderland walk-thru, hop on the Holiday Jolly Jumpers, see Santa's Workshop, and take a hayride (all priced separately). Santa is on board this train, to visit with the kids.
Southern California Railway Museum - The Polar Express
November 30-December 29, 2019
Adults $45-$65; Kids 2-11 $40-$60; Under 2 on adult lap free
The Railway Museum has also changed its Christmas train this year to the Polar Express. This is the same Rail Events excursion offered in Fillmore and includes dancing chefs, hot chocolate and cookies, and a visit from Santa on the train. Kids can come in pajamas but should definitely bring warm coats.
SoCal Live Steamers
Torrance
December 2019 (date TBA)
The South Bay's monthly model train ride expands to a Starlight Ride for the holiday. Not only is the ride through the park a treat, it helps to stretch your holiday budget; the afternoon train ride is free, and the evening event costs only $7.
Holiday Light Festival Train Ride
Griffith Park
November -December 2019 (except Dec 24 & 25 and exact dates TBA)
This evening ride at Griffith Park is gentle and timeless, and just the right size for kids and their parents to take in the festively decorated mile of track. Tickets are $5 per person.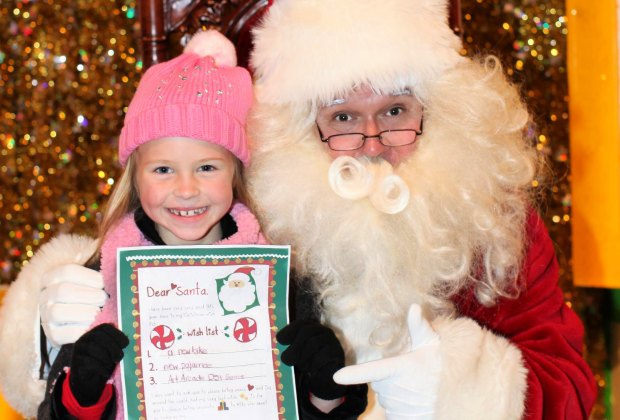 Photo courtesy of Irving Park Railroad
Irvine Park Railroad
Irvine Regional Park
November 29-December 23, 2019
$20 (24 months and younger free)
Irvine Regional Park's annual Christmas Train offers a night ride through the historic park to meet Santa Claus at his Village. The train departs from the brightly-lit station house, and while kids are waiting they can enjoy storytime and coloring with Mrs. Claus, a bounce house, and carnival games (activity tickets are $6 each). Hot chocolate and snacks are on hand as well. Tickets are only available in advance. Parking is free after 5pm.

Check out what else is going on this Christmas season in our holiday fun guide!
Originally published December 10, 2013