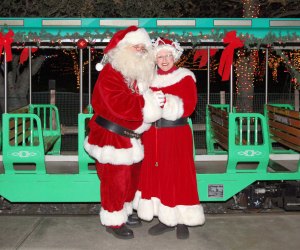 Christmas Trains, Polar Express Rides, and Holiday Railroad Fun around Los Angeles and Orange County
Holiday trains, like many of our annual traditions, have been hit hard by the restrictions of a pandemic holiday season—but the good news is that there are still a few running! Some of our favorites, most notably the two rides families love in Griffith Park, are on hiatus in 2020, but the train rides below have found ways to make their holiday experience COVID-friendly. Obviously masks are a must, and Santa Claus won't be hugging anyone, but there are seats available (so far!) on the train rides below, from Thanksgiving weekend until just before Christmas. We recommend booking ASAP, especially since fewer seats are being offered, to allow for social distancing.
If you don't manage to book the Polar Express experience, though, you could always play the Polar Express soundtrack while driving your crew through one of LA's Holiday Light Drive-thrus!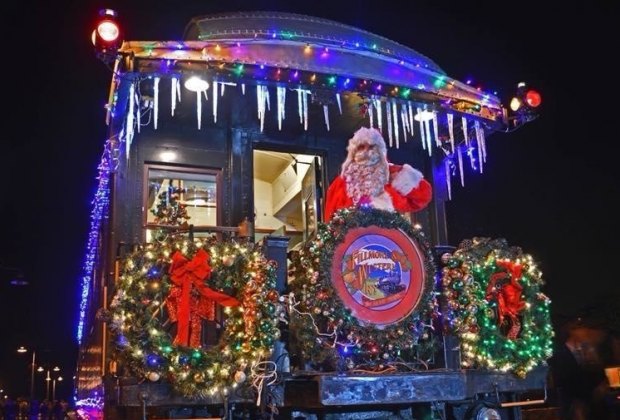 Photo courtesy of Fillmore & Western Railway
November 28 - December 20, 2020
Adults $34; Kids 2-12 $24; Under 2 on adult lap free
Fillmore and Western Railway hosts two holiday trains this season, both somewhat adjusted from other years to address this unusual holiday season. The North Pole Express pulls out from Prancer's Christmas Farm in Santa Paula for a magical hour-long evening train ride to spy on Santa and his elves (from a safe distance). Kids wave at Santa and enjoy some storytelling. Pajamas are welcome, though good walking shoes and extra warm clothing are strongly recommended. Before or after, guests can enjoy the delights of Prancers Farm, including a free Tractor Sleigh Ride.
November 28-December 20, 2020
Adults $28; Kids 2-12 $16; Under 2 on adult lap free
Fillmore & Western's other holiday excursion is a daytime ride. The vintage train carries passengers to Prancers Christmas Farm, where they can choose a tree, purchase gifts, ride a sleigh, horse, or miniature train, feed farm animals, and more. Santa puts in an appearance, albeit socially distanced for everyone's safety. Trees purchased can come back on the train.
Irvine Regional Park
November 27-December 23, 2020
$17-$20 (24 months and younger free)
Irvine Regional Park's annual Christmas Train offers a day or night ride through the historic park to meet Santa Claus at his Village. The train departs from the brightly-lit station house, and while kids are waiting they can enjoy storytime and coloring with Mrs. Claus. This year, passengers remain seated on the train at the North Pole, nd Santa and Mrs. Clause greet passengers from a safe distance. No photos with the Claus family are offered this year, to keep everyone safe and healthy. Tickets are only available in advance. Parking is free after 5pm.
Looking for the other holiday trains?
As of the publish date of this post, the holiday trains that usually run in Griffith Park, at Southern California Railway Museum in Perris, and with SoCal Steamers in Torrance do not have plans to run in the 2020 holiday season. If this changes, we will update this post to reflect any new information.

Check out what else is going on this Christmas season in our holiday fun guide!
Originally published December 10, 2013