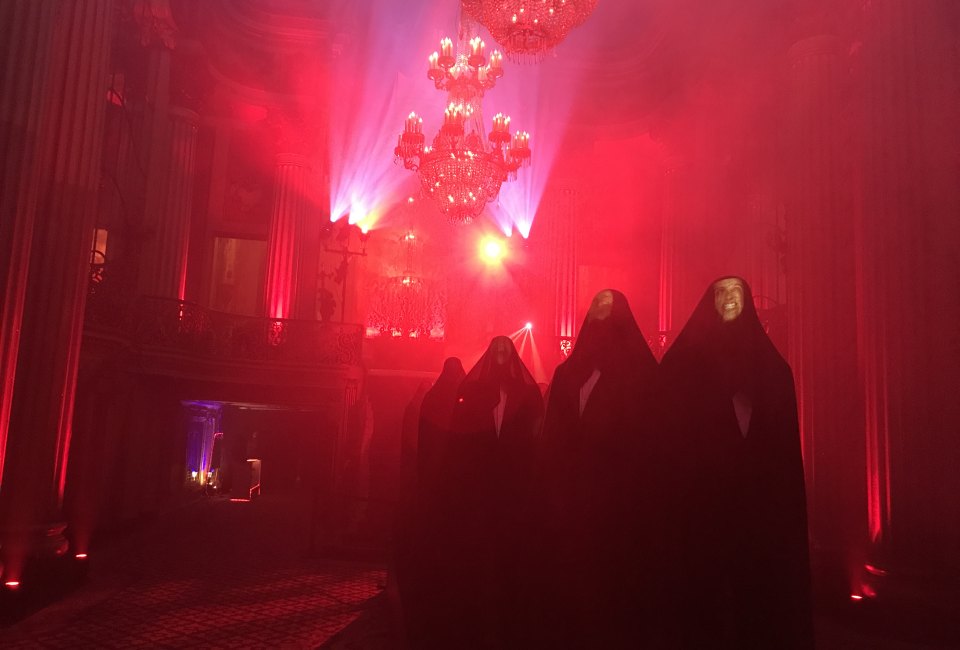 Thu Sep 21, 2023 - Tue Oct 31, 2023
- see all dates

Repeating

every week — Sundays, Wednesdays, Thursdays, Fridays, and Saturdays

through

October 29, 2023.

Also on

October 24, 2023; October 30, 2023; October 31, 2023.
5:30pm to 11:30pm PT
Age: 13 and up
Price: Weeknights $60; Weekends $70
Location:
Los Angeles Theatre
LA has a new Halloween haunt this season, and it may well be the best of the batch! Angel of Light is a deeply immersive, lavishly theatrical haunted house experience set in DTLA's art deco Los Angeles Theatre. The experience features a cast of ghostly characters who participate in a narrative tour through every corner of the vintage theater, culminating in an extravagant stage show pulling the whole mystery together.
Unlike Universal Horror Nights or Knotts Scary Farm, Angel of Light is one unified experience that includes a tour through a lengthy haunted maze (long enough to include a break area for snacks and drinks), rooms to explore at one's own pace, featuring characters who are part of the tale, and a final tour into the stage area itself with an exhilarating performance of physical theater set on the 1931 stage.
Although there may be the occasional jump scare, this is not a series of screaming axe-wielding clowns leaping out to startle, and the characters never feel like they mean us harm—making the entire experience more in line with a haunt we miss from days gone by: Dark Harbor on the Queen Mary. Like the one on the Queen Mary, this haunt is imaginative, with actors committed to characters from another era and a story they seem to need to tell. Performers never touch or threaten visitors, which makes this a great haunt for a (big) kid ready to try a scare zone but perhaps not ready for chainsaws and body parts.
Angle of Light evokes the the golden era of Hollywood, with ghosts of starlets, ushers, and cigarette girls weaving a tale under flickering chandaliers. There are eery catacombs haunted by ghosts and priests intent on sharing warnings, but there are also glamorous dancers and a very civilized cocktail bar.
The organizers recommend no one under 13 attend, which seems like a good cut-off—and anyone under 16 has to be accompanied by an adult. That said, this is not the craziest, scariest haunt in town. It is worth the ticket price, however, for anyone who enjoys a good haunt; the combination of maze, haunted rooms, refreshments, and stage show take a minimum of an hour and can easily last an evening. And while guests don't wear costumes, many do dress up for a dramtic night out in old Hollywood.
** Activity dates/times are subject to change. Please click through to the activity website to verify.