Queen Mary's Dark Harbor: Are Your Kids Ready for this Scary Halloween Haunt?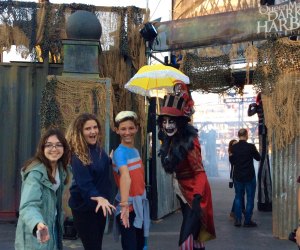 No parent likes to contemplate it, but the day will come for our kids when trick-or-treating is no more. If your family is as hooked on Halloween as ours is, you'll want to find a way to keep the magic going, even once your baby starts to look really big to other people (particularly people opening their doors at night). Filling this void is the main reason for the many seriously spooky big kid haunts around the Southland—haunts like Universal Horror Nights, Knott's Scary Farm, and Dark Harbor. But how to transition? You can't just hit the brakes on collecting candy with Elsa and suddenly start running from chainsaw wielding zombies.
The first time I visited this haunt, I had a theory that Dark Harbor at the Queen Mary might be the perfect tween transition to a different way of celebrating All Hallows' Eve, and I committed so fully to this theory that I booked our whole family (and some friends) for an overnight on the haunted, haunting ship. And guess what? It worked! Three tweens I know had the time of their lives screaming with the spooks all night at the Queen Mary. The evening was enormous fun, and I think a few things we did to prepare helped stack the deck in favor of success.
For starters, the tweens on our trip were all pretty intrepid kids, used to playing with the creepier side of Halloween. We've done the wonderful Griffith Park Ghost Train many times, and there is nothing there that remotely raises their blood pressure anymore. We talked about what to expect at Dark Harbor in advance, of course, and they were definitely nervous, but in an excited way. And the beauty of Dark Harbor is that it's thrilling enough for teens and adults to have a rip roaring time, while imaginative and good-natured enough to gently introduce a newbie to the world of haunted mazes.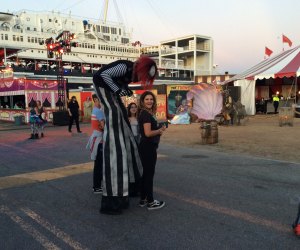 "What's that? There's someone behind me?"
We made the key decision to stay overnight on board the Queen Mary. Staying over made the trip better for so many reasons, not the least of which is that the floating hotel is an utterly delightful place to stay (it was my first time). Every direction you look feels like a movie set; the decor drips decadent art deco; the rooms are quiet and comfortable with old world charm, and every staff member we encountered on the ship was friendly and helpful—what's not to love? But the reason to stay the night for this event is bigger than the indulgence of a night in a lovely hotel. For starters, staying over makes it much more of an event; moving into a room on a ship before launching an evening of adventure started us off on a great high. The kids loved looking out the port hole window and exploring the long hallways. For dinner, we chose to sit in the relaxing Promenade Cafe on board before stepping out into the creepy craziness—a much more successful family meal than cruising the outdoor food stands and trying to get the kids to eat a healthy meal among the zombies.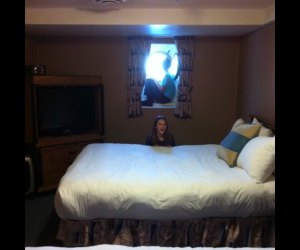 We're sleeping on a ship tonight!
Another great reason for getting a room is that you just don't know how your kid is going to react to a grown-up haunt until you get there. I mentioned three kids having the time their lives on our outing—and oh, they did!—but there were actually four kids in our party. The fourth turned out not to enjoy the scare factor, so he and his dad retreated to their atmospheric stateroom for a quieter adventure on board the ship. If his family hadn't been staying on board, there would have been a dilemma; but with a room to retire to, both boys had a wonderful evening: one squealing with Scary Mary, and the other relaxing with a starboard view.
The Queen Mary Hotel offers a Dark Harbor package that includes Fast Fright (front of line) tickets for all of the mazes. These are so very worth having, considering how much patience kids have for lines at the best of times. We started our evening at opening time, which gave us a jump on the crowds. The sum of all of these precautions laid the groundwork for a fabulously successful first big kid haunt.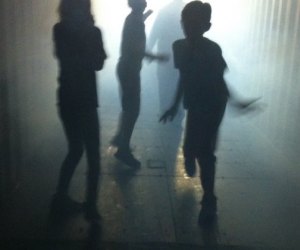 What's better than a fog machine and people to chase you through it?
Personally, and speaking as a major Halloween aficionado, I love Dark Harbor because there really is no better setting than a haunted ship. Three of the event's six mazes are in the belly of the ship itself, which is marvelously spooky before a single decoration goes up. The designers do a grand job of working in themes from the environment, with tales of long dead passengers gone mad, watery tombs, and—perhaps eeriest of all—an empty, echoing, century-old swimming pool. It's amazing just how spooky that can be. The other three mazes are in the surrounding event area, all of which is in one neatly contained area. The entire event space is physically small enough that losing each other never feels like a worry, and distances never feel like a chore.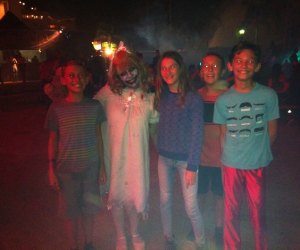 The kids rode the Neverland Swing with Scary Mary.
Best of all for the concerned parent, the zombies, creeps, and ghosts who haunt Dark Harbor do so in good spirits. This is a safe place to bring an older kid who thinks he's ready to be scared but isn't entirely sure. There are no mobs of chainsaw wielding murderers chasing guests up and down the streets. There are characters: ghosts with names like Scary Mary and Gail who float (or burst) in and out, barnacle-faced sea captains, creepy clowns, and guys who slide on their knees throwing sparks as they skid. Any of these might jump out and startle at any moment, and several of them stare and snarl menacingly, but it's all done in fun. Scary Mary, the murdering little ghost girl, even rode the giant swing ride with our kids (a $5/ride "thriller" from Michael Jackson's Neverland Ranch). And when spooks inside one maze saw how much fun our crew were having screaming, they ran alongside the kids screaming with them, until all of our sides nearly split from laughing.

The Captain seems to have the best time of all.
For my taste, Dark Harbor walks a tricky line dexterously. This is a night of spooks, murdering ghosts, and hissing zombies scary enough to thrill any haunted house fan, and yet it's all done in such good humor that I grinned from ear to ear all night long, and the kids I was crazy enough to bring along had a blast but no nightmares. What's more, staying overnight kept the fun going from Friday afternoon well into Saturday. One of the mazes hints at a tale of a haunted cabin on board the ship, which gave us a fun daylight mission the next morning: we found the cabin in question, and something mysterious is definitely going on there. I recommend booking a cabin one night to see for yourself...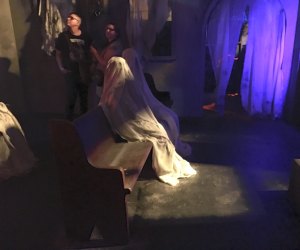 Ghosts can turn up anywhere at the Queen Mary...
Tickets for Dark Harbor start at $20 (online), making it one of the Southland's most affordable Halloween haunts. Room packages vary widely, depending on night of the week and how far in advance you purchase. And the screams? They're all free.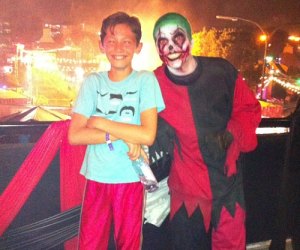 Even creepy clowns like having their pictures taken.