37 Things To Do in Williamsburg, Brooklyn with Kids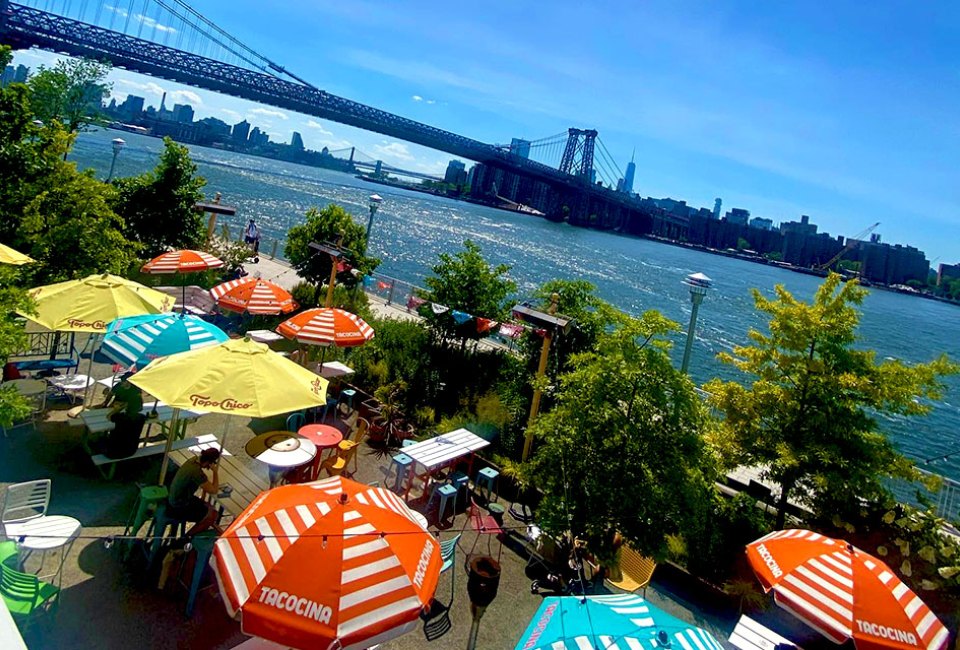 4/24/23
- By
Diana Kim
Williamsburg, Brooklyn has a reputation as a haven for the hipster set, but families are just as at home in this buzzy, culture-rich neighborhood. Sprinkled in among all the nightlife and trendy boutiques are lots of family-friendly restaurants, shopping, and activities. And the neighborhood is home to some of NYC's most action-packed parks: McCarren Park, a 35-acre green space with playgrounds, sports fields, and a pool; Marsha P. Johnson East River State Park, home to Smorgasburg and skyline views; and Domino Park, the exciting waterfront play space inspired by the former Domino Sugar refinery, a neighborhood landmark, that's getting a new lease on life.
Williamsburg is easily accessible by subway from the G, J, M, Z, and L lines, so even if you don't live in the neighborhood, you can experience all of the culture and color of this unique Brooklyn neighborhood. Here are our picks for the best things to do with kids in Williamsburg, Brooklyn. Find more new-to-you neighborhoods to explore in our Guide to NYC Neighborhoods.
Subscribe to our newsletters to get stories like this delivered directly to your inbox.


Top Family-Friendly Activities in Williamsburg, Brooklyn
Catch a flick with your little ones at one of the theater's kid-friendly movie series.
Shop for the hippest kids' clothes, books, toys, and more at this family-owned business.
RELATED: Kid-Friendly Beer Gardens in Brooklyn and Queens

Kids will get a kick out of all the trinkets and toys at The City Reliquary.
Get a glimpse of the city's past at this unique museum. Check out old subway tokens, trinkets from World's Fairs of the past, and more at one of our favorite offbeat museums for kids.
Stop in for a fresh haircut at this kids' salon, and stay for one of the many singalongs, story times, and puppet shows on its busy calendar.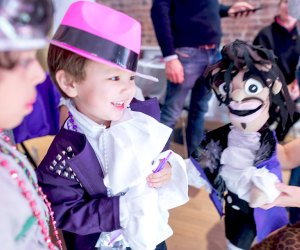 Enjoy a performance from local troupe Puppetsburg at a variety of Williamsburg romping spots. Photo by Derek Wang
Take the kids to a rockin' puppet show by the creative team behind Puppetsburg at The Wild, the Brooklyn Greens, and the Bar Method.
Stop in for story time or to browse the racks at this independent bookstore.
RELATED: Best Indoor Playgrounds in Brooklyn

Area 53 Adventure Park offers tons of activities in a sprawling Williamsburg, Brooklyn warehouse. Photo by Diana Kim
At this awesome adventure park, play laser tag, climb the walls, brave obstacle courses, roller skate, and fly through the air on zip lines.
Gaze at the Manhattan skyline from this historic ferry landing.
RELATED: Brooklyn Playgrounds Cool Enough for Your Big Kids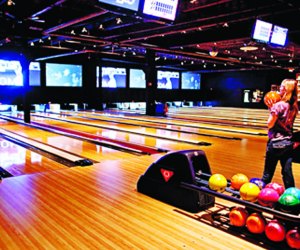 Bowl a few rounds or attend a kid-friendly concert at neighborhood institution Brooklyn Bowl.
Head to the bowling alley and music venue on Saturday and Sunday afternoons for fun, family-friendly bowling, and weekly kids' dance parties hosted by Rock and Roll Playhouse.
Hop on this East River Ferry route and hop off to explore a new part of the city. Might we suggest one of these 10 NYC ferry rides with kid-friendly stops to explore?
RELATED: Dumbo With Kids: 50 Fun Things To Do for Families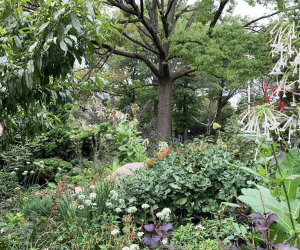 Visit McCarren Park's Green Dome Garden for a breath of fresh air.
Stop and smell the flowers and listen to the birds in this community garden located in McCarren Park.
Take a tour of the cool and colorful street art on this self-guided walking tour.
RELATED: Brooklyn Botanic Garden: 8 Things To Do With Kids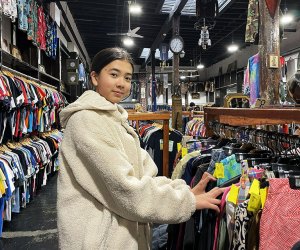 Teens will love looking for vintage finds at the coolest Williamsburg thrift shops. Photo by Diana Kim
13. Vintage Shopping
Take the teens shopping for some unique, vintage threads at these second-hand stores.
Where to Take Cool Kids' Classes in Williamsburg, Brooklyn
Let your little ones cultivate their creativity with classes in painting, sculpture, collage, and more at this kid-friendly art studio.
This indoor swimming pool offers fun swim classes for kids beginning at 4 months old.
STEAM is fun at this woman-owned, family business, which offers after-school programs and summer camps, plus a retail store selling games, toys, and collectibles.
RELATED: 37 Best Things To Do in Greenpoint, Brooklyn with Kids

Ms. J's Gymnastics and Dance has classes for all ages, plus a drop-in play space for members.
Flip, jump, and have fun at classes for kids ages 9 months to 12 years at this local gymnastics facility.
This bouldering gym offers youth classes, camps, teams, and even birthday parties for kids ages 5 and up.
Rock out to Music for Aardvarks with AudraRox at The Wild and the Grind House.
RELATED: Kid-Friendly Rock Climbing Gyms in NYC

The McCarren Park Pool provides a much-needed respite from the summer heat and hours of fun.
Best Places to Play in Williamsburg, Brooklyn
Beat the summer heat by taking a dip in this expansive public pool.
Burn off some energy playing with the equipment at this neighborhood playground in McCarren Park.
RELATED: Kid-Friendly Waterfront Restaurants in NYC for Dinner with a View

Domino Park's sprinklers are hard to pass up on a hot summer day. Photo by Ros Muggeridge
Climb the colorful sugar plant-inspired structures at this waterfront playground and park, hit the sprinklers (one of NYC's best!), and head to Tacocina for tacos and guac afterward.
Slide, swim, and climb at this playground, named after a police officer who died during World War I.
RELATED: Best Children's Museums in NYC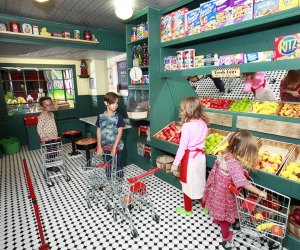 Shop in the 1950s-inspired market at Twinkle, complete with food replicas and a checkout line with a real conveyor belt.
Don't let a little rain stop your fun. Head over to one of our favorite indoor play spaces, perfect for kids under age 6.
Cool off in the spray showers at the Jaime Campiz Playground.
RELATED: Play Cafes in Brooklyn and Queens Where Families Can Nosh and Play

Make a pit stop at the famous Motorino Williamsburg for tasty brick-oven pizza.
Best Family-Friendly Restaurants in Williamsburg, Brooklyn
Share a pie or take one home of these delicious brick-oven pizzas.
Encourage your kids to sample something new among the 100 vendors at this food market in Marsha P. Johnson East River State Park on Saturdays.
Try cannoli, gelato, and pignoli cookies at Fortunato, home of delicious Italian pastries since 1976.
RELATED: 20 Must-Visit Cafes, Sweet Shops, and Restaurants in NYC

Taiyaki NYC brings you a unique fish-shaped Japanese waffle that blends perfectly with its artisan soft-serve flavors.
There's nothing more cooling than eating ice cream from a fish-shaped waffle cone at this one-of-a-kind ice cream shop.
Make veggies fun by shopping for goodies at the local greenmarket in McCarren Park on Saturdays.
Not just any diner, this restaurant serves classic American fare in a renovated 1926 dining car next to the Williamsburg Bridge.
Arguably serving the best pizza in New York, Roberta's serves up tasty Neapolitan-style pies at big tables in an airy, wood-paneled room. Pizzas include kid-friendly standards like Margherita (tomato, mozzarella, and basil), or you can create your own pie from the long list of toppings.
From the team behind Park Slope brunch-favorite Stone Park Cafe, this spot delivers tasty Chinese food with creative twists including local ingredients and lots of veggie options. The vibe is laid-back and dishes are served family-style.
Enjoy cool comfort food at this eatery, which serves up Southern fare with a hip twist.
What are the Coolest Streets in Williamsburg to Explore with Kids?
35. Bedford Avenue
Bedford Avenue is considered the "main street" of Williamsburg with cafes, restaurants, boutiques, and specialty shops. It's the first stop on the L from Manhattan and the northern end of Bedford leads you to McCarren Park.
36. Kent Street
While there are notable murals on Bedford Avenue, several iconic street art pieces can also be spotted on Kent Street, near Grant Street.
37. Williamsburg Bridge
While not exactly a street, did you know you can walk the Williamsburg Bridge? The walk offers stunning views of the East River and Manhattan skyline and is less crowded than the Brooklyn Bridge. Starting in South Williamsburg, enter from Berry Street between South 5th and 6th Streets and you wind up in the Lower East in Manhattan. The walk is a little over a mile and a great under-the-radar activity.
Unless noted, photos courtesy of the venues
A version of this story was published in 2016; it has been updated. Angela Johnson contributed additional reporting.
Click Here to Sign Up!
i