Sneak Peek at New Waterfront Park in Williamsburg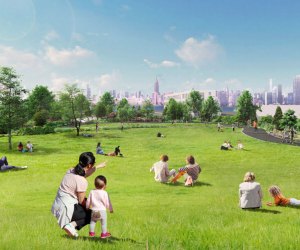 Williamsburg is getting a new green space that's been years in the making. Construction recently began on 50 Kent, a 1.89-acre park space packed with natural fun and a brand new sprayground for kids, so get those bathing suits ready.
The project is scheduled to be completed in April 2022 and is part of a larger plan to revitalize Bushwick Inlet Park. Once home to a manufacturing facility, it features expansive sloping lawns and sweeping views of the East River. Read on for more details on the park and find more places to play in our Guide to Parks and Playgrounds.
Construction on 50 Kent—located between North 11th and North 12th Streets—began in 2018 but stalled due to the pandemic. When completed next year, it is expected to be one of the cornerstones of the Greenpoint-Williamsburg Waterfront.
The project, which carries a $7 million price tag, includes passive and active recreation features, including new seating and an overlook with stunning views of the city.
The plan includes elements catering directly to families. A water play area helps keep kids cool during the summer months, while parents can watch from shaded benches nearby. Afterward, everyone can have lunch in the family gathering area.
RELATED: Little Island Opens Bringing New Park, Live Entertainment to Manhattan's West Side

50 Kent brings a new splash pad to the Brooklyn waterfront.
While you'll have to wait until next spring to enjoy this new waterfront property, Bushwick Inlet Park is already home to soccer fields, an ultimate Frisbee course, and a playground.
Find more places to play nearby with our list of the best things to do in Williamsburg, or check out the planned new mini-golf course nearby, which will open for summer 2021 fun.
Photos courtesy of NYC Parks