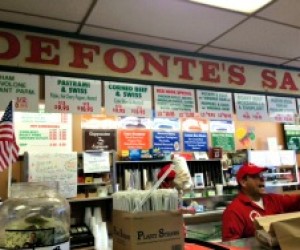 Family-Friendly Restaurants in Red Hook: Top 12 Places to Eat with Kids (No, Not Ikea!)
We finish up our series of posts about Red Hook, Brooklyn with a roundup of our 12 favorite family restaurants in the waterfront nabe. While many folks I know appreciate the value of Ikea's .99-cent breakfasts and kids-eat-free Tuesdays, there are more eclectic options to fit all budgets.

Since Red Hook was originally populated by Italian and Irish dock workers, some newer restaurants pay tribute to that colorful history while others, like DeFonte's Sandwich Shop, actually date back that far. Meanwhile famous foodie "secret," the Red Hook Food Vendors, are celebrating their 40th anniversary this year. From homemade marshmallows to piping-hot pupusas to meat-and-cheese-filled heroes, these are my family's go-to restaurants when eating in 'da Hook.
Red Hook Food Vendors
Red Hook Ball Fields, 160 Bay Street at Clinton Street
Even the pickiest rug rats should find something to love at this seasonal outpost of Hispanic food vendors, which began back in 1974. Finger foods like warm Salvadoran pupusas (cheesy corn cakes served atop purple cabbage), Guatemalan tamales, and Mexican huarache (similar to a quesadilla) and elote (roasted corn on the cob slathered in mayo and spices) are all good bets for little ones. Finish with fresh-cut mango, pineapple and papaya, or a colorful agua frescas (blended combos of fruits, cereals and seeds).

DeFonte's Sandwich Shop
379 Columbia Street at Commerce Street
Owned by a family that immigrated from Italy almost a century ago, this old-school sandwich shop started has been slinging humungous roast beef and homemade mozzarella heroes to sailors, dock workers, firemen and plumbers since 1922! Still going in the era of farm-to-fork mania, this welcome relic happily stuffs its patrons with comfort food. The sandwiches are big enough to share!

Hope & Anchor
347 Van Brunt Street at Wolcott Street
This greasy spoon is mighty family-friendly, serving all-day breakfast, hearty burgers, excellent fish tacos, classic mac 'n' cheese and a tasty assortment of affordable finger food Snax. Looking for an offbeat date night? Drag queen Kay Sera hosts karaoke on Friday and Saturday nights and it's a blast for grown-ups.

Rocky Sullivan's
34 Van Dyke Street at Dwight Street
A true Gaelic roadhouse with classic pub grub such as burgers, bangers and mash, shepherd's pie and decent brick-oven pizza. Though it's a total bar scene after dark, during the day Rocky's is family-friendly with good vibes and an awesome roof deck.

Red Hook Lobster Pound
284 Van Brunt Street between Verona and Visitation Places
Many foodies claim this hole-in-the-wall serves the best lobster roll in town. Truth be told, the lobster salad at Fairway is half the price and you get a spectacular waterfront view. But there are those who insist Red Hook Lobster Pound is worth the extra money. If your wee ones aren't seafood fans, there are landlubber option like grilled cheese, and a Berkshire pork and bacon hot dog.

Hometown Bar-B-Que
454 Van Brunt Street at Reed Street
Barbecue joints are easy family favorites (eating with your hands? Yes please!) This 4,500-square-foot, waterfront Texas-style juke joint serves succulent tender brisket, juicy smoked short ribs and classic down-home sides. Hometown is hugely popular so expect crowds, especially on weekends when there's live music.

The Good Fork
391 Van Brunt Street at Coffey Street
A more upscale choice than those above, this delicious "New American Comfort Asian" restaurant has some of the city's best dumplings, tempura fritters, an amazing melt-in-your-mouth boar shank, and excellent Korean steak and eggs. The back garden is lovely in nice weather.

Home/Made
293 Van Brunt Street at Pioneer Street
This is a sweet spot for brunch, I especially love the croissant French toast with fresh fruit compote slathered in caramel. Decorated in Brooklyn Flea chic with a cute garden, it's also a nice spot to share a cheese plate or grab a sticky bun. Enjoy complimentary coffee while you wait for a table (which you will since it's cozy and much-revered).

Brooklyn Crab
24 Reed Street between Conover and Van Brunt Streets
This waterfront seafood "shack" is popular with families because of its big backyard featuring mini golf and other games. It fills up quickly so to avoid crowds, it's best at lunch or in the mid-afternoon, before adults arrive for the nightly bar scene. There are fabulous views of New York Harbor and the Statue of Liberty, and it's easily accessible from Manhattan via the Ikea Ferry. Bring your wallet and your patience: The line here has often made me crabby and I think the joint is a bit overpriced.

Baked
359 Van Brunt Street near Dikeman Street
Founded by a pair of self-described "dessert archeologists" in 2005, this bakery sells scrumptious brownies, cupcakes, cookies, cakes, pies and tarts. But the homemade whoopie pies and fluffy marshmallows are definitely the favorites.

Steve's Authentic Key Lime Pies
185 Van Dyke Street
The thing to get here is the Swingle: a key lime pie tart dipped in dark chocolate and frozen onto a Popsicle stick. It's ridiculously indulgent and yummy. Can't get enough of that fierce flavor? Grab a full-size pie to take home for another day.

Bonus: For a unique edible experience, go on a tour of Cacao Prieto (218 Conover Street), a Dominican, organic beans-to-bar chocolate factory. Kids can watch treats being handcrafted onsite and enjoy tastings. (Adults take note: The spot also distills the highly-touted whiskey Widow Jane.)

Read all of our posts about exploring Red Hook, Brooklyn with kids.