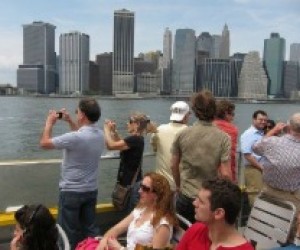 The Ikea Ferry: A Free and Fun Ride to Red Hook for NYC Kids
The Staten Island Ferry isn't the only free boat ride in town. The Ikea ferry also offers a (usually) no-cost tour of New York City's magnificent waterfront.

The Ikea Water Taxi departs from Slip A at Pier 11, right near South Street Seaport, and sails you to Red Hook, Brooklyn, land of funky post-industrial architecture, and trendy restaurants and shops. In addition to shuttling you right to the Swedish megastore, it's a great way to visit this cool neighborhood, which is quite a long walk from the subway.

My family and I had never taken this trip before, so this summer we decided to cross it off our bucket list. Here's how we fared during our maiden voyage.
We arrived at the pier just as the ship was pulling away. Happily, it turned out to be quite an exciting wait, as we had a perfect view of the Heliport. The kids were thrilled to watch the noisy helicopters take off and land almost continuously.
Once we boarded the boat, we headed upstairs to the exposed upper level, where we were treated to refreshing breezes and scenic views of the Statue of Liberty, Governors Island and the lower Manhattan skyline. Strollers are permitted, but they must remain downstairs on the enclosed lower level. Bicycles are also welcome but the ship can only accommodate five bikes per journey. Red Hook is a great place to cycle or scooter, with very little traffic on weekends and bike paths along the waterfront.
The smooth ride to Brooklyn lasted less than 20 minutes, long enough to feel like an adventure without the kids getting antsy. The ferry dropped us off a few steps away from the Ikea entrance.
My children have always enjoyed hanging out at Ikea: Swedish meatballs, Småland Play Area and all. During summer it's a great air-conditioned place to hide from the heat. I'm not a big shopper, especially when I've got the kids in tow. But the Scandinavian mentality behind this conglomerate has made family browsing easy and even fun. Many parents take advantage of the drop-off care available at Småland in the lobby, so they can shop in peace. The play spot is open to potty-trained children 37 to 54 inches. Kids will love the bright colors, clean lines and abundance of toys. When we visited on a holiday weekend, there was even a clown who twisted balloons into animal shapes and painted the kids faces, all for free.
The cafeteria-style restaurant is a destination in and of itself. Kids' meals cost $2.49, and there are lots of healthy choices. There are some serious culinary treats on the menu for adults: If you like Northern European-style seafood, the cold-cured, dill-spiked gravlax (salmon) is authentic and a bargain. Of course, it's hard to resist the signature meatballs: 15 perfectly shaped circles served with potatoes, gravy and lingonberry jam for only $3.99. You can check the week's menu in advance on the website.
When we left (thankfully without any items), we explored Red Hook. We all thought the Uncle Louis G's Italian Ices at F&M Bagels were delicious and refreshing.

We visited the many nurseries that call Red Hook home. We liked the variety of veggies and lush herb pants for sale at the Red Hook Urban Garden Center, and bought a fragrant coriander plant as a souvenir.

We strolled along the Ikea-made Erie Basin Park's waterfront and had fun watching local dogs jump in and have a swim. The green space hosts various family events during the summer. We peeked into Fairway, but the weather was too nice to spend anymore time indoors.
We felt as if we had only just begun to discover Red Hook's charms when our ferry beckoned. If you buy anything, note that all purchases must fit into a large Ikea bag. Big box items can be delivered to you for a fee.
We were hot and tired, so we relaxed in the air-conditioning on the enclosed lower level for the return trip. We disembarked satisfied with our sea-worthy adventure, and all agreed that we would do it again.

The Ikea Water Taxi departs every 40 minutes starting at 11am on weekends and 2pm weekdays. If you go on a weekend, the trip is gratis. On weekdays, you pay $5 each way, but you can redeem your ticket for a credit toward your purchase of $10 or more. Children under 12 always ride for free. Click here for the full schedule.

Looking for other quick water excursions? Check out our roundup of the best boat rides in NYC, or see our Summer Guide for other seasonal fun.