Online Robotics Camp
Young Gates - Kids Online Personalized Classes

Artificial Intelligence with Scratch Online Camp
Young Gates - Kids Online Personalized Classes

Spark Math: Free Trial Class
Virtual
Sign up for our free newsletters.
Upcycled Safari Play Binoculars Craft for Kids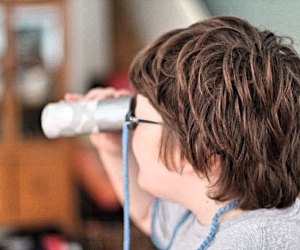 8/13/14
- By
Amelia Eigerman
Summertime is the season of outdoor adventures and imaginative play. Making a simple pair of toy binoculars can inspire a backyard safari, a game of eye-spy or endless imaginative adventures. They're easy to make, super customizable, and provide hours of creative play.
Gather your materials. You'll need two toilet paper tubes (you can also cut a paper towel tube in half), yarn or twine, glue, and decorating supplies.
1. Decorate your two tubes. We used markers, wrapping paper, and duct tape, but the options are endless. Try fabric, tissue paper, ribbons, paint, or collaging magazines. Wrap some duct tape or paint a thick stripe around one end makes them look more like real binoculars.
2. Glue the tubes together side to side and let dry.
3. Add a yarn, twine or ribbon loop so your kid can hang the binoculars around their neck.
Show us what you make. Share it on Facebook, Twitter or Instagram and tag @mommypoppins so we can see your creations too!
Find more fun things to do in Boredom Busters Activities Guide.