Learn To Play Chess: Online Chess Games Kids Can Play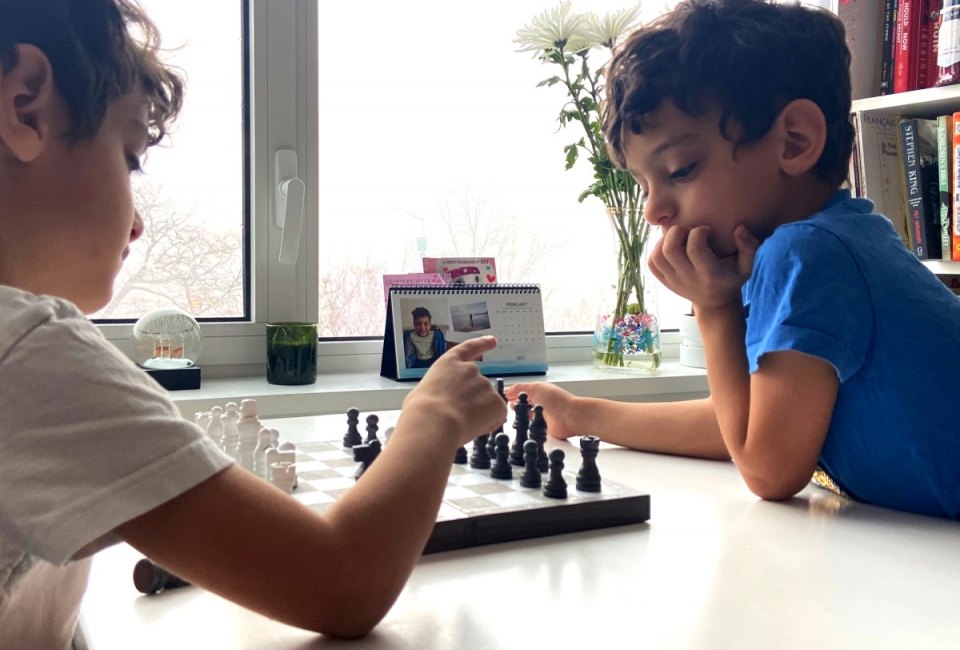 2/18/21
- By
Lisa Mancuso
If your family has been bitten by the chess bug—as so many have since The Queen's Gambit hit Netflix—chances are your kids are itching to learn to play chess. But since most after-school and community chess clubs have closed this year, we've rounded up a great list of online chess games for kids.
Whether they are just getting started playing, looking to learn new skills, or needing a new online game to play with friends, online chess games are a great way to explore this stimulating game. Not only does chess help with strategic thinking and problem solving, it builds confidence and is loads of fun!
For more at-home activities that challenge your kids, check out our roundup of brainy games and jigsaw puzzles, at-home science experiments, and the best board games for family game night.
The Best Websites for Teaching Kids Chess
Give your child the opportunity to learn essential skills while having fun—the chess curriculum at Chess4Life teaches critical thinking, patience, and focus while building confidence on and off the board. Experienced coaches welcome beginners through advanced players ages 5 to 16. There are small-group online premium chess classes for rapid progress and individual progress tracking, as well as online chess clubs for daily lessons and tournament practice. Our partner on this article, Chess4Life, also offers immersive online chess camps during school breaks.
Chess games and chess related puzzles for beginners help kids learn to love the game. Image courtesy of ChessKid.com
When you sign up for a free account, your child gets to play online chess games and sample up to three puzzles a day—plus there is plenty of other beginner content you can access. With a paid Gold Membership, kids have full, unlimited access to the entire site. Gold Memberships can be taken for a test drive for a month, or sign up for a year at a steep discount.
This is a free app from Chess.com, the parent company of ChessKid.com, that you can download. It features an excellent explanation of how pieces move and other game playing tips.

The ChessMatec website offers online chess games, tutorials, and much more. Image courtesy of ChessMatec
This website is geared toward teaching the game of chess to kids ages 4 to 9. It offers all things chess, from basic chess rules to video tutorials to printable worksheets. There is also an app to download, so kids can play online chess games and practice what they learned. The company recently launched the ChessMatec Portal, a great tool for parents who are teaching their kids the game. Kids can try a free version of the game on the website, while an all-access premium subscription is just a few dollars a month.
With Kid Chess® Online, parents can register kids for an online weekly chess club. There are lessons, tournaments, and other activities, including Challenge the Coach and Puzzle Jam. Sign up for a trial registration and your budding Grandmaster can try out the club for four weeks at a highly discounted price before committing to a whole semester. This is a great website for kids who really love chess.
This app was created with the help of world chess champion Magnus Carlsen. It is designed to help kids as young as 5 learn how to play chess while having loads of fun. In this online game, different characters move around the world as they would if they were chess pieces. Download the app from Google Play or the Apple App Store for a nominal fee.
When local chess clubs are canceled, kids can play online. Photo by Jody Mercier
Free Online Chess Games For Kids
Kids can play free online chess games with this app that focuses on presenting chess in a fun environment. Players of all abilities can play against other players and learn new skills. This website is good for beginners as well as more advanced players.
Before getting started playing on Ducksters, kids can choose a level of difficulty by clicking on the stars: one for "easy," two for "medium," and three for "difficult." Then they choose between playing against another player or the computer. There is lots of helpful information on the site, including a review of chess rules. (These rules are a great reminder for parents reteaching themselves to play!) Everything on the website is free.

Don't let Einstein fool you—Playpager.com is for beginners. Image courtesy of Playpager
Similar to Ducksters, this free website offers three playing levels and the choice to play against another player or the computer.
Strictly for beginners, this free online mini chess game can be played against the computer or a friend. No login or sign up is necessary, just jump right in and start playing. The website has a basic overview of how the game works, as well as links to lots of other online games like backgammon and checkers. Free apps are available for download on Google Play or the Apple App Store.
t Click Here to Sign Up!