Toddler and Preschool Birthday Party Venues and Ideas for Long Island Families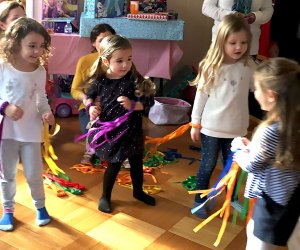 3/10/20
- By
Thien August
There really is nothing more exciting for a toddler or a pre-schooler than a birthday party. The combination of friends, cake, games, and presents is always a winner, but for many parents planning your little one's special day is exceedingly stressful. Especially when young children aren't quite ready for some of the more standard birthday party venues.
The good news? We've compiled a list of some of Long Island's best venues for your littlest birthday boy or girl. Whether you're looking for an engaging indoor play space, an outdoor environment, or even a home party with entertainment, there are plenty of toddler-friendly options across Long Island. As always, check out our Long Island Party Guide for more on planning the ideal party for a child of any age.
Party Tips
After going through the expense of the party and inviting friends and relatives, it can be disappointing if the guest of honor spends the party in tears. Here are some helpful hints when considering an ideal venue.
Visit the venue with your child first. Take advantage of any open-play sessions. Your child will require less warmup time to get used to the party place.
Keep it small. While it can be hard to keep the number of invites down, you might not want to invite everyone as it can be a lot for a little one to handle. Consider a small gathering at home with the grandparents, aunts, and uncles, and save the party for the little ones.
Prepare your child ahead of time for what to expect. Have a small family celebration at home and sing Happy Birthday so he or she knows what that's like. Don't let the party be the first time you place a cake with candles in front of him or her, as you don't know how the child will react.
Choose an early morning time. The later in the day, the more you have to worry about interfering with nap times for your child and guests. Most young children seem to be at their best first thing in the morning. Adults probably will be grateful for the long afternoon nap likely to follow.
Indoor Play Spaces
The South Fork museum features a number of themed play spaces, where children can run a diner or food truck, sail a ship, play musical instruments or meet hand puppets. It also features an arts-and-crafts room, where there is almost always a project kids can join. The discovery area for small children is a delight for all ages. Party packages include baby's first birthday, the "Classic" that includes a birthday announcement over the loudspeaker and T-shirt for the birthday kid, the "Bash," which includes pizza and cake, and the all-out "Extravaganza." After the party, kids are invited to stay and play in the museum until closing.
LICM offers a tot-spot option for children 2-5. It includes either a music and movement or art activity as well as time in the bubbles gallery and the play-space. Preschoolers can choose a story and art package that includes a visit to the tot spot or the messy merriment package, a multi-sensory experience of goopy and gooey substances similar to the messy afternoons experience offered on weekends. There are add-ons such as silly sounds, slime time or an animal encounter for the little ones. The museum store is available to assist with goody bags.
There's plenty to keep a tiny tyke or preschooler busy here. With soft mats, small slides, a ball pit, multiple swings, and climbing structures, toddlers will be engaged and so will their older siblings. Packages provide use of the entire gym as well as a free class for each child. Add-ons include a bounce house or selfie station.
RELATED: 25 things to do with LI preschoolers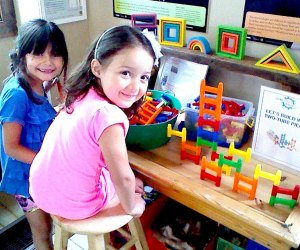 Science, engineering and lots of imagination makes a Long Island Explorium birthday party a blast.
Newly rebranded, the former Maritime Explorium offers young ones a chance to go crazy with interactive and engaging exhibits and a big boat filled with rice. With a science and engineering theme, a birthday party here offers bang for your buck with one of the most affordable on-site parties we've come across. Museum teachers cater activities to your child's age, and the party package also includes invitations, paper goods, pizza and drinks, music, and museum passes for each guest. You can also select a theme from the STEM challenges to add a special touch.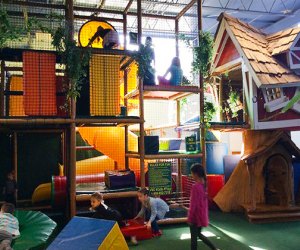 Enjoy an imaginative party experience at Once Upon a Treetop in Plainview.
This large indoor play space focuses on creating settings for imaginative play. The space is organized as if it were a little town or city, with a post office, restaurant, school, veterinary office, grocery store, construction zone, and more. Kids can run from room to room or ride little cars and bikes. In back, there is a climbing tree house with a slide. Book a basic 90-minute Treetop Party and add an extra 30 minutes of crafting, stuff-a-friend, dance party, baby ballet, or "Soccer Shots" for an additional cost.
With a toddler only area, a sensory calming spa and a hands-on sensory area, this play park has something for everyone. There are several party packages to choose from, and all include a private party room for 90-minutes, cupcakes, pizza and juice, as well as paper goods.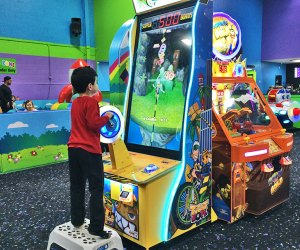 Preschoolers can hop up on stools to play games at a party at Xplore Family Fun Center.

This center has a soft play area just for those 3 and under. In addition, there is an inflatable obstacle course and slides. There are several party packages to choose from, and all include a private party room for 90 minutes, cupcakes, pizza and juice, as well as paper goods.
Music, Art, and Play Parties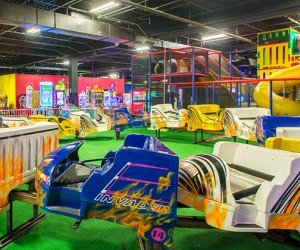 @Play's inviting space makes for an entertaining party experience.
@Play — Farmingdale
This venue might seem overwhelming for toddlers when they first walk in, but @Play creates the perfect interactive party for ages 2-5, including a black-light dance party, bounce houses, a toddler-sized roller coaster and more.


JumpBunch provides a fun sports-themed party to you!
JumpBunch offers sports-themed parties in your home or a party location of your choosing for children 2 and older. It supplies all the equipment, including balls, goals, hoops and balloons, and can provide an all-inclusive experience with invites and food, or choose from its a la carte menu. Call for pricing information.
Music for Aardvarks provides 45 minutes of live music and entertainment with two musicians. Aardvark musical instructors bring instruments, shakers and bells and festive toys. Parties are recommended for ages 1 to 4.
RELATED: Great indoor play spaces for LI toddlers

Parties at Not Just Art stimulate little minds.
Offering creative play, open art studio and music packages, Not Just Art tailors a party to meet a child's interests. It also can accommodate older siblings in attendance.
PlayHooray — Your location or local libraries
This popular program is found at libraries across Long Island, but you can "let Molly Mouse bring the party to your house." PlayHooray parties combine music, instruments, ball play, a parade and more.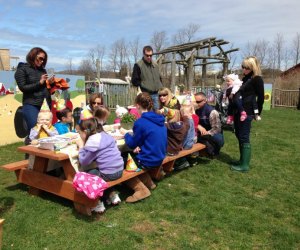 Kids will be kept busy for hours feeding the farm animals, playing with the toys in the barnyard, and more at a birthday party at Garden of Eve!
Petting Zoos and Animal Farms
This is a favorite of ours for strawberry picking, and we were thrilled to learn it offers birthday parties. Kids can play with toys on the farm until the cows come home (when the farm closes for the day). They can climb on the spider web, climb on the castle structures and race around the hay stack on scooters. Pony rides are available at an additional fee, and you can add on an organic lunch, snack and cake.
RELATED: Animal encounter birthday parties for LI kids
A basic party here includes one hour of unlimited pony rides. You can add face painting, a miniature donkey, bunny pen and an extra half-hour of time for additional fees. Winter birthdays can be held on location at Tack 'N' Go Farms in Oakdale.
Little ones delight in feeding the animals, riding the ponies and exploring this hands-on farm. Each party gets a private decorated room, pizza, juice, and a special gift for the birthday child. Check out the fresh baked seasonal goodies on your way out.
This post, originally published in 2013, was updated in March 2020.
Photos courtesy of the venues