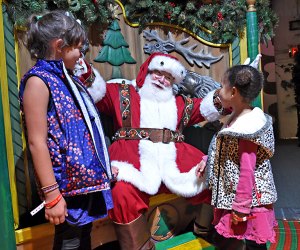 35 Free Things To Do with Kids in New York City This November
As we usher in the holiday season in New York City, it can also seem like we're entering the spend-and-splurge time of year. Thankfully, this month also ushers in some of our favorite FREE annual events for families in NYC, such as the Macy's Thanksgiving Day parade and Macy's Santaland. You'll also find plenty of non-holiday (and non-Macy's) fun for the kids, or even visiting families, such as Pumpkin Smash 2019 and the Commemoration of the Battle of Fort Washington.
Read on for more of our top FREE event picks for the month, and don't forget to hop over to our just-released November GoList, featuring the very best of the month, including those with an admission fee. You can always find more freebies in our FREE NYC Guide, from play spaces and gratis admission hours at museums to birthday perks.
Note: Each event is listed by the week it falls in, and roughly in calendar order. Everything listed is FREE, but some events may require tickets or other advance planning. Click through to the event listings for details.