Thanksgiving Volunteer Opportunities in NYC for Kids and Families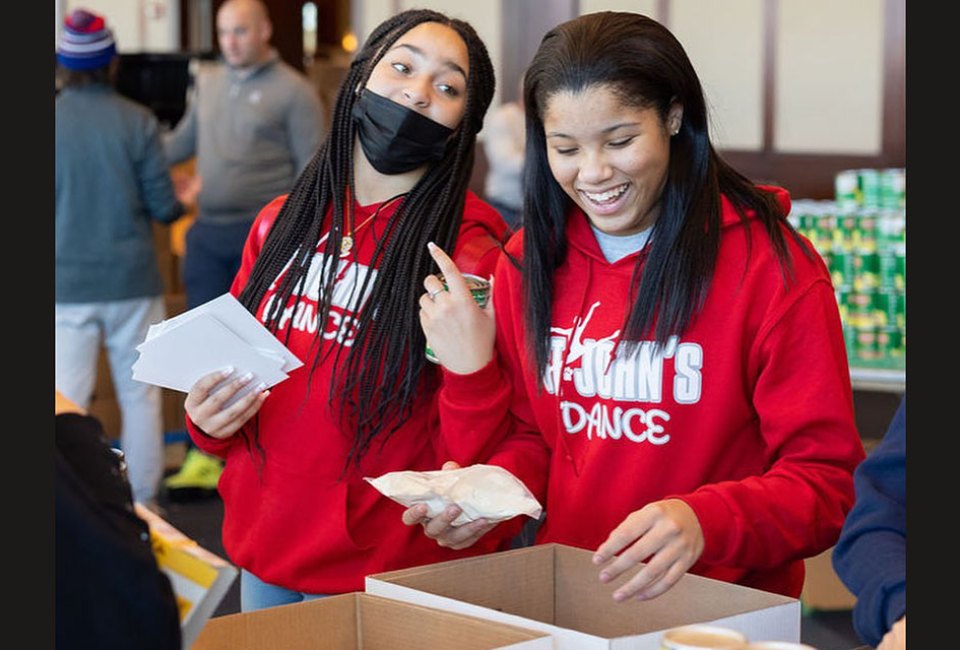 10/25/22
- By
Natalie Silverstein
Every year as we head into the holidays, readers ask about Thanksgiving volunteer opportunities in New York City for families. Surprisingly, finding ways to give back with kids isn't always as easy as you'd think. Many charitable organizations have age minimums for their projects, and family-friendly volunteering opportunities often book up weeks in advance. (Which, of course, is a good sign—better to have too many people interested in volunteering than not enough.)
With Thanksgiving approaching, we wanted to highlight where to volunteer on Thanksgiving in NYC. We're including opportunities for children of all ages so everyone can participate. While kids might not be able to work in a soup kitchen, they can help the homeless, hungry, and elderly in other meaningful ways.
Read on for a list of family-friendly ways to put the "giving" in your Thanksgiving, and beyond. Bookmark our NYC Kids' Guide to Thanksgiving for more ways to celebrate.
Subscribe to our newsletters to get stories like this delivered directly to your inbox.
Many of these Thanksgiving volunteer opportunities are extended year-round (it's not only the holidays that find families in need). So if one of your favorite volunteering options isn't available on Thanksgiving, Christmas, Hanukkah, or Kwanzaa, consider signing up on a random weekend or two during the year.
Family-Friendly Thanksgiving Volunteer Opportunities in NYC
Church of St. Paul & St. Andrew
Donate to the West Side Campaign Against Hunger (WSCAH), which provides Thanksgiving staples to local low-income families. More than 8,000 families received turkeys and other seasonal foods at the church's emergency pantry last year. Donating $100 provides two families with everything they need for a holiday meal. You can donate online via the website. Thanksgiving volunteering opportunities for individuals ages 18 and up include helping in the pantry, the clothing closet, the kitchen, or the mobile market.
Sunday, November 20
This fundraiser for God's Love We Deliver is fun for the family, with a four-mile adult run/walk in Central Park followed by a kids race for 2- to 11-year-olds, plus a variety of other fun activities. You can run as an individual, a group, or join a team. Registration is available online.
Monday, November 21
This Brooklyn-based food pantry began in 1989 when Thomas Neve began a mobile outreach program after work in his used van. Reaching-Out Community Services now serves more than 6,500 families in 16 zip codes around the city. Operation Gobbler Giving distributes turkeys and trimmings to more than 700 families. Volunteer online in advance. If you can't make its Thanksgiving volunteer opportunities work, this org also sponsors an annual Operation Backpack event, a Christmas event, and ongoing food pantry services.
RELATED: Free Turkeys in NYC: Thanksgiving Turkey Giveaways in 2022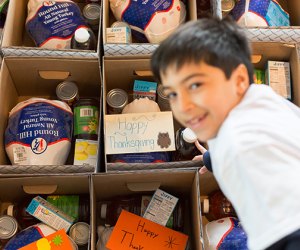 Kids can pack meals and make holiday cards for FeedingNYC. Photo by Jonathan Wolff for FeedingNYC
Tuesday, November 22
Since 2001, this grassroots organization has delivered more than 90,000 complete Thanksgiving meals to New York City families in shelters. While volunteer registration has closed, you can still donate to the cause. A $48 donation allows the org to feed an entire family its Thanksgiving meal. Another way to help: Support it on Amazon Smile to give back every time you shop.
Thursday, November 24
God's Love We Deliver prepares and delivers nutritious meals to people living with HIV/AIDS, cancer, and other life-threatening illnesses. Volunteers can sign up to help prepare and deliver meals in locations around the city and beyond. This Thanksgiving volunteer opportunity takes place in the morning, leaving families plenty of time for their festivities. Volunteer drivers must have a driver's license and their own car, and register in advance. Kids are welcome to participate. Their presence cheers up any delivery. There is a cap to the number of volunteers they can accept, and certain neighborhoods fill up fast, so register now if you want to help. Some destinations already have waitlists. Please note: All volunteers must be fully vaccinated and bring their proof of vaccination.
Thursday, November 24
This volunteer organization traditionally provides hot meals to those in need, but it's hosting a Thanksgiving Day toy drive in 2022. Register to drop off donations of unwrapped toys and children's books online. A small team of volunteers waits outside to accept donations. Toys go to children in group homes, shelters, and public housing. When you drop off your goods, pose for a photo in front of the trademark marquee and a professional photographer is on hand to capture a generous holiday memory for free.
Sign up to host a Friendsgiving celebration for No Kid Hungry. It's an easy way for you and your community to come together and give back to kids in need. For every $100 you raise, you'll feed a child up to 1,000 meals.
The New York Common Food Pantry has served more than 11 million meals across NYC since the start of the COVID-19 pandemic. Consider organizing a food drive on its behalf at your home, work, or school to help the pantry collect food to distribute to low-income New York families. Nonperishable items such as canned cranberry sauce, rice, gravy, stuffing mix, cake mix, pasta, and canned beans are best. No glass jars, please. The food drive runs through Friday, November 4. NYCP also hosts a toy drive, from Friday, November 25-Wednesday, December 7.
RELATED: How To Find Free Toys for Kids this Christmas and Holiday Season—Apply Soon!

Get back to volunteering and help your homebound elderly neighbors with food, cards, and artwork. Photo courtesy of Citymeals on Wheels
More Holiday Volunteer Opportunities in NYC for Families
This charity provides local homebound individuals with hot, prepared meals. Children, accompanied by adults, can help to deliver meals. Children can also get involved by making holiday cards to be distributed to seniors with the meals.
Community-based organization Dorot has plenty of family-friendly volunteer opportunities to ease the stress homebound seniors face. Its card-making program is easy for even young volunteers. Families are asked to create birthday, holiday, or caring cards, and mail them to Dorot. The organization then mails your crafty creations to homebound seniors to brighten their holiday.
Help Catholic Charities of New York deliver meals to seniors in Midtown Manhattan. Families with children of all ages are welcome to sign up and volunteer in many ways. Bring the gift of a delicious and nutritious meal, and provide homebound seniors with some company and smiles. Sign up via the form on its website to get started.
The Food Bank for New York City encourages families to host food drives to help supply it with the goods necessary to feed struggling community members. You can register online to Give Where You Live or host a large-scale food drive and request collection bins to fill. Either way, you'll be helping food insecure neighbors and the Food Bank for New York City has all the tools you need to get started.
Daily, Sunday-Thursday
Various locations, see website for details.
Masbia operates soup kitchens in Flatbush and Borough Park, Brooklyn, as well as Forest Hills, Queens, and welcomes the help of volunteers 12 and older (children ages 12-18 must be accompanied by an adult) to serve hot meals to all who enter. Volunteers are welcome for on-site work, such as playing host in the restaurant-style dining rooms, busing tables, washing dishes, prepping meals, and working in the kitchen. Volunteers are also needed to distribute flyers to individuals who might need Masbia's services.
This is another great opportunity for young children, who might ask why the Statue of Liberty is seen huddled and shivering in the snow on ads at this time of year. New York Cares' annual coat drive provides homeless and low-income families with something warm to wear. Donate gently used coats of all sizes or even start your own drive in your building or school. Collection sites are located around the city in transportation hubs, police stations, and participating stores. Check the New York Cares website for a complete list of drop-off locations.
Remember, too, that many charities accept Halloween candy to include in gift baskets or send to troops overseas.
To find additional kid-friendly ways to give back to the New York City community, subscribe to the FREE Doing Good Together/NY newsletter, a monthly roundup of local volunteer opportunities appropriate for families. And don't forget to check New York Cares' list of family-friendly volunteer opportunities as well.
Originally published in 2017. Margaret Kelly contributed additional reporting.
Places featured in this article:
---
Church of St. Paul and St. Andrew