Sweet Ways to Donate Halloween Candy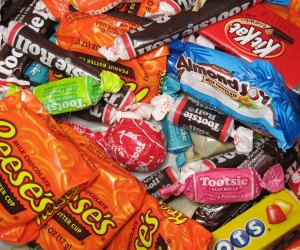 Come November 1, if you find yourself with too much candy on your hands following the Halloween fun, we're here to help. We've found six charitable organizations where you can donate Halloween candy, or any unopened candy. While it might be hard for kids to let the candy go, getting in the habit of giving back lets them enjoy a truly special treat: the feeling of helping others.
If you want to hang on to a few pieces after you donate Halloween candy, we have more creative uses for sweet stuff like making candy crafts or using it for these science experiments, plus plenty of activities and inspiration for Halloween weekend in our Halloween Guide.
Sign up for our FREE newsletters to get posts like this delivered to your inbox.
Where to Donate Halloween Candy
Operation Gratitude sends care packages to U.S. troops stationed overseas and first responders stateside. It collects hundreds of thousands of pounds of candy annually. The organization's mission is simple: to put a smile on soldiers' faces. If you'd like to volunteer, please pre-register by Halloween. Or, if you would like to simply help share treats with troops, Operation Gratitude accepts monetary donations to help cover its shipping costs: $15 ships one candy care package overseas; $90 sends a jumbo package.
Visit this site to search for participating dentists and other businesses near you that accept candy donations in exchange for a small reward for the kids, such as toothbrushes, coupons, and sometimes cash. Important note: It's imperative that you call ahead. Many places set certain buyback rules, like a maximum amount of candy or specific drop-off hours, so be sure to get the details before you go!
RELATED: 20 Hilarious Halloween Jokes for Kids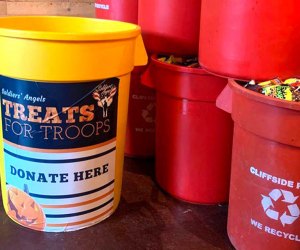 Donate Halloween candy to troops through Soldiers' Angels Treats for Troops. Photo courtesy of Soldiers' Angels
Similar to Operation Gratitude, but smaller in scale, Soldiers' Angels organizes Treats for Troops annually. Visit the website to find a Halloween candy donation drop-off point or register to start a drive of your own.
The Ronald McDonald House helps keep severely ill kids and their parents together during treatment. While there is no universal candy-donation program, many locations accept donations of unopened candy for the families they're helping after Halloween. Visit the RMHC Chapter search page to locate your nearest House and inquire about the specifics for candy donations.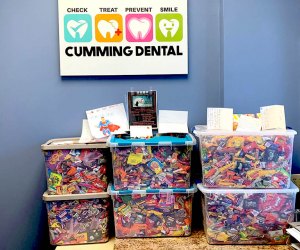 Operation Shoebox partners with dental offices to collect candy for troops overseas. Photo courtesy of Operation Shoebox
These are two more organizations that collect and send care packages and donate Halloween candy to troops overseas. Operation Shoebox accepts individually wrapped candy all year long. (Good to keep in mind as the December holidays get underway, too!) Meanwhile, Any Soldier allows you to search soldiers' wish lists and send donations directly overseas.
Finally, don't forget about your local soup kitchen, homeless shelter, food pantry, retirement home, or nursing home when thinking of where to donate Halloween candy. Many take donations of unopened candy for residents and guests year-round. It's worth calling to find out if they accept treats, which your kids can deliver with a note and a non-cavity-filled smile.
This article was originally published in October 2013; it is updated annually.