5 Leave-in Conditioners for Kids That Really Work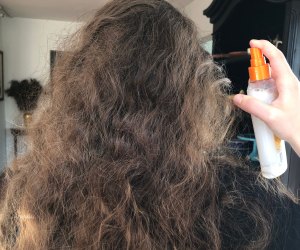 Need a pro-parent hack ahead of pool and beach season? Leave-in conditioner has become a year-round, must-have product in our household, but it can be crucial to taming the tears for any long-haired kids during the summer. My bathroom is littered with multiple bottles of hair detangler sprays, and now I'm happy to share the five products that finally brought peace to our marathon combing sessions.
I had long, curly, desperately fine hair when I was a little girl. The knots were epic. So were the tears. Naturally, I have a daughter who has thick, curly hair — and a sensitive scalp. And, of course, she decided that this past year was the perfect time to grow her hair down to her waist, a year of no salon visits! That lifetime of trying every detangling brush and spray under the sun has come in extra handy, and we've been through many, many bottles of leave-in conditioner this year.
These are our top five leave-in conditioners and detangler sprays. All have been road-tested by our family and remain in heavy rotation. All of these work well on both wet and dry hair, which means you can spray onto hair fresh from the shower and a week after the latest bath.
Current Favorite: This is the leave-in conditioner with which my household is currently obsessed. It's a great product that works well on my daughter's thick, curly hair, without ever seeming to build up, even if we use it twice a day (we do), and she goes for three to four days between showers (it happens). It has a nice light fragrance, and a fabulous price point: it's under $4 for a 6-ounce bottle, and when you go through the amount of conditioner we go through, that matters. The one drawback is that the spray nozzle stinks. It shoots out in a stream, rather than a mist, which means it doesn't get evenly distributed on hair. With all the other plusses, however, I just spray this on my hands and rub it through her hair.
It's made from shea butter, coconut oil, and honey; and doesn't contain mineral oil, sulfates, parabens, silicones, phthalates, gluten, paraffin, propylene, PABA, or DEA.
Best Spray Bottle: Now this detangler happens to have the best spray mister––by far. It sprays such an even mist that you never end up with gloppy hair in one section and tangled hair in another. (Just make sure you don't hold it too close to your kiddo's head.) So why isn't this our go-to? A couple of reasons. It smells a little more strongly than the other products. While we both like the smell, when you have to use a lot of it, the scent gets layered and builds up. Also, it's not cheap. It's not super expensive, but as I said, we use gallons of detangler, especially in the summer, so we sort of fell away from using this one frequently. But it's great for little kids who don't want to sit still, because it takes no time to get an even mist across their heads!
This detangler spray does not contain phthalates or parabens. It's vegan, gluten-free, and free of lavender and tea tree oil. It does contain nut oils. This detangler was dermatologist tested and hypoallergenic.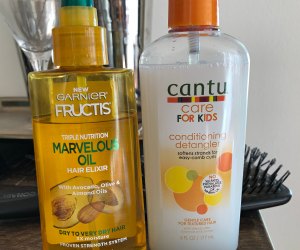 A daily spritz helps keep us all tear-free.
Best Bring to the Beach: This is our favorite leave-in conditioner to bring to the beach because it smells like summer. (More like bananas than pure coconut.) It's like when you were a kid and you'd open up the SPF 4 suntan oil and the scent would remind you that school was out! It also helps keep the frizz down, especially if your hair gets a little crazy by the ocean. The company also says that it helps protect your hair from the sun, and from color fading. We can't attest to that, as my daughter's hair is as thick and strong as a horse's tail (in a good way!) and nothing seems to fade her natural color. And my hair has had a little help from my hairdresser to stay blonde, so nothing seems to stem the fade. We don't use this one year-round, because it smells strongly of a Hawaiian beach vacation. This is wonderful in the summer, or when you're actually on a Hawaiian beach vacation, but it's a bit much for using every night in the middle of winter.
The product is enriched with coconut oil and banana pulp. It is vegan, gluten, cruelty, and paraben-free.

These leave-in conditioner sprays leave hair smooth and brushable.
The Classic: Some things are classics for a reason. We always have a few bottles of this in the house—we have one in the car, one in my purse, and one in my daughter's sleepover bag, so we never forget to pack it. It's so inexpensive, I don't mind if a bottle gets left somewhere, or when it gets passed around at the beach and goes home with another family. The smell isn't offensive or too strong, and it just plain works. If my daughter has been swimming in braids for a week, I don't mind emptying an entire bottle on her head to work it through before a shower. It also comes in a hypoallergenic formula, but for some reason, neither of us feels like that one works as well, so the classic it is.
Mom's Must-Have: This is the only product on the list that is made for grown-ups, not kids. It's also the only one with alcohol and dimethiconol, which is a silicone. So if you want to avoid those ingredients, stop reading. I typically strenuously avoid those ingredients. But this product works so darn well, I can't quit it. It works on my hair which has been dyed and processed for a few decades. It works on my daughter's hair, which is very, very thick. It doesn't weigh hair down for either of us, and it never feels greasy.
Here's the other thing: It works in addition to the leave-in conditioners. We use our detangler of the moment, and then smooth just a little tiny bit of this on top. You don't need to reapply it between shampooing; it stays in and leaves your hair really silky to the touch. We discovered it because my daughter started "borrowing" my two favorite products for my own hair: Moroccan Oil and Nick Chavez Velvet Mesquite Serum. She loved them and kept sneaking into my bathroom to use them. My bottles started emptying really fast, and they're not cheap. We started testing out products that reviews said were cheaper stand-ins for those products and stumbled across Garnier's hair oil.
This article contains some affiliate links, which means we might earn a small commission if you make a purchase. There is no extra cost to the reader. We only recommend products and services that we have personally used or have thoroughly researched.
Photos by author